Watching flagship and high-end home theater receivers evolve every year was a bit of a bore for most enthusiasts since expensive AV receivers are always considered long-term investments. These heavy monstrosities are built to last many years and should have more than enough features and connectivity options to convince users not to consider any upgrades even though manufacturers announce new models on a yearly basis. Entry-level AV receivers are a bit more exciting though because of that good possibility that more features will be added to the bottom of the barrel without raising prices. In Denon's world, the entry-level category could be reaching the tipping point too. The company announced the Denon AVR-S720W and it looks to target people who have never heard of or bought last year's Denon AVR-S710W.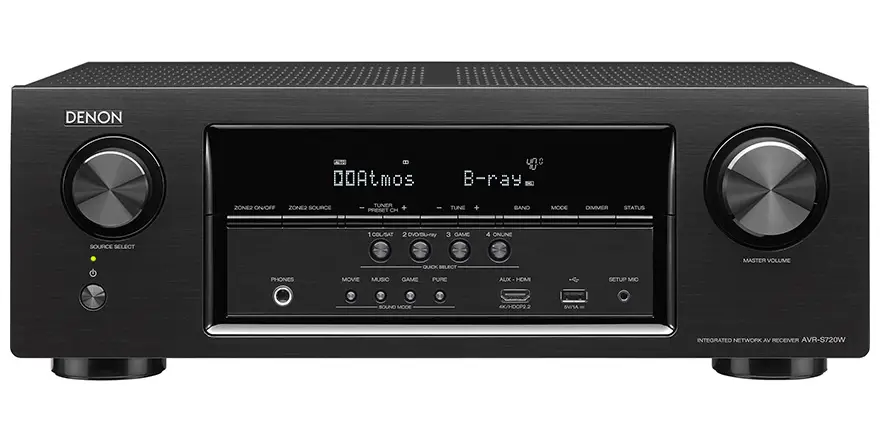 About the Denon AVR-S720W
The Denon AVR-S720W is Denon's most affordable 7.2-channel receiver in the company's 2016 lineup. Built for the modern entertainment center, this budget receiver has the trimmings people can expect from a midrange receiver including Dolby Atmos and DTS:X support, 4K and HDCP 2.2 support and a modest array of connections that fits right at home with a standard 7.2-channel speaker set. Being the younger brother of the Denon AVR-S920W announced alongside this model, the Denon AVR-S720W sports 6 HDMI inputs (1 of them found on the front), a single HDMI output and a reasonably pedestrian spec sheet (165 watts of maximum power output per channel). It is currently priced at $479.
Below is the back panel layout. Click on image to enlarge for a clearer view.
Comparison with the Denon AVR-S710W
Both the AVR-S720W and AVR-S710W not only share similar designs but also similar specifications making the Denon AVR-S720W essentially a rebranded version of its predecessor. That's the kind of strategy Denon needs even if they cannot pump out innovations every year because the entry-level home theater receiver market is fierce and the companies really need to highlight the incentives of considering an affordable AV receiver.
But Denon did tout something new to share for both their AVR-S720W and AVR-S920W when they made the official announcement and it happens to be the most notable new improvement – dual-band Wi-Fi. That's something you don't hear every day in a home theater receiver and technicalities aside, it is a welcome addition if you router supports dual-band too. It basically translates to better stability when it comes to streaming content wirelessly.
Features in Detail
When it comes to compatibility, the Denon AVR-S720W easily nails all the futureproof high notes including out-of-the-box support for Dolby Atmos as well as future support of DTS:X which will roll out in the future in the form of a firmware update. Of course, the AVR-S720W only gets a small slice of the Dolby Atmos pie since it is only restricted to 7.2-channel setups so the best possible way to utilize the feature would be to set up a standard 5.1-channel speaker system and then install two overhead speakers or use Dolby's own up-firing speakers. This is also the way to really squeeze out the Denon AVR-S720W's performance juice although not all movies support Atmos. Dolby Atmos is just one of the supported Dolby-branded technologies as the AVR-S720W boasts Dolby TrueHD lossless decoding support as well.
Dolby Atmos has always been known for being a bit restrictive and that's where the upcoming DTS:X support comes into play. With this technology, you can enjoy a similar 3D soundspace but without those setup limitations. You decide how you want to lay everything out and the receiver will do the rest in determining the best settings.
Those familiar with the AV receiver calibration process will recognize Audyssey's branding on the Denon AVR-S720W. To be more specific, it has Audyssey Bronze built-in and it includes the widely-used MultEQ room acoustic measurement calibration approach. Combined with DSP correction, Audyssey's calibration approach involves the classic process of measuring all of the speakers involved in the setup including the subwoofer and tuning every component for optimum performance. This is all option and you can do the calibrating yourself.
The older AVR-S710W model is ready for today's TVs so it is no surprise for the AVR-S720W to be just as ready. With HDMI 2.0a, HDCP 2.2 and 4K support, using this receiver with just about any 2015 or 2016 released TV shouldn't be a problem and you can enjoy things like HDR support and 21:9 video pass-through. HDCP 2.2 is an absolute necessity as you will need it when playing back copy-protected Ultra HD content.
The built-in Wi-Fi isn't just for allowing connectivity to streaming services like Spotify, Sirius XM and Pandora but it also allows virtually all iOS and Android devices to be remote controls. Once you connect the mobile device to the network, all you need to do is download the new 2016 AVR Remote App and follow the instructions. This app has a nice queue management system which lets you play back your favorite songs and then browse the library without stopping the track.
Performance
Because the 5 GHz band is less crowded, taking advantage of the new dual-band Wi-Fi feature is most noticeable when streaming. Other than that, the audio performance is very much on par with its predecessor. That's impressive for a $479 receiver especially when you throw in Dolby Atmos.
Conclusion
Pros:
• Dual-band Wi-Fi results to a more stable streaming experience.
• Dolby Atmos support out of the box with DTS:X support on its way.
• Good overall performance for the price.
Cons:
• No other noticeable improvements aside from the dual-band Wi-Fi.
• Getting the Denon AVR-S710W is more sensible if the price is even lower.
Verdict:
It is hard to innovate on a product that has made so many breakthroughs the previous year so Denon played it safe with the Denon AVR-S720W. Think of it as a stop-gap solution to something even greater next year. As it stands right now, the AVR-S720W is faced with heavy competition and it has the necessary unique traits that could make this receiver an attractive purchase.
Update: There is a newer model > Denon AVR-S730H