A recent addition to home entertainment, the Denon AVR-X2400 4K Ultra HD AVR is an IN-Command X-series receiver that continues to prove Denon's ability to match and often surpass the competition. The AVR-X2400 is compatible with the latest in-home cinema vision and sound formats including:
4K Ultra HD and HDR Dolby Vision.
Dolby Atmos and DTS:X.
Hybrid Log Gamma (HLG).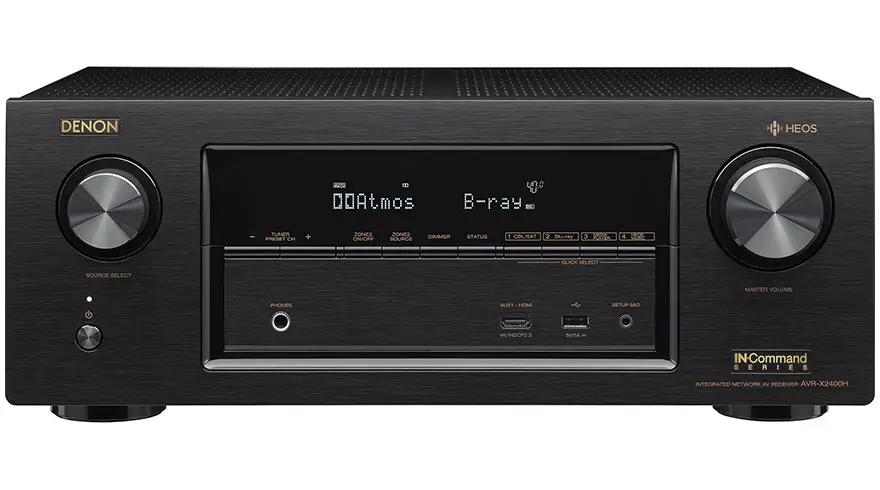 Toss in Audyssey MultEQ setup, optimization, and its Editor app, and the result is an AVR that provides HEOS multi-room music streaming while the receivers respond to app control.
The 7.2 channel unit delivers immersive 3D sound with its built in Dolby Atmos and DTS:X decoding. Denon is noted for consumer satisfaction. Firmware updates are available as soon as possible, while situations like the communication problem with Sirius are addressed and followed until resolved.
About the AVR-X2400H
I was a bit hesitant to review the Denon AVR-X2400H because of the sticker price. Does the unit really have enough extra qualities to make it worth the additional cost over its little brother, the Denon AVR-X1400H? Here's what I decided.
This beefed-up audio-visual receiver has more power (95 WPC instead of 80 WPC) and two additional HDMI inputs for a total of eight. The second HDMI output delivers the opportunity to connect sources to two displays at the same time, such as a projector and television. Enjoy the benefit of a customized home automation system with the IR output port and RS-232 control port. Zone 2 provides a separate room for music or video. These features alone made it easy to say "Absolutely!"
I frequently choose a movie I've already seen to test a unit's features, especially sound and color. It's a much easier way to compare performance. I selected Brave for this review, put it in the Blu-ray, and sat back to watch and listen to some of my favorite parts. Voices and background sounds were clear and natural, even in the midrange. Dramatic background sounds came through cleanly without overrunning the dialogue. It's so easy to feel a part of the action when the amplifier is designed to add the intended level of sound for each phase without fail.
There are also scenes where loud is part of the performance, such as the bear fight. Denon AVR-X2400H makes the upscale sounds match the visual action, with lots of energy and no lag. The bass frequencies are clearer than that of the previous model. The unit easily fills a midsized room with an immersive soundfield.
Below is the back panel layout. Click on image to enlarge for a clearer view.
Comparison Between the AVR-X2300H and AVR-X2400H
Denon's AVR-X2300H introduced a cleaner display and user-friendly control layout. A newer design made the AV amps more approachable by reorganizing the back connections. Its eight HDMI inputs deliver 4K 60Hz pass-through and HDCP 2.2 certified. There's no digital coax included, although it boasts a wide range of optical digital and analogue stereo inputs. Also included is legacy analogue video options like composite. The technology to decode home cinema sound formats added to the reasons the X2300H was warmly welcomed by a home theater public. A notable omission, DTS:X capability, was fixed with a software upgrade.
Like its previous model, AVR-X2400H supports Internet radio and streaming. The 2300H's improvements stabilize Bluetooth, Spotify, and Airplay have continued, resulting in smooth Wi-Fi delivery even in electrically noisy environments.
A specific improvement in the Denon AVR-X2400H is the Audyssey MultEQ Editor app and the MultEQ XT calibration and setup system. Fine tune receiver settings, even in the HEOS system. Add the unbelievable simplicity of setup partly due to the dedicated auto-setup microphone. It's my opinion it is the perfect reason to upgrade to the latest version.
Features
Two HDMI outputs.
Eight HDMI inputs – seven in back and one on the front panel.
Easy connection for Blu-ray players and game consoles.
Dolby Vision and HLG ready.
Compressed Audio Restorer – improve MP3 sound quality.
Wireless Bluetooth.
4 analog stereo audio inputs
Quick Select function buttons.
The advanced video processor upscales lower resolution video, resulting in true 4K display. The setup assistant shows clear texts and graphics to build and complete individualized sound settings for a personal, tailored sound.
Pros
Easy setup
Works with Alexa
Wide variety of streaming options
Quick select function buttons
8 HDMI inputs
Cons
No phono input – phono preamp required.
Conclusion
The Denon AVR-X2400H delivers sound and scenes that viewers have come to expect from Denon products. Problematic characteristics and acoustical problems in the home theater environment are rapidly cured with the Audyssey MultEQ XT automatic room acoustic correction system. It is easy to appreciate great directions and fantastic performance for seasoned, new, and somewhere in-between audio/visual receiver users. Its capabilities and enhancements make the AVR next-generation ready while supporting nearly every current feature in today's market. Zone 2 offers a second entertainment area in the home. Entertainment like 3D movies, streaming music, and game consoles are compatible with this unit. Denon has a list of Q&As with quick, easy answers/solutions so a person doesn't have to go through article after article searching for a valid response to a specific situation. Although a bit pricey, the system will provide excellent service for years and likely be eligible for firmware updates as new or improved features are introduced into the company's list of AVR upgrades.