Love spending the occasional weekend home watching your favorite movies on your home system? Do you live with music day in and out? If this is the case, it's not enough if you just invest in a high-end television. You should also invest in a good receiver that complements it like the Yamaha RX-V681 7.2 channel network receiver.
This is the perfect choice for the music and movie aficionado, who appreciates movies and music. It offers the most immersive surround sound formats with best picture quality and several high-resolution audio formats easily accessible via its front-based USB port. Vinyl lovers can also use its phono input terminals to enjoy your beloved vinyl collection.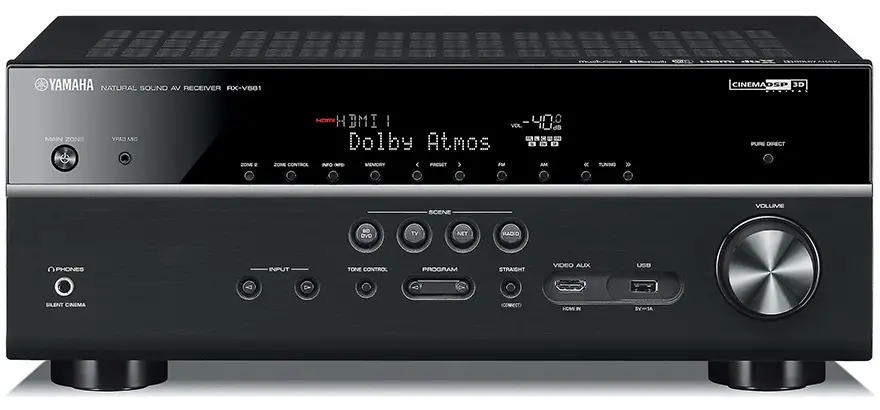 Play music in multiple rooms
With nine speaker outputs and MusicCast wireless multi-room audio feature, the Yamaha RX-V681 offers flexible configuration options to share music throughout your home using Bluetooth sources and TV and CD music.
You can connect perhaps 7 speakers to your living room and two speakers to another room. So using Yamaha's Intelligent Amp Assign feature, you can listen to stereo music in the second room, while other family members enjoy their movie in the living room.
Below is the back panel layout. Click on image to enlarge for a clearer view.
Varied network functions
As Apple AirPlay, Wi-Fi and Bluetooth are all built-in the receiver, you have easy access to various wireless music streaming options and high-resolution audio files. You can listen to music from across the world using vTuner Internet radio, Pandora, and other internet radio channels, listen to music on your home network and even listen to music stored in your home PC. Its AV Controller App also lets you control various functions from your iPod, iPad, iPhone or Android phones and tablets.
Your entertainment hub
You no longer have to worry about missing any words of your favorite show as the Yamaha RX-V681's dialogue level adjustment lets you create the perfect vocals and speech balance to provide you with perfect listening pleasure. Its HD Audio decoding provides clear and crisp audio along with subtitles in the middle of your television screen.
Don't get fooled by its size!
Though the unit is small, its extra bass feature enriches the bass sound even if you have small speakers. If you don't want to disturb others while you enjoy your late night movie, just switch to SILENT CINEMA mode so that you enjoy surround sound on your headphones. In addition to all this, the receiver also has two subwoofers providing simultaneous outputs.
DTS-X and Dolby Atmos
The DTS-X and Dolby Atmos features of this 7.2 channel network AV receiver let you enjoy your music and movies to the hilt. It transports you from an ordinary location to an extraordinary atmosphere by filling your room with captivating and multidimensional sound.
The latest in 4K Ultra HD technology, in fact, makes you feel like you are actually in the midst of all the story's excitement as it brings all the music and movie's people and objects come alive and slow in precise choreography around you.
Feel the music
The RX-V681 is equipped with Virtual Presence Speaker and Cinema Front functions with CINEMA DSP 3D. This means you don't just listen to music with your Yamaha RX-V681 but you practically get blown away by its surround sound experience.
Advanced sound optimization through reflected sound control
The YPAO-Reflected Sound Control feature of the RX-V681 analyzes the room's acoustics, measures speaker characteristics and rectifies early reflections to calibrate audio parameters and help produce optimum studio-quality sound. Its DSP Effect Normalization makes necessary changes to the CINEMA DSP parameters based on the reflected sounds.
Enhanced video effects
The RX-V681 justifies the effects of your high-end television as it is not only equipped with 6 HDMI inputs, but it also offers 4K video upscaling from analog. Video quality is improved tri-fold because of its precise motion, adaptive deinterlacing functionality. Supporting Deep Colour at a 34Hz refresh rate, this receiver produces a crisp colorful palette that helps bring out your television's best.
Conclusion
Judging by this Yamaha RX-V681 review, this 7.2 channel network receiver is a worthy addition to your music and movie system's arsenal. This makes the perfect music entertainment hub as you can enjoy your music and movies with enhanced clarity and effects.