Audiophiles often shoot for the most advanced home theater receiver that is suitable for their current setup. This doesn't always mean the most expensive model as there are receivers like the Onkyo TX-NR5010 that could be overkill for some folks considering the price. At the time of writing, there is no successor to this model but there is a successor to the second-in-command TX-NR3010. The Onkyo TX-NR3030 is priced pretty close to the Onkyo TX-NR5010 but it comes with some significant improvements that open up new setup possibilities for audiophiles and die-hard movie enthusiasts. It also comes with a few sweeping changes that separate it from its predecessor.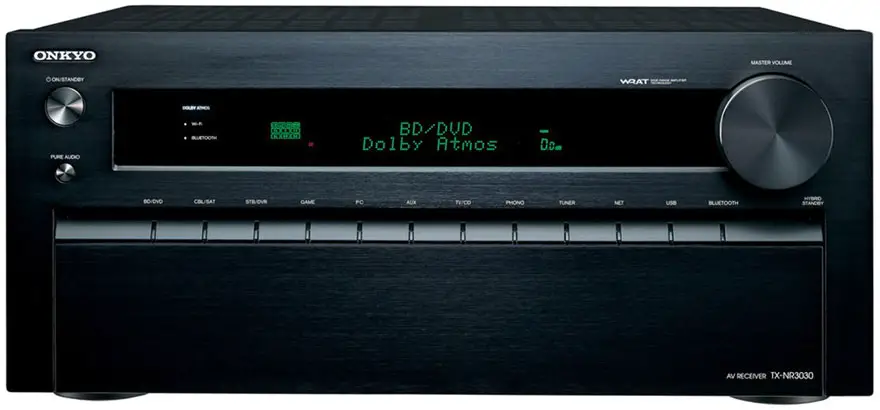 Design
The Onkyo TX-NR3030 preserves the front-panel look of its predecessor so those who have used a high-end Onkyo receiver in the past should have no trouble getting to know this new flagship. You can adjust the volume by means of the lone volume knob or change to a different input source by pressing the corresponding input source button if the proper connections were made. But due to some various internal changes, the Onkyo TX-NR3030 weighs only 48.5 pounds – a few pounds less than the TX-NR3010.
The front panel still hides all the front panel connection ports and most of the buttons behind a door. The connection ports include an HDMI/MHL port, USB port, digital optical port, phones jack and the usual AUX inputs. The back has tons of other connection ports but only 7 HDMI inputs as opposed to the 8 HDMI inputs found in the TX-NR3010. People that currently use all the HDMI ports on the TX-NR3010 will have no choice but to sacrifice one.
Being made for audiophiles, the TX-NR3030 is designed with an anti-resonance chassis to eliminate interference and noise. The Separate Block Construction helps eliminate these unwanted elements even more by keeping the preamp and power amp circuitry in their own blocks.
Below is the back panel layout. Click on image to enlarge for a clearer view.
Features
The Onkyo TX-NR3030 has Wi-Fi and Bluetooth onboard, which may not look like a huge deal since the receiver, will likely be connected to Wi-Fi-enabled TVs and Blu-ray players. But for music, using the Wi-Fi of the TX-NR3030 is your best bet because it has support for a good selection of online streaming services including Spotify, Pandora, TuneIn, SiriusXM, AUPEO! and Slacker. The Onkyo mobile app for iOS and Android devices provides a nice interface for controlling or configuring the receiver wirelessly and a firmware update on the receiver enables Spotify Connect support. Outside of the Internet features, the Onkyo TX-NR3030 still serves as a great hub for receiving local audio streams from smartphones, tablets and NAS devices. You can even take the traditional Bluetooth approach and still enjoy good audio quality because of the Advanced Music Optimizer enhancement.
It is hard to appreciate the full benefits of upgrading to a TX-NR3030 without having a 4K display. This is because each of the HDMI ports have the 2.0 specification, which is required for 4K video playback at 60 fps. Some older receivers may support 4K too but the HDMI ports are an older version that lacks the 60 fps support. The third HDMI port and main HDMI output complete the 4K equation by adding HDCP 2.2 support, which is going to be the main standard for copy-protected 4K media.
Like the cheaper TX-NR1030, the Onkyo TX-NR3030 has a total of 3 HDMI outputs each with their own special roles. The first HDMI output is naturally reserved for your primary TV since it has HDCP 2.2 and the Audio Return Channel. The neighboring port can be used to connect to a projector while the third HDMI output can be used for connecting another 1080p TV that represents Zone 2. High-definition content can be sent directly to that TV so you don't have to add a Blu-ray player or set-top box to Zone 2. What makes the TX-NR3030 different than the TX-NR1030 is the fact that the Onkyo TX-NR3030 has 11.2 channels leaving you with all sorts of ways to set up the sound system.
Performance
Many of Onkyo's 2014 models introduce the new Dolby Atmos surround sound technology and the TX-NR3030 goes as far as replacing the DTS Neo:X technology found in its predecessor with Dolby Atmos. The reason behind Onkyo's decision is pretty obvious – Dolby Atmos is in a level of its own as it takes advantage of speakers placed on the ceiling or any speakers that support the technology. It basically adds better surround-sound realism so you can really notice where certain effects come from. If you already have a 5.1-channel setup, you can put the Dolby Atmos technology to good use by adding a pair of ceiling speakers or by adding front high speakers to use as front speakers and point them towards the ceiling. The only problem aside from the need to purchase extra speakers is its limited support. Transformers: Age of Extinction is the first movie to support Atmos and it really sounds good. You'll have to wait for future titles and see if Atmos helps there.
It is also worth noting that the Onkyo TX-NR3030 has a reduced power output going from 140 watts to 135 watts so you won't get the same kind of loudness. But the TX-NR3030 focuses more on current to deliver better performance and the dual 32-bit DSP engines and 32-bit TI Burr-Brown DACs help that. Hi-res audio sounds significantly better making this receiver an excellent upgrade for those who like to listen to SACDs, vinyl and lossless audio formats like FLAC.
4K still has slow adoption but existing 4K TV owners can enjoy the Qdeo 4K upscaling technology, which makes 1080p and lower-resolution content look great on these big displays. With ISF video calibration, you can also optimize the picture quality even more.
With a great design and cutting-edge technologies, the Onkyo TX-NR3030 passed all the rigorous laboratory tests conducted by THX to score the coveted THX Select2 Plus certification. This is something that any audiophile needs to check before buying and the TX-NR3030 delivers.
Bottom Line
If you are sold with Dolby's new Atmos technology and you are willing to buy additional features to really feel that improved effect, the Onkyo TX-NR3030 is a worthy upgrade even if you already have a fully-function high-end receiver. Other folks might want to wait for next year's model, which should have even more nice improvements and hopefully Wi-Fi 802.11ac support.