Using trickle down technology from their flagship models, the mid-priced Pioneer SC-1323-K continues with Pioneer's tradition of good sound and good design. This new model sees improvement not only in video processing, audio amplification, it also excels in smartphone integration and ease of setup with Pioneer's innovative AVNavigator which is an industry first.
With 4K UltraHD the new buzz this year, the SC-1323-K is primed and ready to take advantage of this new generation media as well as 3D playback.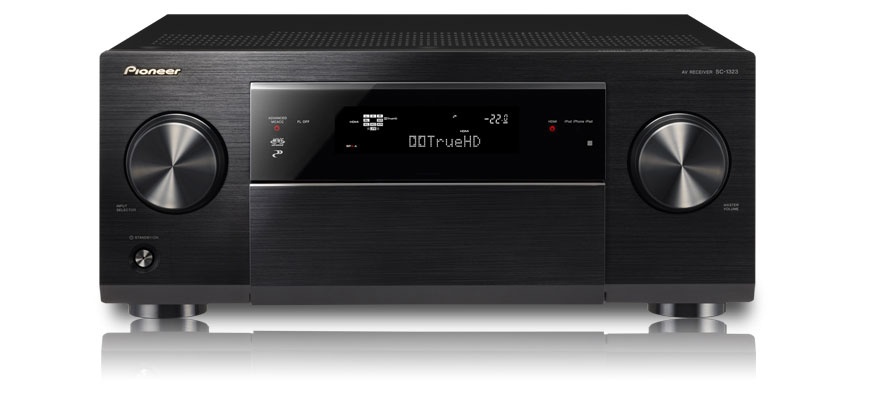 Design
The Pioneer SC-1323-K may not have the golden accents that any of the Pioneer Elite AV receivers have but it is still well-built both externally and internally with an insulated dual chassis and rigid trans-stabilizer. The aluminum front-panel still makes the Pioneer SC-1323-K feel like an Elite product and the front panel covers all the buttons and connection ports leaving the two knobs, power button and display exposed.
Opening up the front panel reveals all of the buttons and connection ports you would normally expect in a $2,000+ home theater receiver. This includes the USB port and HDMI input which is a great combination if you hope to connect any type of modern portable media device or storage device. The usual phones jack and setup mic ports are also present on the front of the receiver. There are plenty of front panel buttons too and they should help manage multi-room setups.
With 7 HDMI inputs found on the back of the SC-1323-K, you should be able to set up a fairly large home theater system consisting of multiple media players, gaming consoles and other components. These HDMI inputs are flanked by 2 HDMI outputs so you can connect a main display as well as another display located in another room. The receiver is capable of handling different sources for both displays.
Below is the back panel layout. Click on image to enlarge for a clearer view.
Features
Pioneer home theater receivers continue to tout their Class D3 amplification technology and the Pioneer SC-1323-K has it too. This architecture provides the SC-1323-K with enough power to handle Dolby TrueHD, Dolby Pro Logic IIz, DTS-HD Master Audio and DTS Neo:X at greater dynamic ranges and wider frequency responses. This allows the Pioneer SC-1323-K to properly reproduce the lowest lows and highest highs which is necessary in getting the biggest impact out of today's Blu-ray movies and high-quality albums. While some competing home theater receivers are able to do this without the Class D3 amplification, the SC-1323-K gets the upper hand by being able to run 7 channels of 4 ohm speakers which translates to consistent high quality audio performance. What is even more amazing about the Class D3 amplification is how it manages to deliver high audio fidelity while maintaining good power efficiency. With 90 percent efficiency, Pioneer receivers like the Pioneer SC-1323-K can handle higher volumes without generating so much heat. This helps with the placement of your AV receiver since you can place the receiver in close proximity to other home theater components without worrying about heat potentially ruining those components.
One of the benefits of getting a more modern Pioneer AV receiver like the SC-1323-K is the support for next generation components. 4K displays are one example and while they are currently very expensive, the picture quality is simply stunning. Of course, you need to see actual 4K content to appreciate the high resolution and the variety isn't so much right now. But the Pioneer SC-1323-K is capable of upscaling lower resolution content so that they look fantastic on 4K displays. 3D passthrough is supported as well. Advanced Qdeo Video Processing makes this all possible and it also utilizes a technology called Advanced Video Adjust which further enhances the picture quality.
The SC-1323-K can even do more things if you have devices in your home network. By connecting an Ethernet cable from the receiver to the wireless router, the Pioneer SC-1323-K can interact with these devices to make setup and content streaming more convenient. You can install the AVNavigator app on an iPad, PC or Mac system and easily breeze through the setup process by letting the network-connected device act as a setup assistant. This app is basically a user-friendly replacement of a traditional user manual and it guides you through the process in setting up the whole receiver. This app even helps you calibrate the connected speakers using Pioneer's Advanced MCACC or Multi-Channel Acoustic Calibration System.
The SC-1323-K also gives special enhancements to certain devices that connect to the receiver. iOS devices and computers running iTunes can take advantage of the AirPlay functionality which makes it dead simple in streaming music to the receiver. The latest HTC phones including the HTC One also has a similar technology called HTC Connect and the Pioneer SC-1323-K supports it as well. If you have an older or low-end device such as the iPod Nano or iPod Classic, you can still connect to the receiver via USB connection so you can send music to the receiver and charge the device at the same time. The front HDMI port also has the MHL 2.0 specification which means that modern smartphones and tablets can transmit high quality audio and video while keeping the device charged using a special MHL cable. DLNA 1.5 is also supported allowing Windows 7 and Windows 8 computers to send music from Windows Media Player to the receiver. Bluetooth support is lacking but you can buy an optional accessory if you need that feature.
But if you happen to like Pandora or vTuner Internet Radio, you can have the receiver connect directly to these services for streaming without relying on other devices.
Owning an iOS or Android device is still beneficial especially if you plan on using the Zone 2 and Zone 3 capabilities. With the free iControlAV2013 app installed, you can use the mobile device's touchscreen to alter the receiver's settings. The interface shows off some nice 3D graphics making it more fun to make adjustments to the receiver or manage multiple rooms from anywhere in the house.
Because the SC-1323-K primarily targets enthusiasts, this receiver has third-party control support so you can integrate your Control4 or Crestron systems. The necessary ports like the IR ports, 12 volt triggers and RS-232C are included to encourage custom installation.
Bottom Line
The Pioneer SC-1323-K bridges the high-end SC-1523-K and midrange SC-1223K quite nicely with its $1,299 price tag. The Pioneer SC-1523-K might be too expensive for people that may not need the 9.2-channel support and studio-level quality while the SC-1223K is more minimal on the multi-zone features. For that price, the SC-1323-K still delivers a powerful and efficient audio experience thanks to the Class D3 design and extra technologies and networking features.