In more recent years, more and more people have set up their own home cinemas so that they can enjoy first-class entertainment in the privacy of their own homes. Of course, as the market for home entertainment has grown, manufacturers have scrambled to provide more and more sophisticated equipment, to the point where many people can no longer even keep up with the latest developments.
It seems like just the other day that we were watching and listening to music recorded on CDs and DVDs. Today, nobody even bothers with them, with many people preferring rely on streamed content. For a monthly fee, you can have access to an almost infinite amount of audio and/or video content, and as we all know, we can now watch our favorite movies on state-of-the-art television sets.
However, if you really want a true cinematic experience, you need to invest in some seriously good equipment, including a good A/V network receiver. In fact, you can have the best speakers in the world, but without a good A/V receiver, those speakers won't do you much good at all. To a great extent, an A/V receiver is the heart of a good home entertainment system. So, in light of this, how does the Yamaha RX-A3060 Network Receiver measure up?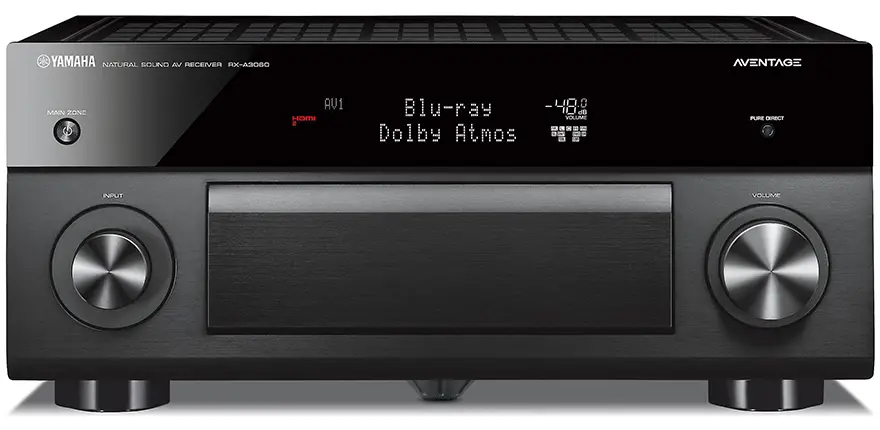 Yamaha RX-A3060 Network Receiver
The Yamaha RX-A3060 is best described as being a premium A/V network receiver that comes with a premium price tag, and as many people will agree, the minute you take it out of the box, it becomes apparent that it is also premium quality. In fact, you will struggle to find even one negative review of this cutting edge piece of kit.
The unit weighs in at just over 16kg, more or less what you would expect from a high-end receiver. While most of its weight comes from its actual component, some of it also comes from its robust housing; its strong H-shape frame, and its double-bottom chassis. There is even a fifth leg attached in order to all but eliminate vibration in the quest for clearer audio. As many audiophiles have stated, the RX-A3060 allows you to take your home theater endeavor to a whole new level.
Below is the back panel layout. Click on image to enlarge for a clearer view.
Key Features of the RX-A3060 at a Glance
The Yamaha RX-A3060 has an impressively solid feel to it, and the controls are not only very user-friendly but also very responsive, particularly the two front dials. As one would expect from an A/V receiver in this price range, the RX-A3060 packs an impressive punch in terms of sheer power. In fact, one could argue that it provides more power than certain other units that cost hundreds of dollars more.
The RX-A3060 has so many impressive features that it would be almost impossible to discuss each of them in what is meant to be a short and concise product review. However, there are some which really do deserve some mention. For example, this machine's ability to handle 4K video is something which most home theater enthusiasts will consider a very valuable asset, especially since Hollywood is starting to churn out more and more movies with a 4K format
4K video provides a level of clarity and picture quality that we could only have dreamed of in the not too distant past. And, it doesn't end there either. Not only can the RX-A3060 handle 4K video playback, but it can even upscale regular videos so that you can them watch them in stunning Ultra HD quality. Another video-related feature which can be very useful is the unit's ability to transmit content to a second screen as well, rather than only to one screen.
As far as audio is concerned, one can expect to get everything you have ever wish for, and a whole lot more. From its ability to handle streamed content to its ability to transmit audio wirelessly to as many as nine different rooms. Added to this is the fact that the RX-A3060 has all the power you need in order to use the maximum number of speakers with Dolby Atmos and/or DTS:X speaker arrangements. Yamaha has well and truly thought of everything during the design phase of this unit. It can even analyze the height and angle of your speakers so that you can adjust them so that you can enjoy the best possible surround sound experience in your home cinema.
In short, when you buy the Yamaha RX-A3060, you are buying a premium quality A/V Network Receiver that has been made by a company with a long and proven history. The RX-A3060 may not be 100% perfect in every way, and it might not be the best A/V system money can buy, but for the price, you would be hard-pressed to find a better quality unit at a lower price.
PROS:
The RX-A3060 is incredibly well built, complete with a robust outer housing; an extra-strong H-shaped frame, and a strong double bottom chassis
The Yamaha RX-A3060 has clearly been designed to provide the absolute highest level of audio and video performance
Sleek looking aluminum front panel that with a door that opens to give you access to a multitude of additional features
11.2 channel processing
9.2 channel with Dolby Atmos and/or DTS:X speaker arrangements
The RX-A3060 allows you to add audio to as many as 9 different rooms
10 HDMI sockets, 8 in and 2 out
Features an advanced HDMI Zone Switch feature
BT.2020 compatibility and HDCP2.2 HDR (High Dynamic Range)
Capable of playing 4K video and can also upscale regular video to 4K quality
Extremely impressive digital to analog performance
Built-In Wi-Fi; Bluetooth; Spotify Connect, and AirPlay
Suitable for virtually all sources of streamed content
One Input jack allows for a turntable to be connected
Advanced room acoustics optimization technology that can analyze speaker height and angle for the ultimate theater experience
CONS:
The remote control that you get with the RX-A3060 a bit of a disappointment, especially when you consider the fact that this model comes with a premium price tag. In your hand, it feels more like the sort of remote you would get with a much cheaper unit. The remote also looks cluttered, and it doesn't have a backlight, which could prove to be quite annoying if you are in a dark room.
While this unit is without question well worth the asking price, it will still be too pricey for many people.
Despite being an easy system to set up, there is still a learning curve, and people are not familiar with A/V receivers and home cinema may struggle at first before they finally master the controls.
Update: There is a newer model > Yamaha RX-A3070