In the small but highly competitive AV receiver market, if there is one company that you can never count out, it is Yamaha. Not everyone owns a Yamaha receiver of course but a lot of people have been happy with Yamaha's budget receivers. Their RX-V lineup provides essentials combined with good audio quality at a low price. Yamaha continues the momentum with the Yamaha RX-V79 series. This series marks the first time all of their products in the series sport wireless features. That being said, new midrange models like the Yamaha RX-V579 have some extra benefits of their own and should serve as a reminder that spending a little bit more on a receiver means great things especially for a 2015 model.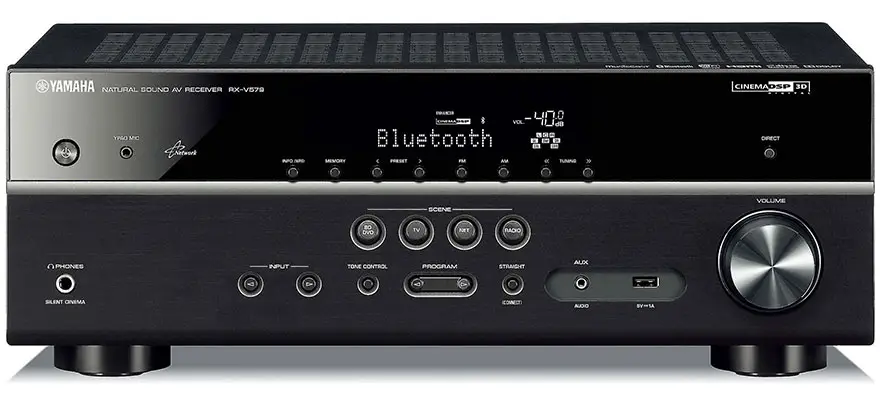 About the Yamaha RX-V579
The Yamaha RX-V579 is one of the five members of the RX-V79 family and rests in the very middle of the pack. It is priced at $550 making it the cheapest 7.2-channel receiver in this 2015 family as the lower-end models only feature 5.1 channels. Like the RX-V479, it has an output power of 140 watts so it is slightly less powerful than the two upper tier models. Like its predecessor, the RX-V579 has 6 HDMI inputs and a single output.
Below is the back panel layout. Click on image to enlarge for a clearer view.
Comparison with the Yamaha RX-V577
MusicCast is the biggest new addition to the Yamaha RX-V579 and is present in several other 2015 Yamaha AV receivers too. In fact, MusicCast is an entire platform that extends to other Yamaha products too. Basically, it is Yamaha's take on the ever popular wireless multi-room audio trend where the RX-V579 serves as the hub to it all. By purchasing a special Yamaha speaker or sound bar that supports MusicCast, you can have the Yamaha RX-V579 stream audio wirelessly to the speaker opening up fantastic multi-room audio possibilities. This is all done through a standard Wi-Fi or Ethernet connection too so setting it all up isn't complicated at all. Unlike standard multi-room audio systems that lack a receiver, you get the added benefit of getting external sources like the Blu-ray player involved.
The RX-V579 also has built-in Bluetooth which turns out to be an essential component of the entire MusicCast experience. This lets you do really cool tricks such as having your smartphone play back to the receiver wirelessly and have it come out of a MusicCast speaker. MusicCast devices can output the audio to a standard Bluetooth speaker too so Bluetooth gets both input and output roles.
Yamaha released the MusicCast app for Android and iOS to make it easy to control the experience. You can, for instance, decide which MusicCast devices are active. Position each MusicCast device in different parts of the room and you essentially have a room selector where you can conveniently pick the next song and play it back to the room of your choice.
On the minor end, the Yamaha RX-V579 now supports the HDCP 2.2 specification which means full support for 4K Ultra HD at 60 fps and the newest copyright protections that would be applied to future 4K video content. This is important for futureproofing because older models currently do not have a way to upgrade to HDCP 2.2.
Exclusive Features
Having two additional channels over the cheaper RX-V479 also opens up an extra possibility, Zone B speaker output support. This means you can set up a dual channel stereo in a second room while the main channel is limited to a standard 5.1-channel speaker setup. It is called "Zone B" because the audio source coming out of the main speakers is shared with the two speakers in the other room. If you need "Zone 2" support which allows an independent audio source, you will need to go for a higher-end model like the RX-V679.
Other Features
The RX-V579 has Wi-Fi onboard with wireless direct support. For those stuck with very old receivers, a dongle isn't necessary to activate the Wi-Fi feature. Wi-Fi opens up local streaming possibilities from computers and NAS devices over a wireless network. But even if you are not into that sort, your smartphone or tablet can take advantage of other wireless features. For instance, the AV Controller app, freely available at the Google Play, Amazon Appstore and iTunes App Store, lets you configure all sorts of receiver options without the need to touch the remote control.
First-time Yamaha receiver owners can also use the AV Setup Guide app to get full assistance in physically setting up the receiver. It tells you the proper way to make speaker and device connections through various illustrations and images.
Like most other modern receivers, the Yamaha RX-V579 is up-to-date with the current music trends. You can stream any kind of music from an iPad, iPhone or iPod Touch regardless of the active app through AirPlay. Spotify Premium subscribers can use the receiver's built-in Spotify Connect feature to stream millions of music tracks.
Performance
Audio and video performance on the RX-V579 is pretty much equal with last year's model but streaming over Bluetooth sounds noticeably better from previous generation models with onboard Bluetooth. This is because the Compressed Music Enhancer covers Bluetooth streaming as well so high-quality MP3s sound a bit closer to lossless quality. For optimum performance, you should use the YPAO Sound Optimization feature which helps calibrate the speakers based on the speakers' positioning and characteristics.
Conclusion
Pros:
• MusicCast eliminates the need to invest in a multi-room audio system.
• Onboard Bluetooth is nice and improved.
• HDCP 2.2 compliant
Cons:
• MusicCast is a proprietary platform so you are limited to buying speakers that support MusicCast (basically certain Yamaha-branded ones)
• Same old design and audio performance.
Verdict:
Multi-room wireless audio might be so two years ago but it is nice to see AV receiver manufacturers embracing it. Receivers like the Yamaha RX-V579 are sure to benefit consumers that have never purchased a home theater receiver before.
Update: There is a newer model > Yamaha RX-V581