Audio companies stick to yearly release cycles when it comes to home theater receivers because they want to make sure that enthusiasts get equipped with all the cutting-edge technologies associated with an AV receiver. Highly reputable brands like Pioneer ensure that their high-end receivers are well built and last many years. Given the expensive nature of these receivers, enthusiasts don't really have to buy a new AV receiver just to "keep up." But the objective of refined AV receivers like the Pioneer SC-1523-K is not to convince existing SC-1522-K owners to buy but to make high-end Pioneer receivers more tempting to those that decided not to buy the SC-1522-K last year. The SC-1523-K brings a nice set of improvements that are not immediately obvious.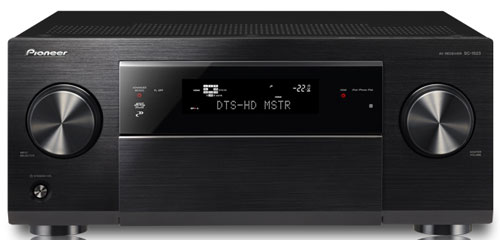 Design
The design of the Pioneer SC-1523-K is very much similar to the older model. The entire AV receiver gets brushed aluminum treatment and like the typical high-end AV receiver, the controls and connection ports are tucked away behind a door giving the receiver a nice minimal look. The controls beneath this door are not so many and handle the most common functions with a great number of them taking care of zone management. On the connectivity side, composite inputs are lacking as it appears Pioneer wants to keep the front side full of modern ports like HDMI and USB. The only other available ports include the setup mic port for speaker calibration and the ever typical phones jack.
Moving on to the back of the SC-1523-K, it looks as if the layout of the rest of the connection ports are also the same as its predecessor. But if you look more closely, you will notice that are more HDMI inputs (9 in total including the front) as well as a third HDMI output oddly placed left of the row of HDMI inputs. The other 2 HDMI inputs are still found on the opposite end.
Below is the back panel layout. Click on image to enlarge for a clearer view.
Features
The Pioneer SC-1523-K is yet another home theater receiver that has Class D3 amplification which continues to be Pioneer's proud standard in making sure that all channels are powered all at once without any drops to the power output per channel. It is a little bit more powerful than the SC-1522-K (135 versus 130 watts) and it maintains its support for 9.2 channels. That might not sound like much of a big improvement but the noteworthy change here is that each channel employs the ESS-DAC SABRE32 DAC which takes the sound quality to new heights and minimizes harmonic distortion.
The Pioneer SC-1523-K also goes beyond just offering a Zone 2 AV and Zone 3 analog audio. Unlike the SC-1522-K, you can have the SC-1523-K deliver HD video material to Zone 4 through the HDMI output. This can be done while the main zone is playing back an entirely different video source.
Speaking of HDMI, the front HDMI port gets an upgrade in the form of MHL 2.0. Last year's model was already advanced by featuring MHL support but the 2.0 version also adds support for 3D content. Any supported smartphones or tablets should charge faster, too.
The Pioneer SC-1523-K still has the highly impressive Qdeo video processing technology for noise-free video upscaling but this time around, it has ambitions beyond 1080p. With more affordable 4K displays hitting the market, it is good timing for the SC-1523-K to not only support 4K Ultra HD passthrough but also have a 4K Ultra HD video scaler so you can upscale movies to 4K resolution even if the media player doesn't supported. The component and composite video scalers can upscale to 4K as well.
No improvements were made on the way the Pioneer SC-1523-K deals with speaker calibration but Pioneer's MCACC (Multi-Channel Acoustic Calibration) is still worth mentioning because it quickly optimizes each speaker after you properly positioned the setup mic. The user interface of the SC-1523-K remains very simple so it should be easy for just about anyone to calibrate the speakers. Everything is considered during the calibration process including the distance, frequency response, speaker size and sound pressure level. Full band phase control also allows you to synchronize outputs between several speakers. This improves the surround sound experience by eliminating phase disruptions.
Pioneer also went ahead and improved the network connectivity features of the Pioneer SC-1523-K. It is now Windows 8 certified so the very latest PCs and laptops can use the "Play To" feature to quickly send content to the receiver over the network. Connecting to the router via Ethernet cable is still required though unless you feel like purchasing the AS-WL300 network adapter separately. Once you made the connection, you still have the option to enjoy the AirPlay support which is a technology that only iPhone, iPad and iPod Touch mobile devices can take advantage of. This feature allows wireless streaming of iTunes music and it sends the track information as well. PC and Mac systems can use this feature too as long as iTunes used as the media player. If you have a basic Apple media player like an iPad Nano, you can still use the USB port to play back music to the receiver and have it charged too. Modern HTC phones are also capable of wireless streaming thanks to HTC Connect.
If you need a greater variety of streaming content, you can always resort to online services like SiriusXM, Pandora Internet Radio and vTuner. You can stream from these services even if your TV and Blu-ray player doesn't support these functions. You better upgrade the SC-1523-K to the latest firmware though because that firmware adds support Spotify Connect. Many AV receivers still lack Spotify support and Spotify happens to be one of the most successful streaming services with plenty of quality content available.
The Pioneer SC-1523-K works just fine with the updated iControlAV2013 mobile app. This app works on virtually any mobile device running iOS or Android and it allows you to use the supported device as a remote where you can adjust various settings including the EQ. The app comes with this new feature called "Push Player" which allows your mobile device to conveniently stream music to the receiver so your Android device doesn't have to feel left out just because it doesn't support Apple's proprietary AirPlay technology.
Bottom Line
All of the new improvements featured on the Pioneer SC-1523-K come with an extra $50 cost on top of the initial launch price of its predecessor. So you are essentially paying $1,599 for a THX Select2 Plus Certified receiver that now has an upgraded DAC and plenty of worthy upgrades. It is just what Pioneer needs to put pressure on other high-end receivers.