The Yamaha RX-A660 is the perfect receiver to complement your latest Ultra HD TV as it supports all HDMI connections with optimal HDR technology. This 7.2 channel amplifier outputs 80W of power per channel. Anyone can use this receiver as it's easy to set up and control with its free step-by-step AV Setup Guide app.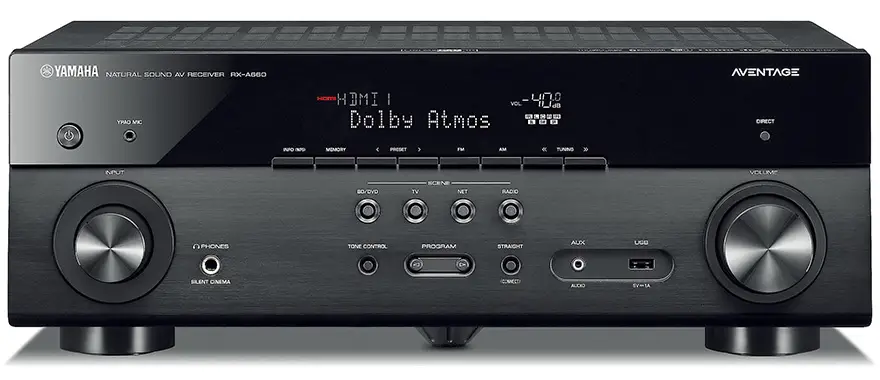 Much more than a basic home theater system
Once you connect all your devices to the Yamaha RX-A660, you will realize that this is no ordinary home theater system! Dolby Atmos and DTS-X together help produce stunning video quality with multi-dimensional and immersive sound so that you can enjoy your music and movies in surround sound.
As the receiver supports both high-resolution music files and lower-resolution audio formats, you know you will enjoy listening to your favorite music played from any source.
Enjoy music throughout your home
While the RX-A660 comes with a seven speaker output, you can customize it to play a 5-channel system in the main room. The rear surround channels here can be used to help enhance the clarity of sounds by bi-amping the front speakers.
It is also possible to use the two channels to produce stereo sound in another room. As the audio played in the other room is the same as the audio played in the living room, you get to enjoy your favorite songs and music wherever you are at home.
Below is the back panel layout. Click on image to enlarge for a clearer view.
Optimized performance
This receiver is the first of Yamaha's 2016 Aventage line. It comes with a rigid H-shaped frame that almost completely minimizes the chassis vibrations while its anti-resonance technology (ART) makes the unit resist mechanical and electrical interface.
The receiver's ART comes with various measures that help cut down vibrations in the amplifier. An example is its fifth damping foot located at the receiver's base that works at reducing internal and external vibrations, and its full metal casing aluminum front panel that helps reduce resonance to help provide for maximized sound quality.
It is this construction and the amplifier's symmetrical layout that helps produce accurate playback and precise stereo images. The setup microphone of the Yamaha RX-A660's YPAO calibration system analyzes your room's speakers and acoustics so that the receiver produces optimized system sound.
Multiple music options
As Wi-Fi, Apple AirPlay and Bluetooth are all built-in the RX-A660, you are provided with various wireless music streaming options to choose to stream music. You can enjoy music from all over the world using the vTuner Internet radio while the unit's built-in Pandora, Rhapsody, Spotify Connect, and SiriusXM Internet radio support lets you play your customized content directly through the device.
Wireless audio system for the entire house
With the help of Yamaha's beautiful multi-room technology MusicCast, and compatible Yamaha wireless speakers and sound bars, you can use the RX-A660 to build a wireless audio system for the entire house that you control through your smart device or phone while sitting at a corner. You can choose between playing the same music on all devices or splitting the music into different zones to fit different moods in each room.
As there are so many audio sources to choose from, you will enjoy hours of continued audio enjoyment with your RX-A660. Not only does the receiver provide you with so many audio sources to choose from, but you can also conveniently connect your TV, phone and even CDs and vinyl to it for quick access to your favorite tracks.
Pros
Advanced networking system connected to various devices to source your music from
MusicCast lets you control music throughout the house through your smart device
Anti-resonance technology minimizes vibrations to provide optimal audio performance
7-speaker outputs let you enjoy music throughout your home
Easy to setup and use
Perfect amplifier to complement your latest Ultra HD television
Enjoy music and movies in surround sound
Wi-Fi, Bluetooth, Apple AirPlay, Spotify Connect, Pandora, and Rhapsody are all built-in
First in Yamaha's Aventage range of amplifiers
Cons
USB does not seem to work so you can't listen to music via the USB
Wi-Fi doesn't seem to reach some networks
The update file at Yamaha website is defective, making it difficult to upgrade to the latest version
Verdict
The Yamaha RX-A660 amplifier seems to be the perfect device that efficiently complements and completes your home theater system. It lets you enjoy your favorite music throughout the house while you control all this from a corner of your house! With so many music options to choose from, this is indeed a valuable addition to any audio and video enthusiast's home video and audio network.
Update: There is a newer model > Yamaha RX-A670