When looking for a home theater receiver that costs in the $600 to $700 range, you should expect it to have built-in Wi-Fi and Bluetooth, full 4K support, a multitude of connections and good overall audio quality. The interesting bit is that some of Sony's products like the Sony STR-DN1050 tick most of these boxes so you would expect its successor known as the Sony STR-DN1060 to have very minor improvements. Adding full 4K support complete with HDCP 2.2 would make the STR-DN1050 a complete futureproof package that can hang with the competition. However, the STR-DN1060 has a few interesting surprises in store.
About the Sony STR-DN1060
The Sony STR-DN1060 is one of the two receivers Sony announced at CES 2015 back in January. It is the new flagship model of the consumer-class "DN" series and still falls a tier below the cheapest model of the enthusiast-class "ES" series. It still boasts 165 watts of power with 7.2 channels available and commands a $599 price tag.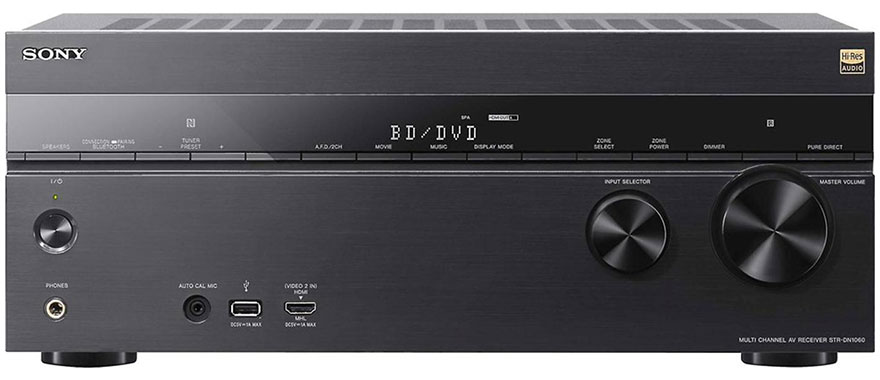 Comparison with the Sony STR-DN1050
The biggest addition that you will get with the Sony STR-DN1060 is dedicated to Google fans. Google Cast support with AirPlay still available as the Apple alternative. This is a fantastic move by Sony because the receiver doesn't really need to support its own music services anymore unless you prefer to stream music to the receiver without the need for a mobile device. But nowadays, people use mobile devices to control the receiver anyway and Android happens to be the number one mobile operating system in the world. There are plenty of Google Cast ready audio apps including iHeartRadio, Deezer, TuneIn Radio, Pandora, Pocket Casts and dozens of others. Windows users with Chrome installed and Chromebook users are invited to stream to the STR-DN1060 as well.
Another improvement Sony is touting is high-resolution audio playback. The STR-DN1060 may not be in the enthusiast category but the Sony STR-DN1060 can handle high quality speakers. In order to make the most out of those expensive speakers, it is best to feed the receiver lossless audio content and the STR-DN1060 for just about every major file format including FLAC, WAV192k, ALAC, AIFF and DSS. Sony even supports its proprietary D.L.L or Digital Legato Linear format. Compressed file formats like MP3 also get a welcome quality boost thanks to the new DSEE HX technology. It uses clever algorithms to restore lost frequencies normally caused by audio compression.
Sony understands that a lot of people still prefer using Bluetooth for their wireless audio streaming needs so it is giving the Bluetooth functionality of the Sony STR-DN1060 a nice dose of LDAC. This new Sony-exclusive technology triples the data transmission capability making high-quality audio files sound better. The Bluetooth capability isn't just limited to mobile devices either; if you have a pair of Bluetooth headphones, you can link it to the receiver and whatever music you stream to the STR-DN1060 can be heard on the headphones.
As mentioned earlier, the older Sony STR-DN1050 only ticks most of the boxes a modern receiver should have. What the STR-DN1050 lacked is HDCP 2.2 compliance and while it may not be a huge deal to the average consumer right now, it could be once studios and content creators are ready to roll out premium copy-protected 4K content. HDCP 2.2 basically ensures that new 4K content released under this standard is compatible with the receiver and the Sony STR-DN1060 proudly has this support. It doesn't look like Sony is going to release any firmware to older models that may add HDCP 2.2 support so it is best to focus on this receiver especially if you own or plan to buy a modern 4K TV.
If there is one thing that is missing from this nice list of improvements, it would have to be Dolby Atmos support. You can find Dolby Atmos support in a number of new receivers released by other companies but it isn't really a must-have feature. You do need to invest in special equipment to meet the steep Dolby Atmos requirements so consider the lack of Dolby Atmos a very minor nitpick.
Below is the back panel layout. Click on image to enlarge for a clearer view.
Exclusive Features
The other receiver Sony announced at CES 2015 was the STR-DN860. Surprisingly, the STR-DN860 has all the improvements found in the STR-DN1060 and it only costs $499. But spending the extra $100 is worthwhile if you want more HDMI ports. The Sony STR-DN1060 has 8 HDMI inputs with one being on the front (as opposed to 5 on the STR-DN860) and 2 HDMI outputs allowing Zone 2 capability. The STR-DN1060 also has component video inputs and more power for each of the 7 channels.
It is also worth noting that the Sony STR-DN1060 supports NFC pairing just like many of Sony's other home entertainment products. This allows you to establish a Bluetooth connection by simply tapping the NFC-enabled mobile device to the receiver. Most other competing receivers lack this feature.
Other Features
The free SongPal app that is available in the iTunes App Store and Google Play Store works with the STR-DN1060. This app turns your iOS or Android device into a remote control where you can beam music from the mobile device to the receiver, change settings or manage the second zone.
Performance
The Sony STR-DN1050 and even the very old STR-DN1040 were both ahead of their times in the audio quality department so it is not that surprising for Sony to not change the hardware especially if the price didn't change. But after comparing a few lossless music tracks in various genres, the STR-DN1060 sounds a bit clearer although the average consumer may not notice. Still, the Sony STR-DN1060 remains as one of the best performing amps in its price range.
Conclusion
Pros:
• Google Cast opens plenty of audio streaming service possibilities.
• Support for high-resolution formats is a nice touch for lossless fans.
• Still very powerful sound quality
• HDCP 2.2 compliant.
• Has the most Bluetooth features.
Cons:
• No Dolby Atmos support
Verdict:
Sony really hit a homerun with the Sony STR-DN1060. The bar for the $599 receiver has officially been raised.