The home theater experience just took another step forward with the 2017 release of Marantz SR6012. The impressive unit features 11.2 channel processing and nine identical built-in channels of amplification. An external amp isn't necessary for its 7.1.4 speaker configurations – it's ready to use right out of the box. Setup doesn't get much easier than that. Fine-tuning the SR6012 AVR with custom installation features such as Crestron Connected capability is an example. Embedded into wireless and wired AV equipment like flat panel televisions, receivers, and projectors, Creston control intelligence brings the device into the native Creston network. It eliminates the need for a software module and upgrades performance.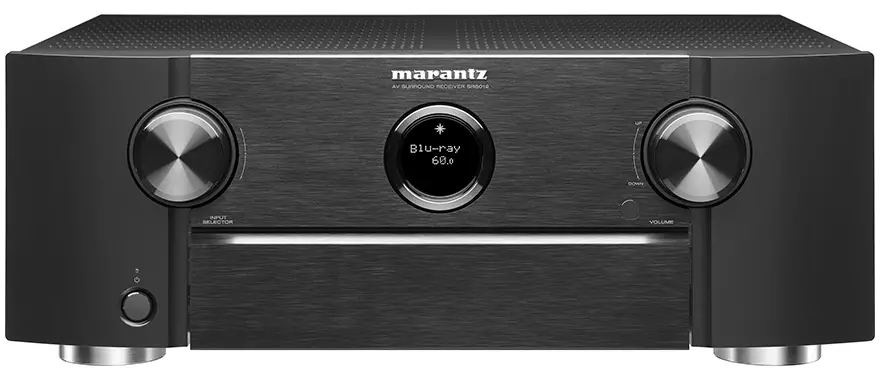 The SR6012 delivers 4K Ultra High-Definition (UHD) compatibility and multi-room music playback. It contains the most recent version of DTS:X and Dolby Atmos, which are ready to perform right out of the box. HEOS integration adds to the AVR's home theater ability to produce a realistic feeling of being part of the action rather than watching from afar. Pre-amp connections for all channels, and the inclusion of Dolby Vision HDR add to its viewing performance.
About the Product
The Marantz SR6012 has an impressive video section that is compatible with today's 4K HDR formats. The pending firmware update for Hybrid Log Gamma (HLG) will support HDR. HDCP 2.2 specifications are met by the unit's inputs and outputs. The AVR handles HDR and 3D as well as:
BT.2020 pass-through.
Ultra HD 60Hz video.
21:9 video.
4:4:4 color sub-sampling.
Dolby Vision and Ultra HD Blu-ray players are also compatible with the 6012.
Another future firmware update introduces eARC (Enhanced Audio Return Channel). High bitrates and 3D immersive audio formats are supported by the single-cable connection allowed by eARC.
In addition to serving as a pre/pro with its 11.2 preamp outs, the SR6012 can be used in 5.1 and 7.1 configurations. Use the extra channels to power a second zone or serve as bi-amplifying speakers.
Below is the back panel layout. Click on image to enlarge for a clearer view.
Comparison with the Previous Model
So how does the SR6012 measure up to the previous model SR6011? Easy setup is a popular feature in each. Both models include Audyssey MultEQXT32 auto calibration, which detects and eliminates sound imperfections through a digital filter. The flap at the bottom of each unit hides a bevy of technology, including a USB port for sticks and iPods, calibration microphone port and a headphone output. A row of buttons allows operator control over features like radio presets and sound modes. One of the eight HDMI inputs is located under the front flap. It accepts HDCP 2.2 and 4K/60p. The nine-channel receiver is loaded with sockets in the back, starting with an additional seven HDMI 2 inputs and two outputs. Both AVRs are equipped with Creston Connected.
Unlike the SR6012, the SR6011 has no HEOS multiroom support. It can't:
send music to other Marantz or Denon speakers in the home.
access music streaming services like Tidal and Deezer.
Preamp outputs and HDAM circuits make the 6012 an ideal dedicated preamp/processor.
Three of the Marantz SR6012 HDMI outputs provide a way to simultaneously send video and audio to a second zone, as well as two other displays such as projector and television. It has one more audio input than the SR5012 (five instead of four). And since there is a resurgence of vinyl records Marantz has appropriately included a moving magnet phono input for your turntable playback.
Pros
Future firmware update delivers eARC support.
IP control and RS232 port provide option for custom installs.
Onscreen Setup Assistant shows easy-to-understand, step by step setup installation.
Controller app is available for Kindle Fire, Android, and iOS.
Gold-plated connectors and speaker terminals.
Cons
AVR will not perform to its capability until firmware updates are received and updated.
Conclusion
The Marantz SR6012 successfully reflects the Marantz goal of state-of-the-art audio equipment. It provides a modern home theater system with hi-res auto formats like DSD and ALAC. Technical proficiency such as IP control and its RS232 port supports the unit's use in custom installs. If the clock serving as D/A conversion reference is affected by jitter, its reproduced sound is blurry and inaccurate. The Clock Jitter Reducer resolves the problem by comparing input and output signals, adjusting the sound for optimum performance. The HEOS compatible AVR introduces audio streaming capability to multiple rooms and the support of Bluetooth and Wi-Fi. Put the Marantz SR6012 on a network to stream sites like Pandora, Spotify Connect, and Internet Radio. The opportunity to utilize it in a variety of ways without the need for complex setup makes the AVR an easy way to enjoy clear, precise audio and as a means of viewing a favorite 3D movie in Dolby Vision and surround sound.