When a family of new home theater receivers is announced at a big event like CES 2015, it is usually the most expensive model that gets all the attention. That's mainly because the cheaper models have some of the key improvements found in the new flagship stripped out. This isnot the case with Sony's new home theater receivers for consumers. The Sony STR-DN1060 may have stolen the spotlight as the successor to one of the best home theater receivers of 2014 but its little brother the, Sony STR-DN860, can be a smart purchase if you do a little bit of evaluating.
About the Sony STR-DN860
The Sony STR-DN860 is indeed the little brother of the STR-DN1060 as it is a few millimeters shorter and weighs about 5 pounds less. While both receivers are in the 7.2-channel category, the Sony STR-DN860 only maxes out to 150 watts per channel. But the much bigger difference is the lack of an HDMI port on the front of the STR-DN860. With no component video inputs and only 5 HDMI inputs and 1 HDMI output on the back, the Sony STR-DN860 was clearly made for smaller living room setups. These sacrifices meant that Sony was able to price the receiver at $499 making it a direct successor to the STR-DN850.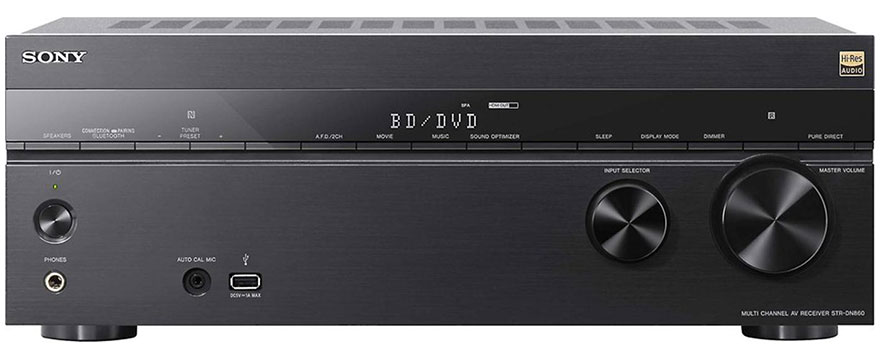 Comparison with the Sony STR-DN850
Fortunately, the differences between the STR-DN860 and the STR-DN1060 end there because the DN860 is a massive improvement over the older model. AirPlay is a nice feature to have in a modern home theater receiver but it is still exclusive to Apple devices. There are more Android users than ever before but streaming music had to be done in a slightly less convenient manner. With the Sony STR-DN860, Android users finally get that convenience in the form of Google Cast support. It is already no surprise that the STR-DN860 can stream from Spotify and a couple other online streaming services over Wi-Fi or Ethernet but Google Cast offers a ton of other possibilities all through your Android smartphone or tablet. This is because many of the audio streaming Android apps like TuneIn Radio, iHeartRadio, Pocket Casts, 8tracks and Songza support Google Cast. It also means that Sony no longer needs to worry about providing additional support to other services. Instead, you just have to wait for the service to support Google Cast and you can easily use the service with the Sony STR-DN860. Also remember that Google Cast support extends to Windows PCs with Chrome and Chromebooks too.
The STR-DN860 is obviously not the receiver to get if you want your home theater system to be a powerhouse but Sony decided to bring the high-resolution audio playback benefits from the Sony STR-DN1060 to the Sony STR-DN860 anyway. Lossless formats are not for everyone but offering compatibility with a broad of formats from FLAC and ALAC to DSS and Sony's proprietary D.L.L. (Digital Legato Linear) format is most certainly welcome. The STR-DN860 can also use this cool technology called DSEE HX to make compressed file formats sound a little bit better by reviving some high frequencies.
There are receivers with built-in Bluetooth and then there is the Sony STR-DN860. NFC support is just the tip of the icing as the previous model has it but perhaps the most noticeable thing that Bluetooth lovers will appreciate is support for Sony's new LDAC technology. Normally, playing back a high-res track from a CD and having it transmitted to your mobile device via Bluetooth results to a slightly reduced quality. LDAC simply retains that quality so streaming via Bluetooth is just as good as streaming through Wi-Fi. You can also connect a pair of wireless Bluetooth headphones to the receiver and enjoy your music streaming sessions privately.
The Sony STR-DN860 is more complete of a 4K-compliant receiver than just about all other receivers released in 2014 regardless of who made them. It is joining the ranks of many other new receivers that have HDCP 2.2 compliance and it is important that these receivers do so. HDCP 2.2 is a standardized copy protection specification that will be used by future 4K content so having this compliance ensures that you will have your 4K fix from all sources. It is only proper to pair a 4K TV with HDMI 2.0 ports with a receiver like the STR-DN860.
Below is the back panel layout. Click on image to enlarge for a clearer view.
Exclusive Features
With the Sony STR-DN860 already out in the wild, it is hard to consider cheaper home theater receivers unless you want to save $200 and get the Sony STR-DH750. It may be an Ultra HD 145-watt 7.2-channel receiver but it does not have Wi-Fi and the new improvements mentioned earlier. The exclusive features and extra HDMI port on the STR-DN860 simply make it the better long-term deal.
Other Features
Like other Sony receivers with networking features, you can control Sony STR-DN860 using your smartphone with the SongPal app. You can change the settings if you like or do local streaming the old-fashioned way.
Performance
The STR-DN860 perhaps similarly to the STR-DN850 since Sony didn't make any internal improvements. But that shouldn't disappoint people forking $499 because it performs admirably when playing music or movies. Lossless tracks sound the best they can be but you might need good speakers and a good ear to really appreciate it. If you have high expectations, considering the Sony STR-DN1060 is a safer option and only costs $100 more.
Conclusion
Pros:
• Google Cast gives Android and Chrome users a better wireless streaming experience that is in line with Airplay for iOS users.
• Great value for a feature-rich 7.2-channel receiver.
• HDCP 2.2 compliant.
• Best experience for Bluetooth users.
Cons:
• Audio improvements over its predecessor may not be noticeable for the target audience.
• Only 5 HDMI inputs with none on the front.
Verdict:
The Sony STR-DN860 is an extremely tempting $499 7.2-channel receiver. Just make sure your speakers will work with the receiver and plan in advance what devices you plan to connect to it. Only then can you enjoy the $100 savings without regret.