In March 2016, Onkyo unveiled four new receivers to be launched by the company. These included TX-NR757, TX-NR656, TX-NR555 and TX-SR353. The final two items in the range are the more affordably priced ones, making them suitable for individuals interested in quality sound without being connoisseurs.
Both TX-NR656 and TX-NR755 are 7.2-channel receivers with 140 watts of power per channel. Still, there are some important differences that set the two products apart. Here are some of the most important details about Onkyo TX-NR555.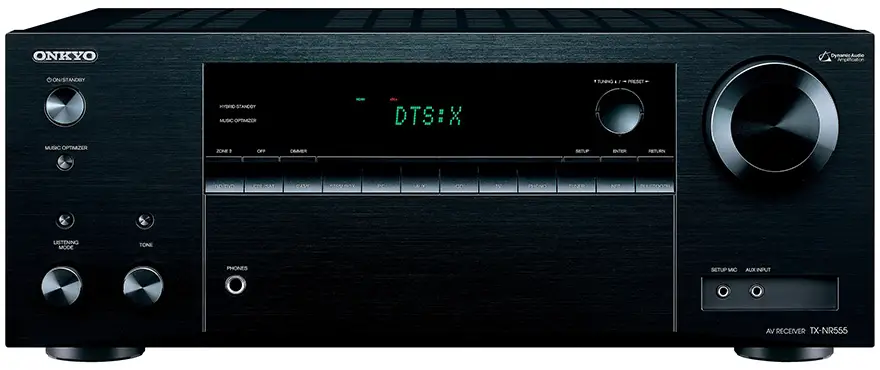 Overview and Technical Specs
Onkyo TX-NR555 is a step up from the most inexpensive TX-SR353. It comes with all of the characteristics of the base model and it features a few extras that result in better sound quality and an enhanced user experience.
Instead of the 5.1 channels that TX-SR353 brings to the table, this one is a 7.2 channel receiver. It comes with component video, composite audio/video, co-axial digital audio and optical inputs. The outputs include HDMI and a headphone jack. There's one USB port for added convenience, as well.
When it comes to connectivity, the device is Bluetooth-enabled and wireless. EDR capability with advanced music optimization technology is also available.
The receiver has a couple of additional cool technical specs worth mentioning in the overview:
Dynamic audio amplification
Internet radio and music streaming (Pandora, Spotify and other on-demand services)
AccuEQ room calibration
DTS:X ready and Dolby Atmos decoding (a perfect addition to a home cinema system)
Theater-dimensional virtual surround function
Double bass function
Phono input for a connection with a turntable
40 AM and FM presets to choose from
Below is the back panel layout. Click on image to enlarge for a clearer view.
Best Characteristics
Just like other Onkyo receivers, TX-NR555 has gotten a big number of positive customer reviews. Both professionals and people that have tried the piece of audio equipment put emphasis on the same positive characteristics:
Easy to set up: Onkyo TX-NR555 is intended for the general user rather than for impeccable audio enthusiasts. As a result, the receiver is easy to set up and adjustments can be made via the remote control. A phone app is also available for the purpose of tweaks and it also simplifies the task of streaming music.
Excellent sound quality for this type of receiver: when it comes to a good price to quality ratio, Onkyo is difficult to beat. This receiver is yet another proof of the claim. Most reviewers report that the audio quality is impeccable, the sound is crisp and powerful. The experience was equally positive when listening to music and watching movies.
Excellent connectivity: you have a range of connectivity options to choose among. These include Bluetooth, wi-fi and Ethernet. The receiver is very easy to pair with any available device. The quality of connectivity also enables effortless music streaming.
Dynamic audio amplification: this feature is available in some of the other Onkyo receivers, as well. It delivers amplification without interfering with the quality and the crispness of the sound. The signal remains noise-free, regardless of the massive power per channel.
Multi-zone audio: the receiver comes with Powered Zone 2 technology, enabling the placement of speakers in another zone. Internet or other audio sources can be sent effortlessly to the second zone and though Onkyo was a bit late in terms of adopting the technology, the outcome is a nice one.
HDMI video compatible: the receiver is compatible with some of the latest video formats, making it great for use by movie enthusiasts. The bandwidth has been increased to 18GB from previous models. HDR format transmission is also supported.
Dolby Atmos and DTS:X ready: speaking of the movie theater experience, Onkyo TX-NR555 is Dolby Atmos and DTS:X ready. You'll be fully immersed in the sound because of the three-dimensional experience.
A Few Shortcomings
Most customer reviews about this brand new Onkyo receiver a positive. Only a few shortcomings have been identified:
· Some people experienced problems with Bluetooth connectivity: while the other options worked fine, a few people did have issues pairing devices using the Bluetooth option.
· Some issues with the app: while the app is supposed to turn an iOS or Android device into a remote for Onkyo TX-NR555, some people didn't find it to be particularly user-friendly. The app seemed to be missing some control features, making the remote a better pick.
· A bit expensive for a budget receiver: while it's one of the least expensive Onkyo products on the market, some people did find the price to be a bit high for a product with such characteristics. The group of these reviewers is a minority, most people being completely satisfied by the price to quality ratio.
Final Verdict
Onkyo has done it again and it's launched yet another crowd pleaser in 2016. So far, Onkyo TX-NR555 has been receiving a lot of praise. The complaints about the product are just a few and they don't really have anything to do with the quality of the audio.
Anyone that wants an easy to use receiver that has an array of connectivity options, multiple zones and effortless audio streaming will be pleased by this one. TX-NR555 has an array of customization features, making it possible for listeners to enjoy music just the way that they want to.
Update: There is a newer model > Onkyo TX-NR575