Why wonder about the excitement of the future's home cinema experience? It's now available with the Denon AVR-X4400H at a MSRP of $1599. It was interesting to read through FAQs and discover the compatibility of its video section. Set to work with current HDCP 2.2 and HDMI specifications as well as Dolby Vision, it handles any 4K Ultra HD source. The AVR boasts next-generation features, much to my delight, including:
Hybrid Log Gamma (HLG)
High Dynamic Range (HDR)
eARC (enhanced Audio Return Channel)
4K Ultra HD 60Hz video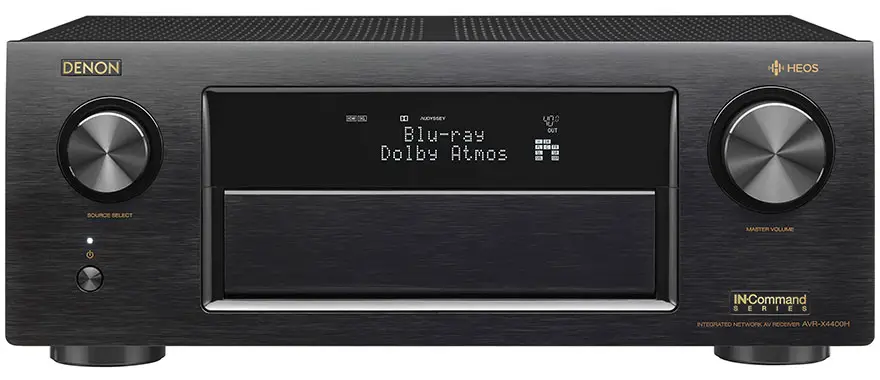 Denon AVR-X4400H, eight HDMI inputs, 3D, and BT.2020 pass-through support. All 9 channels are configured the same, resulting in an impressive amplifier section and the ability to drive lower impedance speakers. Watch the on-screen Eco meter to see how power consumption lessens as the volume level is reduced through the Auto Eco mode.
About the AVR-X4400H
State of the art AVRs require accurate configuration to produce a superior audio/visual experience. One of the Denon AVR-X4400H's most appealing features is how the manufacturer understands and delivers what the public wants. Audyssey MultEQ XT32, for instance, is a room measurement system designed to optimize each room's sound and video quality. Three HDMI outputs and eight HDMI inputs provide the HDCP 2.2 compatibility and most recent HDMI specifications, such as:
BT.2020 pass-through support.
4:4:4 Pure Color sub-sampling.
4K Ultra HD 60Hz video.
Upscale lower resolution video from digital or analog sources with its advanced video processor. It's easy to feel spoiled with a TV and projector entertaining the kids in one room while a second zone displays a separate feature. HDR and HLG coordinate video format, while Dolby Vision improves color, brightness, and contrast. I particularly like the option of using the living room for the main home theater experience, thanks to the technically superior room correction system (DSP). The odd assortment of large furniture and angled counters and walls usually play havoc with acoustics. Denon partnered with Audyssey Laboratories in 2003 to develop room correction software. Fifteen years of experimentation and improvement later, the result is the impressive XT32 room correction software found in Denon AVR-X4400H and above.
Below is the back panel layout. Click on image to enlarge for a clearer view.
Comparison of the Previous Model Denon AVR-X4300H to AVR-X4400H
I was curious about improvements and similarities in the AVR-X4400H and AVR-X4300H. The earlier model's powerful, dynamic audio and visual performance speaks volumes about the reason for its popularity. The X4400H continues the legend while correcting the awkward over-accentuation of treble that occasionally plagued the Denon AVR-X4300H. Both include DTS:X, Dolby Atmos and 4k support. The seven assignable HDMIs on the rear deliver support for HDCP 2.2, 4.4.4 Pure Color, BT.2020, and HDR. An eighth HDMI is located on the front panel. There are four digital coaxial and optical inputs. Pre-amp outputs and speaker connections create an ideal environment for multiple zones. Each AVR successfully handles a main zone and zone 2. An additional zone 3 is optional, but available when desired by using a 5.1 configuration. Play back separate sources or the same source in all three areas.
The proper assortment of speakers delivers amazing sound quality with a center speaker and two each:
front speakers.
rear speakers.
powered subwoofers.
height speakers.
rear back speakers.
Rearrange speaker numbers to personalize the results. Wi-Fi and Bluetooth provide wireless connectivity. Apple Airplay is also supported. HEOS technology is built in to both AVRs, resulting in an app-controlled wireless multi-room network for sound. I put an HEOS 3 wireless speaker in a separate room to determine if setting speakers for multi-room audio was as easy as it sounded. I downloaded the HEOS app, which prompted me to use the cable (provided)to connect the phone and speaker. Once that was done, I observed while HEOS 3 automatically searched for, located, and logged into my home network. I logged in to Spotify and was treated to audio in two zones, one in the family room with the AVR-X4400H and the other in the kitchen from the HEOS 3 portable speaker. I have no reason to feel the previous model is any less dependable.
Remote controls have a fair share of criticism. Although Denon continues to use a style that is several years old, it is spacious rather than crowded and features large, user-friendly buttons. Overall, there's hardly any difference between the Denon AVR-X4300H and AVR-X4400H. In this case, that's a good thing. Both models display quality in all the features offered.
Features
Precise channel matching and high-fidelity resonance are delivered from every channel of the AVR-X4400H. Bass Sync technology eliminates LFE effects like delayed and out-of-sync play from Blu-ray discs. HEOS delivers a quality streaming experience with Spotify, iHeartRadio, and Pandora, to name a few.
Advanced sound processing
Programmable remote
Ability to decode DTS HD Master, DTS Virtual: X, DTS Neural: X and more
Pros
Simple setup
8 HDMI inputs/3 HDMI outputs
Good balance between midrange audio and bass
Very good stereo delivery
Alexa voice commands
Cons
Conclusion
The Denon AVR-X4400H uses its built-in HEOS technology to deliver impressive sound and a wide variety of music playback options. Dolby Atmos brings about a realistic scenario by making the viewer feel a part of the action. It's like standing amidst filming or standing in the orchestra pit while the subtle and blatant themes swirl around and envelop each observer. The MSRP of $1599 is reasonable when compared to the entertainment delivered. Setup is simple. A Zone 3 option is like icing on the cake; it's too appealing to pass by.