Recent advancements in TV technology mean that consumers once again have a significant reason in upgrading their home theater receiver. So far, only folks that currently own a 4K TV or plan to get one may need to consider an updated home theater receiver. It is no surprise that all the big home theater receiver manufacturers including Denon are making sure all of their new models are ready to embrace the next-gen living room products. But Denon also wanted to take the opportunity to make their receivers easier to set up and use. The Denon AVR-X1100W is the company's $500 offering and with some nice improvements over the older model, this receiver shows a lot of promise.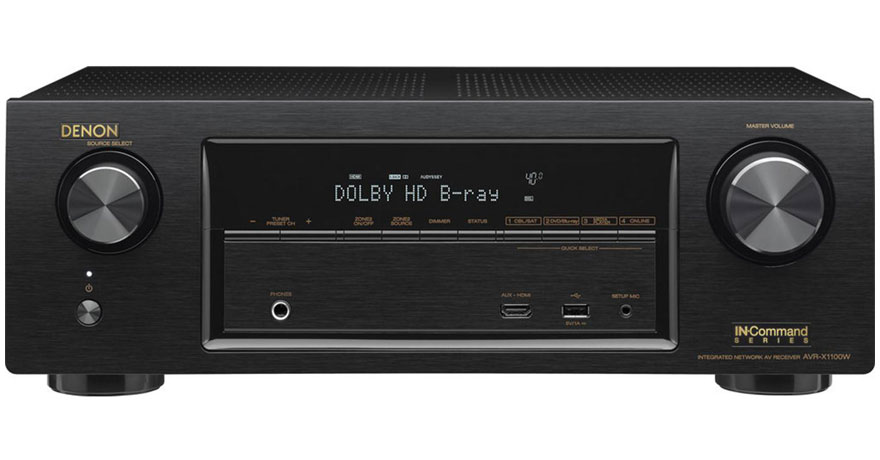 Design
When it comes to looks, the Denon AVR-X1100W isn't all that different from the older AVR-X1000 model which is now positioned as the entry-level receiver of Denon's lineup. It sports a classic look with a brushed aluminum finish with a sunken section that contains the info display, quick select and Zone 2 buttons and a few ports. Like the previous model, there is an HDMI port on the front along with a USB port so most mobile gadgets can easily connect to the receiver. There are no other AUX inputs though so you need to connect them at the back.
5 additional HDMI ports can be found on the back which is pretty sufficient for its price. But there is more breathing room for expandability compared to the AVR-X1000 thanks to the additional Surround Back L and R channels making this a full 7.1-channel receiver. The added wireless antennas also highlight the receiver's newfound Wi-Fi capabilities. Other than a few video and audio inputs here and there, there isn't much else to see on the back of the Denon AVR-X1100W. Because of the improvements and slight bump in specifications, the AVR-X1100W ends up being a little bit heavier than the Denon AVR-X1000.
Below is the back panel layout. Click on image to enlarge for a clearer view.
Features
The Denon AVR-X1100W is one of the latest of the $500 receiver category to score not only built-in Wi-Fi but built-in Bluetooth functionality as well. The Internet access capabilities of this receiver may not exactly replace the ones found on a typical Smart TV but it can stream music from Spotify, Pandora and SiriusXM quite easily. Thousands of other Internet radio stations are available for free streaming as well. AirPlay support is retained and it is easier than ever to use since you don't have to purchase a separate wireless adapter to set up the receiver. With DLNA 1.5 support, the AVR-X1100W may stream from Windows PCs, laptops and tablets too.
The Denon Remote app remains as another good reason to keep the Denon AVR-X1100W connected to the local network. It comes in Android and iOS flavors and it offers a pretty simple way to stream online or manage playlists. A recent update added tablet support allowing iPads and other Android tablets to serve as remote control placements as well.
The AVR-X1100W, together with the other new Denon models also represents Denon's push to bring full 4K Ultra HD compatibility. This means that you don't have to step up to pricier models if you need 4K Ultra HD 60 Hz pass-through and other benefits like 4:4:4 Pure Color Sub-sampling. The "Game" and "Blu-ray" inputs get the HDMI 2.0 treatment since it will be these devices that will fully tap into the connected 4K display.
Denon also made some nice improvements to the interface to make it real easy to set up the Denon AVR-X1100W. You just run the special Setup Assistant wizard and follow the steps. This assistant can also be accessed from the aforementioned Denon Remote app or a Web browser launched by any PC in the local network. The connection ports are color-coded on the back for easy reference and the Quick Select buttons can be assigned favorite sources complete with designated audio settings for each source.
Performance
The other part of the setup process involves calibration which is necessary for the 145-watt receiver to sound its best. Once again, the AVR-X1100W relies on Audyssey MultEQ XT to handle the room acoustic measurements. It is nice to see the superior MultEQ XT variant on a $500 receiver as it can measure at up to 8 locations in the room resulting to better resolution and filter precision. Audyssey's suite also comes with Dynamic EQ which optimizes the tonal balance so you can hear full range sound at lower volumes and Dynamic Volume which automatically corrects the volume level of unexpectedly loud segments such as TV commercials.
The Denon AVR-X1100W sounds really good even with a 5.1-channel setup and you can opt to add an additional subwoofer to the second subwoofer output and position the subwoofer at another spot to get better deep bass response. You may also connect stereo speakers and place them to another room for multi-room listening. In order to enjoy a full 7-channel surround system, you will need a separate stereo amp. No matter what configuration you decide on, you don't have to worry about high power consumption because the Eco amplifier mode cleverly adjusts the power consumption based on the current volume level. You can see the status of this mode on the onscreen interface and even figure out how much you are actually saving. You should leave this setting off though if you want to maximize the audio quality.
Bottom Line
The Denon AVR-X1100W is an excellent $500 receiver that should integrate well with modern home theater systems. Denon saves some of the extra features like 4K upscaling support to higher-end models and there are not many extra inputs outside HDMI. Aside from that, the Denon AVR-X1100W performs wonderfully whether it is playing back 1080p movies on a Full HD TV or listening to music on Spotify. You only need to step up to a superior Denon model if you have a larger living room and need to add more powerful features. With the wireless features, the AVR-X1100W is definitely a better buy than the AVR-X1000W even if that old receiver is $50 less.
Update: There is a newer model > Denon AVR-X1400H