Audio visual receivers are so doggoned popular that companies seldom release one version at a time. The modus operandi starts with a basic unit containing several improvements and ends with a top-of-the-line offering that satisfies the wants and needs of practically every AV enthusiast! The Yamaha RX-A1070 falls towards the center of the updated 2017 line from the company best known for clear, quality sound in everything they make, including musical instruments and AVRs. This year brings Dolby Vision and an unbelievable display of 3D movies to 4K TV in the midsummer release of Yamaha's 70 series and one of the most entertaining review sessions I've had in the past few years. It's hard to believe so much is available in the eight generation of Yamaha's AVENTAGE network AV receivers.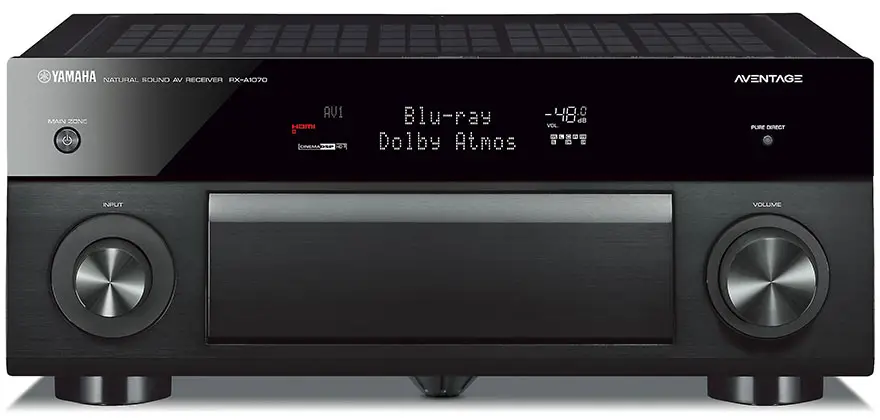 Product Review
I'll admit it's taken me awhile to warm up to YPAO, Yamaha's creative offering for its Total Purity Concept. I'm applauding the way it enhances the enjoyment of 3D movie sound and display by making multipoint calibration of rooms and the symmetrical amplifier layout easily achievable with simple directions and assessment. Setting up and adjusting the subwoofer EQ and 64-bit precision EQ delivers channel output with precise sound. Cinema DSP HD, DTS:X and Dolby Atmos made me feel like I was part of the experience thanks to 3D surround sound programming, lifelike motion and spatial representation. It is a large step up from the RX-A870 with upgrades like three DSP LSI chips. Realistic audio and visual is furthered with:
Dual HDMI/HDCP 2.2 outputs.
110W per channel.
Eight HDMI 2.0a inputs.
Anti-vibration heat sinks in the unit elimination most of the vibrations caused by sound pressure and transistors. Distortion is minimized with the use of fully discrete power amplifiers. I continue to be impressed with the persistence of Yamaha engineers as they develop and test various ways of improving the audio in their line, including the Yamaha RX-A1070. Independent power supplies deliver dedicated power supplies for digital and analog circuitry. The result? Diverted digital noise. Sometimes I get so used to hearing the small traces of static and interference that it's a complete shock when it's no longer present because of the receiver's high level of sound quality.
Below is the back panel layout. Click on image to enlarge for a clearer view.
The thrill of being in a specialty room at the theatre is available at home. The depth and luxury of multidimensional audio and visual presentations was more than I expected. It was like being part of the action. Instead of feeling like an observer from afar, the experience was so realistic and encompassing that I felt as if I was cast in many of the scenes!
The Yamaha RX-A1070 is loaded with technology. 4K Ultra HD video support is enhanced by Hybrid Log-Gamma (HLG), baseline HDR10 (High Dynamic Range) and Dolby Vision. A fall 2017 firmware update will add HLG and Dolby Vision to the HDR10 to the AVRs. The resulting variety of colors and contrast ratios will add another dimension to viewing networks, streaming video services and selecting Ultra HD Blu-ray Discs.
The 2009 3-D production of A Christmas Carol is one of my favorite films. Charles Dickens did an excellent job of writing Scrooge's penny-pinching attitude, and Jim Carrey carried off the role perfectly. Graphics, action and sound add an intriguing form of entertainment that enhances the original written and filmed tale. It was a pleasure to watch it again and note how close the production was to the theater experience.
About the Product
Features that stand out among the myriad of quality features in the Yamaha RX-A1070 include MusicCast. It delivers multiroom audio capability by utilizing the ESS Technology professional grade Sabre9006A Premier Audio DAC. Its impressive sound incorporates 120 dB of dynamic range. The signal-to-noise ratio is also exceptional, resulting in digital audio with a professional caliber.
Channel separation is maximized with the circuit-routed interior and the electrically and physically isolated channels. The resulting sound range is the mark of a well-built receiver. A MusicCast capable AVR spreads music beyond the main entertainment area of your home thanks to its wireless playback ability, sound bars, and speakers.
4K video is transmitted at 60 frames per second pass-through. Brilliant colors and true shades of black and white are part of the defined quality delivered by the RX-A1070. CEC, Audio Return Channel, and 3D operate effectively with this AVR. The Aventage product maintains the purity of sound Yamaha engineers seek in each of their products. It is a treat to hear the finely-tuned sound from a favorite video or song and realize it's kept or perhaps is clearer than past performance.
Comparison with the Previous Model
It's easy to compare audio between the RX-A1070 and the previous model RX-A1060. There really isn't much difference and that's a good thing! After all, the popular 1060 is less than a year old. What exactly led to a quick upgrade? Both models have a dedicated phone input and incredible home theater audio performance. The 2 HDMI outputs and 8 inputs are still phenomenal, and built-in Bluetooth and WiFi are the same. MusicCast, DTS, and Dolby deliver an incredible punch to performance.
The Yamaha RX-A1070 boosts power per channel to 110 watts each and has a selectable status bar that shows:
volume level.
DSP mode.
input source.
audio format.
In my opinion, HLG, HDR10 and Dolby Vision are the most impressive items that define the reason to upgrade to the new model. Visual is enhanced with 3D and additionally appealing with the extreme range of audio.
Pros
Increased power per channel (110 watts each).
64-bit EQ setup increases precision of bass and surround channels.
Reinforced H-shaped frame increases audio quality while significantly reducing chassis vibration.
Cons
Early release causes wait for HLG and Dolby Vision capabilities.
Conclusion
The Yamaha RX-A1070 includes the best-loved features of past models, including MusicCast, virtual speakers, and a multi-room sound system with deep, rich sound. 3D performance on a 4K TV reminds me of the reason Dolby sound and video boost the appeal of seeing favorite films frequently. The economical price and top-notch quality are additional reasons I suggest checking out this AVR before making a choice.