A champion in 2016, the Yamaha RX-A1060 is surprisingly strong, yet expressive. Why does it seem that systems demand a tradeoff to even work together? It's important to consider balance, but don't jump too quickly at the idea of sacrificing quality to achieve acceptable performance. Yamaha engineers asked the same question and resolved any concerns with a mid-range Aventage receiver, the RX-A1060.
This 7.2-channel home theater receiver efficiently supports HDR and 4K technology, resulting in top performance from Blu-ray players and today's Ultra HD TVs. Home theater surround sound is enhanced by its ability to decode DTS:X and Dolby Atmos.
The attractive design is partially due to a flap on the aluminum front panel. It covers a good many of the front-mounted controls. The result gives the Yamaha RX-A1060 a cleaner, classier appearance than the plastic housing of other series.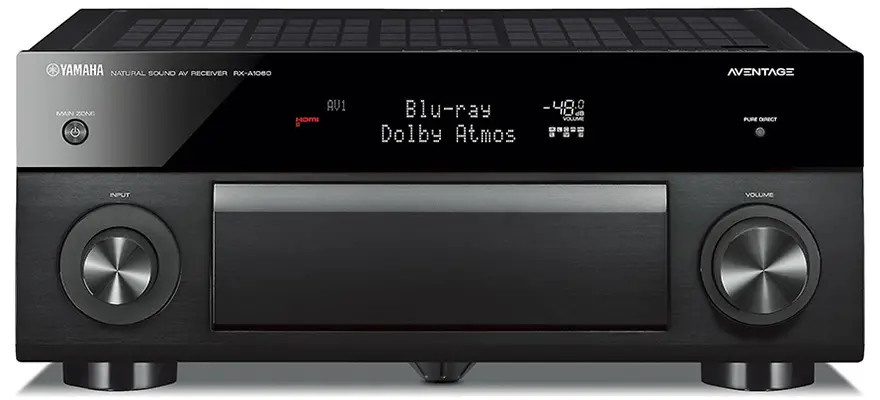 Notable features include:
Fifth foot on chassis to reduce vibration.
Improved quality in building.
Upgraded circuitry.
Dolby Atmos.
Zone 2 Extra Bass and Volume Equalizer
Pros:
Subtle detail easily delivered
Strong dynamics
Add sound in up to 9 rooms
Immensely powerful sound
"precise effects placement"
Exciting delivery
Cons:
Partnering occasionally fails to deliver expected quality
Aggressive performances cause treble wavering
Simple Setup
Expect and experience easy setup when using the auto-calibration setup and YPAO microphone. The accuracy and speed is remarkable. Check the settings in case you want to add a few tweaks here and there. You'll be delightfully surprised to find out the calibration is usually spot on with the room measurement and speaker adjustment.
Select a speaker package that complements the aggressive treble tone to deliver a balanced performance. Another way to adjust the treble is to use the Pure Direct mode. It tightens sound and softens the edges for better balance.
Below is the back panel layout. Click on image to enlarge for a clearer view.
Effortless streaming and connectivity
Easily connect to your home network using standard Wi-Fi. Streaming is simple thanks to the DLNA certified connection. Download the Android or Apple app to control receiver functions from your:
iPod Touch
Smartphone
iPhone
Tablet
iPad
Access Internet radio stations or stored music from your laptop, PC, or NAS drive.
Dedicated HDMI Zone
The RX-A1060 features a second HDMI output found in lower-priced models in this range. The difference is that the A1060's is 100% independent. Watch and listen to one thing in a certain room and something else in another with zone switching. The dedicated speaker or pre-amp outlets in the second zone deliver complete independence with the benefit of tailored sound using Zone Volume Equalizer and Zone Extra Bass.
Improved Listening Pleasure
The Yamaha RX-A1060 is a 7.2ch amp. A more immersive listening experience is achieved through its DTS:X configurations and Atmos 5.1.2 setups. The unit has a back panel that accommodates most systems. It has 110W per channel (8 Ohms, 2ch driven) to assure powerful and concise sound.
Two HDMI outs on the output side provide an option for the user to set up a second zone. Seven of the eight HDMI ins support HDCP2.2 for 4K playback. Three are optical digital inputs and another three are coaxial inputs. Also included is a plentiful supply of legacy connections, a 6.3mm headphone jack, and a USB port.
The 4K playback allows the consumer to connect to Ultra High Definition (UHD) without worrying about compatibility.
Music and More
Share music with other Yamaha products in the home by using the included MusicCast multi-room system. The CONTROLLER app establishes system operation throughout your home and provides quick, simple changes in settings.
Bluetooth is also available to transmit to other brands of wireless speakers. Access Qobuz and Napster through Yamaha's control app. Spotify Connect is featured with the RX-A1060. Streaming is a simple matter with AirPlay, Wi-Fi and DLNA. Double or single speed DSD are supported in addition to 24-bit/192kHz FLAC, WAV and AIFF files.
Yamaha knows the importance of sound quality, as evidenced by the musical instruments produced by the company. The expertise of powerful sound is a definitive part of the Yamaha RX-A1060. Thunderstorms, battles, and NASCAR races are delivered through the room in a glorious assortment of sounds that swirl around the listener in a bold fashion! You'll feel as if you're part of the scene as sounds lift to an ear-splitting crescendo or drop to a soft murmur at a second's notice.
Digital Precision and ART
Quality digital audio is delivered from ESS technologies through Premier Audio DAC. The wide dynamic range and high signal-to-noise ratio present impressive dynamics and ultra-low noise levels. All digital audio, including that of streamed music and Blu-ray films, provides awe-inspiring delivery.
Advantages of the Yamaha RX-A1060 include Anti-Resonance Technology (ART). It is highly resistant to mechanical and electrical interference. DTS:X expands the delivery of what has previously been expected from home cinema. Boosted spatial effects of DTS and 3D processing are significantly enhanced in delivery. 4K upscaling is built in instead of passing through HDMI sockets to reach 4K.
Update: There is a newer model > Yamaha RX-A1070