An old saying hints that time flies when you're having fun. The good times delivered by Yamaha's AVRs certainly prove it. The Aventage line celebrated its eighth generation in May 2017 and the Yamaha RX-A870 demonstrates an exciting time ahead for audio and visual enthusiasts! High dynamic range (HDR) is a primary enticement being delivered in pieces, HDR10 is included with the receiver. Hybrid Log Gamma (HLG) and Dolby Vision will be available through a fall firmware update. The wide range of colors and contrast ratios that are part of the update indicate amazing support of Ultra HD Blu-Ray and 4K streaming video services. What's not to appreciate when it complements the 4K Ultra TV so perfectly?
It's understandable why Yamaha wanted to get the RX-A870 on the market now. It is disappointing to be content anticipating the firmware updates to be released later this year. The time between now and then provides an opportunity to work with and master the controller.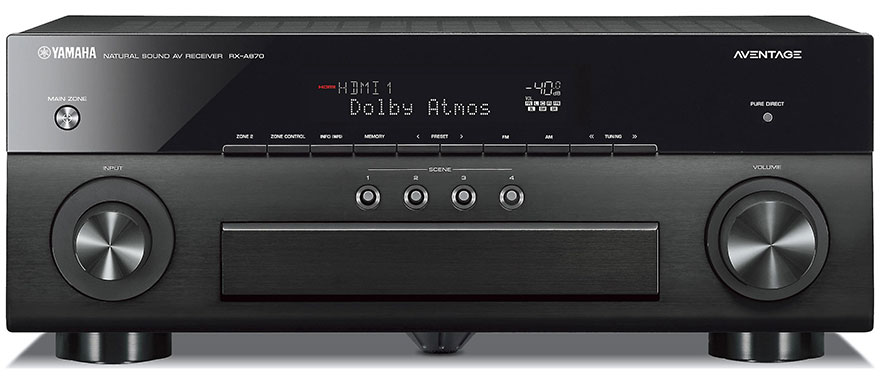 About the RX-A870
The stylish look of the Yamaha RX-A870 AV network receiver is just the start of attributes that add to its appeal as an advanced home surround sound system. Setup and programming are designed to be easy for new and experienced AVR owners.
A feature that really captures my attention is creative use of wireless technology. It's an attribute that Yamaha has demonstrated and improved upon for decades. I've visited friends and relatives who've drilled countless holes through walls and draped wires from one room to another to hook up speakers in areas like the dining room and patio. Not only does it involve a lot of work, it creates a tripping hazard. The RX-A870 has a state of the art wireless speaker system that is simple to set up and covers several rooms.
It was a pleasure to listen to the smooth, rich sound produced by the Compressed Music Enhancer. Masters of musical details, Yamaha engineers have fine-tuned the meshing of complex digital signal processing with detailed algorithms. Playback from my MP3 was highlighted with near-accurate replication of the original sound.
Below is the back panel layout. Click on image to enlarge for a clearer view.
The room's listening area thrives on 3D sound with the selection of Virtual Presence Speaker mode. As the name implies, a 3D soundfield is created, wrapping the room with intensified audio performance without the installation of front presence speakers. Additional sound depth is realized with Virtual Surround Back Speakers (no need for connection) through Yamaha's Cinema DSP.
The AVR includes HDR10 ready to go. High dynamic range is an impressive feature, particularly with Dolby Vision and Hybrid Log Gamma (HLG) joining it in the fall. It's an uncommon offer for most AVR brands. Knowing that the same movie I saw at the theater will wow me at home via great home theater technology is thrilling! Audio formats like Dolby Atmos and DTS:X, and 4K Ultra HD video support make this system a major market contender. The RX-870 has 100-watt channel performance, phono input, and seven HDMI inputs. Three of those inputs are HDCP 2.2 compatible.
Comparison of the RX-A 870 and RX-A860
The MSRP for the RX-A870 is pushing the thousand-dollar mark. Its predecessor, the RX-A860, was released in 2016 and has many of the same features. Both have the app remote control. Apple AirPlay and Bluetooth are built-in.
YPAO goes one step further this year with RSC Multipoint. There's still no USB port for iPod and iPad. The latest version boasts more HDMI inputs and monitor outputs. The exterior has streamlined features that deliver better performance. The aluminum front panel helps the system provide the quality sound for which Yamaha products are known. The components are shielded from outside noise and common household interference such as video monitors and fluorescent lights. Newly designed feet feature curved and straight interior ribs. The result is additional strength, stability and damping. The lack of external vibration delivers a noticeable delivery of sound quality in all levels of sound.
The big difference, once again, is the leap to thrilling video capability with the firmware update this fall. Dolby Vision and HLG will round out the unit's HDR10 and make home theater experience the envy of the neighborhood.
Pros
Multidimensional audio soundscape provided by DTS:X technology. The listener is enveloped in an extreme delivery of sound from above, the side, and in front and back.
YPAO setup balances listening performance for any room with advanced equalization techniques and a small microphone. Setup is uncomplicated and takes little time to complete.

Cons
YPAO lacks the precision of similar system receivers when setting acoustic parameters.
Conclusion
Video enhancements in the Yamaha RX-A870 present a hard-to-ignore lure angling for a second or third look if not caught the first time it's seen. This midrange AVR adds facets to 4K Ultra HD televisions that take viewing pleasure to the next level. HLG and Dolby Vision boost color and contrast when streaming 4K and Ultra HD Blu-ray video. The extra foot on the Anti-Resonance Technology Wedge reduces vibrations and increases sound quality. A wide variety of Internet radio stations deliver music like country and classical in addition to news, comedy, and talk shows. I believe this is one of Yamaha's best offerings over the past few years and heartily recommend it.