The Yamaha RX-A860 is a 7.2 channel AVENTAGE network receiver that features a wide variety of ways for users to experience superior audio performance. Both Dolby Atmos® and DTS:X™ are available in its surround sound system. Built-in Wi-Fi (or Ethernet) provides easy-access streaming for music. Phono input supports the vinyl favorites.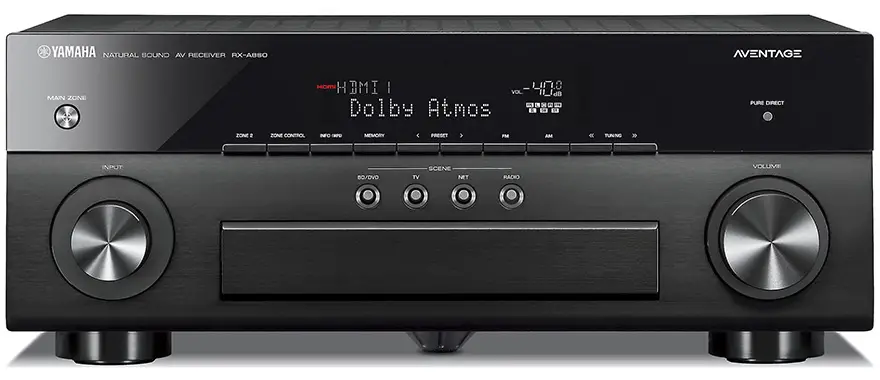 Owners frequently refer to the Yamaha RX-A860 as the effective center of their AV setup because of its eight HDMI inputs. Three of the connections use HDCP 2.2 technology to comply with anti-piracy controls. The receiver is DLNA compliant to facilitate access and communication with compatible networked media devices including computers, smartphones, and storage devices.
Another intriguing feature is MusicCast, Yamaha's proprietary high-resolution wireless multi-room audio playback system. There's a built-in Bluetooth® connection for computers, tablets and smartphones. AirPlay accesses content from Apple devices or Spotify Connect.
Yamaha's Parametric Acoustic Optimizer (YPAO) allows the user to set up balanced sound with a small microphone. After it's plugged in, the receiver emits test tones to establish the acoustics in the room. Customers say it is reasonably accurate, but less comprehensive than comparable system receivers. A better reading can be achieved by repeating the steps for balance.
Below is the back panel layout. Click on image to enlarge for a clearer view.
Pros
Updated AV controller app is free on iOS and Android.
Amplifiers deliver surround sound that makes listeners feel as if they are part of the action.
Cons
YPAO is less precise than comparable system receivers when establishing acoustics.
Yamaha RX-A860 turns the ordinary home movie experience into a theater-like extravaganza. HDMI technology maximizes the effect of today's 4K Ultra HD and HDR. Today's films use the subtlety of surround sound to increase viewer perception of action. AVENTAGE high performance receivers deliver precise sound effects focused on providing peak audio quality. Advanced and traditional technologies complement every factor from materials through vibration damping. Expect high-definition sound whether the volume is turned down low or reverberating bass is delivered through small speakers.
RX-A860 offers the consumer favorite MusicCast. Users access music with one uncomplicated app and wirelessly stream it through the house using the existing Wi-Fi network. Music stored on computers and smart devices is available in addition to the music on a plethora of free internet radio stations. Stream favorites like SiriusXM Internet Radio, Napster®, Pandora®, and Spotify for a more specialized listening experience.
No wires are needed. Simply place MusicCast wireless speakers, sound bars or other devices throughout your home. Cover up to nine other rooms and discover an exciting home audio experience! MusicCast is loaded with Bluetooth, Wi-Fi and AirPlay.
An amazing number of incredible features defines why consumers appreciate the sound delivered by Yamaha RX-860 AV receiver. Following are three of the most popular elements.
The Anti-Resonance Technology Wedge provides an extra foot that reduces vibrations from the power transformer, power transistors and heat sink. Vibrations associated with speaker sound are also minimized. Its low jitter PLL circuit and discrete amp configuration delivers high sound clarity and impressive audio performance.
The engineering design of AVENTAGE high-performance AV receivers delivers accurate reproduction of music sources and enriched, dynamic movie sound effects. Factors affecting sound quality, including layout, construction and balance, are fine-tuned to deliver a memorable high-definition home experience.
Yamaha continues to follow the tenets of its Total Purity Concept in the RX-A860. Independent power supplies subdue digital noise that affects analog circuitry. Top sound quality is a goal for every customer.
Differences With Previous Model Yamaha RX-A850
What are the advantages and differences that enhance the performance or presentation of the RX-A860 when compared to the RX-A850? The A850 is an impressive MusicCast multiroom system. Its seven channels of built-in amplification support many surround formats like Dolby Atmos. It lacks the ability to decode DTS-X., which is a significant feature in the A860 and greatly enhances performance.
Network and Internet multimedia offers the functionality of internet radio and digital audio playback. Up to 40 digital AM/FM radio stations can be preset.
Conclusion
The Yamaha RX-A860 AV network receiver is a stylish unit that offers easy set up and programming in a modern home surround sound system. Networking is simpler with the use of AirPlay, Ethernet, Wi-Fi and Bluetooth. Wireless capability allows the use of speakers throughout the house without the need to drill holes through walls and run wires from the base unit. The sound system displays the heritage of being designed and built by a recognized leader in the music industry.
Update: There is a newer model > Yamaha RX-A870