Another year, another round up of new home theater receiver products spanning different prices and coming from different manufacturers. Normally, AV receivers don't offer too many new features if you compare them directly with their predecessors. You can most likely move on with that home theater receiver you purchased back in 2011 as long as you are contented with the audio quality and connection ports. But in 2012, Sony introduced the mid-range Sony STR-DN1030 which shook up the competition by offering built-in wireless LAN and Bluetooth for a value price. Offering something even better the following year is indeed tough for competitors but Sony managed to make some nice improvements with the Sony STR-DN1040 as well.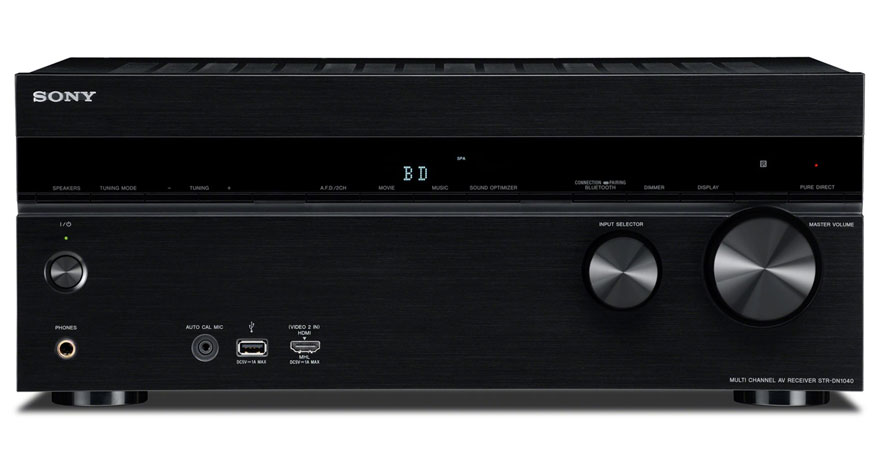 Design
One of the biggest improvements that the Sony STR-DN1040 has over its predecessor is a whole new design. The refreshed design looks a lot cleaner with a smooth front panel with a simplified display and a single row of buttons. The STR-DN1040 remains fairly large and a bit less attractive compared to the slimmer home theater receivers but the receiver remains sleek and uncluttered. The small input select knob and larger volume knob are both positioned on the right making this receiver a bit more unique than the traditional AV receivers. The opposite side features a few essential ports including the standard USB port, mic port and phones jack. Unlike any of Sony's cheaper 2013 home theater receivers, an HDMI input can be found on the front as well.
The back of the Sony STR-DN1040 features a lot more inputs and outputs than Sony's entry-level home theater receivers. With 7 HDMI inputs on the back, you can really set up a large home theater system consisting of multiple media players and gaming consoles. There is also a second HDMI output which you can use to hook up a projector to your home theater system without unplugging your main TV. The 8 HDMI inputs aren't enough, there are 2 more sets of component inputs. A pair of optical inputs and a single coaxial input can be found on the back as well. Finally, there is an Ethernet port and Wi-Fi antenna which you can use to enjoy the networking features.
Below is the back panel layout. Click on image to enlarge for a clearer view.
Features
The other major improvement is noticeable when you turn on the home theater receiver. The new graphical user interface simply looks stunning with beautiful graphics and detailed icons. Navigation is very simple as you start with 4 basic choices – Watch, Listen, Sound Effects and Settings. The remote control is still a cluttered mess but learning the interface should be simple enough for newbies to appreciate. Unlike some of the other current AV receivers, the STR-DN1040 relies on its own speaker calibration system called the Digital Cinema Auto Calibration or DCAC autosetup system. After you connected the microphone and positioned it in the ideal listening area, the entire process should take about a minute. It can obtain important data regarding the placement of your speakers and make the necessary audio quality improvements.
In a nutshell, the Sony STR-DN1040 can really make the connected speakers sound good. The 165 watts per channel certainly helps and the support for 24-bit/192kHz music means that these high quality tracks can really be heard in full details. You can enhance the audio quality even further by adding the right improvements or layers. For instance, if you have any connected analogue sources, you can enable the Pure Direct mode for cleaner quality. There are also some audio processing modes like High Definition Digital Cinema Sound or HD-DCS which lets you apply some concerthall effects or vocal height. Some Dolby and DTS modes are supported as well if you want to make a stereo speaker system sound like a multichannel one. Other optional enhancements include the Sound Optimizer which allows you to keep the volume at low levels while still having emphasized and clear audio detail.
If you are after decent audio quality, more affordable Sony AV receivers like the STR-DH740 also provide nice sound enhancements for a lower cost at the expensive of power and connectivity options. But the networking features should count as one of the primary reasons to spend extra on this receiver. Everything is built-in from the Wi-Fi to the Bluetooth so you should have no difficulties in streaming music to the receiver especially if you have an AirPlay supported iOS device. You may also charge the iOS device via the USB port which also allows streaming. Bluetooth is the wireless way to go if you have another device as the pairing process is quite simple.
The online features are a bit limited since the only online services that you can connect to include Pandora, Music Unlimited, vTuner and Slacker. Support for modern services like Spotify are absent but you can always run the Spotify app on your mobile device and beam the music to the receiver wirelessly. You may also install additional apps for iOS and Android devices if you wish to control the receiver from the smartphone or tablet. The TV SideView app makes it simple to control the STR-DN1040 as well as any other Sony-branded components hooked up to it. If you prefer a simpler the Sony Network Audio Remote handles music playback and volume controls.
Another exclusive feature found in the Sony STR-DN1040 is the upscaling support which goes beyond standard 1080p resolutions. Sony always has some 4K Ultra HD displays which look really great if you have any video content that supports the massive resolution. But lower resolution sources still look good because of the clever upscaling. Native 3D pass-through is supported across all HDMI ports as well.
Bottom Line
If you don't need the extra HDMI ports and upscaling features, going for the STR-DN840 can actually save you a nice amount. 10 HD inputs may sound overkill but it allows you to connect all sorts of gaming consoles and media players. But what makes this home theater really shine is how Sony managed to price this receiver at $599. With so many ports on the back and a complete trifecta of critical networking features, the Sony STR-DN1040 is a winner.