Another new AVR is on the market at a lower price than could be expected. The Pioneer VSX-532 AVR Surround Sound AVR (Black) is a 5.1 channel unit with Ultra HD pass-through. It's yet another way to gain attention from the home theater crowd and reinforce the company's reputation for innovative products over the past several decades. The MCACC calibration suite is a new feature for Pioneer entry-level models and promises a better home theater system thanks to auto calibration.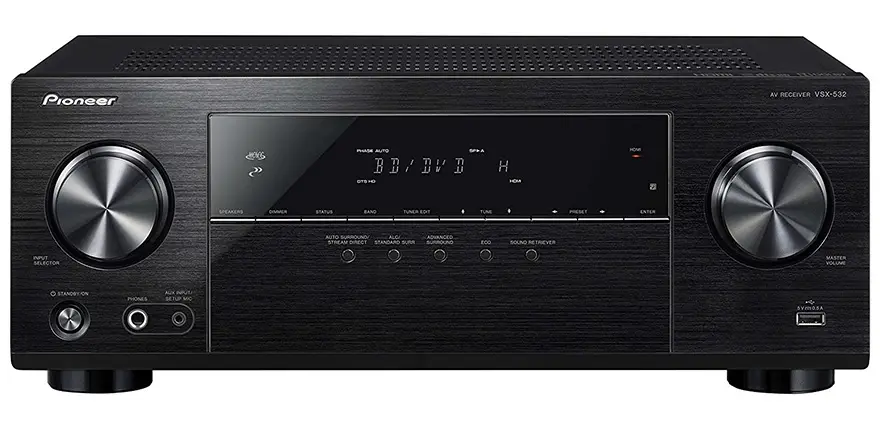 About the Pioneer VSX-532
The Pioneer VSX-532 is impressive because it provides enough options to demonstrate how much its small black box and low cost can deliver. A subwoofer preamp output provides a connection to a powered subwoofer. I tried to stay unbiased while checking out the results of its phase control and synchronized sound. It's not certain how the results will be when the audio signals from multi-channels are amplified. Subwoofer output depends on the low pass filter, or LPF, to process low-frequency signals, resulting in delayed bass and phase shift with a significant lack of sound synchronization. The phase control technology added to this Pioneer product:
does away with phase lag
reproduces clearer sound in the high-range and mid-range
accentuates the bass
There's no video upscaling in the Pioneer VSX-532, although the unit includes Dolby TrueHD, Dolby Digital Plus, and DTS-HD Master Audio decoding. The AVR includes built-in Bluetooth and a USB port for flash drives and compatible USB devices.
Below is the back panel layout. Click on image to enlarge for a clearer view.
Comparison to Previous Model VSX-531
There is little difference between Pioneer's previous model VSX- 531 and the 2017 updated Pioneer VSX-532. Both provide a genuine rich audio experience through High Definition surround sound. Either A/V receiver is an adventurous way to discover the additional enjoyment available when upgrading to the fun of a home theater system. Ultra HD (4K/60p/4.4.4) pass-through with HDCP 2.2 has standard support for HDR video standards, high-resolution playback, and ease while accessing the latest devices and technology. The convenient front panel USB port makes it simple to stream audio using mobile devices, thanks to built-in Bluetooth Wireless Technology. It is easy to play tunes from sources like WMA and MP3s by inserting a thumb drive.
Here's where the VSX-532 improvement comes into play. The 531 has no automatic calibration system. It's a challenge to get the receiver close to or at its optimum performance quickly unless it's something a person does on a regular basis. If I were in a hurry to watch a movie or listen to my favorite sounds, it would be tempting to bring the sound up to par over a week or so. The VSX-532 rectifies this situation perfectly with Pioneer's addition of Multi-Channel Acoustic Calibration System (MCACC). Its custom microphone automatically:
Equates response
Compensates for variations in level, size, and distance of speaker
In short, the company improved part of its basic line to make the product easier to use for the customer.
Pioneer VSX-532 Features
Several features besides MCACC Auto Room Tuning and 4K/60p pass-through increase this AVR's quality performance. My top choices follow, counting down from one to four.
Bluetooth (version 3.0) is built in. It's easy to stream songs with the A2DP profile. There's support for AAC and SBC codecs.
Compressed audio sound restoration. No more settling for inadequate sound when listening to MP3, AAC, and WMA. New signals are created by the Advanced Sound Retriever, resulting in restoration of detail lost during the compression process.
Dolby TrueHD/ DTS-HD Master Audio. Pioneer designed the VSX-532 to support both DTS-HD Master Audio and Dolby TrueHD. It's an opportunity to experience quality HD entertainment from Blu-ray discs and surround soundtracks. The studio master and lossless codecs are bit-for-bit identical to ensure flawless delivery.
Ready with Next Generation Video Standard. The video standard High Dynamic Range (HDR) adopted by Ultra HD Blu-ray addresses a higher contrast with light and dark images by expanding the brightness peak. Pictures from Pioneer VSX-532 are more lifelike because it meets this standard.
Pros
Discrete direct energy design
3D ready
Easy setup
Auto subwoofer crossover
Cons
Not a network-enabled amp
No internet radio access
Conclusion
Pioneer VSX-532 offers a refreshing way to get familiar with the perks of home theater processes, particularly setting up a room for surround sound and learning which features most strike a person's fancy. It is an inexpensive AVR built by a reputable company. When advanced Dolby Atmos/DTS:X audio decoding and internet radio and network streaming content are essential elements in a home theater receiver, look elsewhere because VSX-532 doesn't have them. What it does offer is an attractive, durable box with an easy-access USB input terminal on the front panel. Enjoy music by inserting a memory stick without fighting to find the access point. Built-in Bluetooth Wireless Technology supports the ability to play music files from compatible devices. It has one HDMI output that supports ARC to reproduce TV-based audio (including Netflix) and four HDMI inputs to support Ultra HD and HDR pass-through with HDCP 2.2. Dynamic synchronized sound is brought about by Phase Control and MCACC technologies. Bass, mid-range, and high-range sound is clearer and closer to the original version, while phase lag is virtually eliminated. Although the VSX-532 appears to be a no-frills unit on the surface, its features prove the thought and design that reinforce its value in today's market.