Like nearly every other video home receiver released over the past several years, the Pioneer VSX-LX 102 is a big black box filled with opportunities to increase the consumer's home theater experience. The elite upscaling of the 7.2-channel receiver LX 102 has a boatload of features, most of which impress my demanding expectations, and a couple that are still lacking in performance. I'm impressed by the unit's pass-through capabilities and audio decoders, yet disappointed there's no two-zone audio. At 80-watts x 7 channels, it offers similar power ratings and features usually found in more expensive receivers. The phono preamp for the record player is a popular connectivity option. Limited performance due to its four HDMI inputs is compensated by the offer of perks like DTS:X, Dolby Atmos and HDR10. The unit supports 4K/60p/4:4:4/24-bit video signal transmission. It's ready for next generation High Dynamic Range like Dolby Vision and HDR 10. The LX102's 4K upscaling incorporates standard HD content to 4K video signal quality.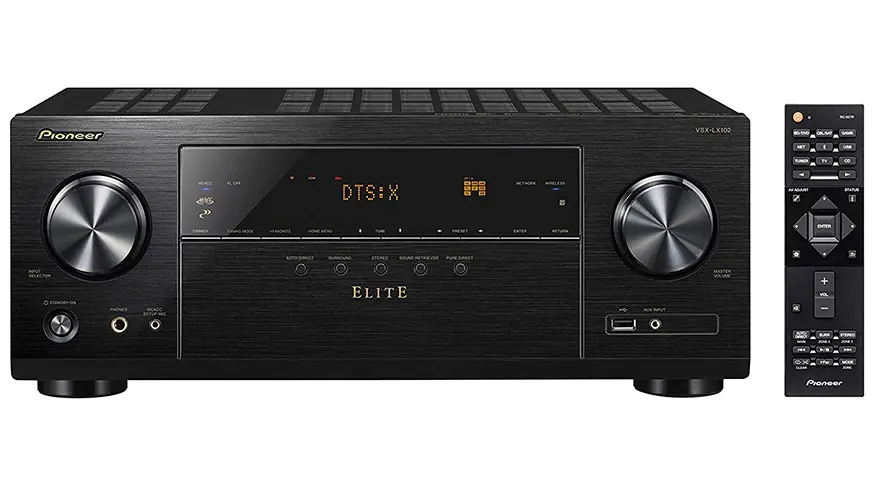 About the LX 102
Sound is an integral part of modern technology. Pioneer recognizes that need by delivering average levels based on the types of speakers used in individualized home theater systems, such as an estimated 170 watts with 6-ohm speakers. 8-ohm speakers typically have a power output of 80 watts per channel. The two subwoofer pre-outs receive signals that enhance the performance of low-frequency action scenes. The combination results in a realistic theater experience from your home entertainment room. It is disappointing that two-zone audio is missing from its agenda. That independent zone of audio from the main surround system permits powering speakers in another room. The lack of this feature has no affect on the main room as the Pioneer VSX-LX 102 delivers an ample 7.2 channels of audio and powers to as many as seven speakers.
Upmixing decoders for DTS:X and Dolby Atmos supplement the standard DTS-HD and Dolby TrueHD decoders. The lush sound wraps around the room and adds to the multidimensional resonance of Dolby Digital Plus and surround sound. It was surprising to find the quality of clarity and tone in Netflix and other video streaming platforms.
Easy configuration is an important part of the Pioneer VSX-LX102's appeal. After all, opening the box and taking out something you've been waiting to arrive loses its excitement fast it requires hours of research and trial to make it work! Enter Pioneer's user-friendly, overhauled graphical user interface (GUI) with network setup guidance that's simpler and faster than previous models.
Phase Control handles the phase lag between the left and right front speakers and the subwoofer. The result is improved sound synchronization as it compensates for the viewing position's bass delay.
The phase lag problem is also taken care of by the Reflex Optimizer. Clear sound imaging from the Dolby Atmos-enabled speakers results in seamless integration with the floor speakers. The result? A cohesive, comfortable sound field. The Multi-Channel Acoustic Calibration System, or MCACC, reflects the skill and technology of associated professional recording studios. The custom setup microphone evaluates and eliminates problems between speaker distance, size, and levels to equalize the response.
Below is the back panel layout. Click on image to enlarge for a clearer view.
Comparison with Denon AVR-S730H
The Pioneer Elite VSX-LX102 and Denon AVR-S730H have much in common, such as a low price for many desirable features, including:
Dolby Atmos
DTS:X
4K/HDR compatibility
AVR-S730H uses Denon's proprietary HEOS system to stream to multiple speakers and rooms. Pioneer VSX-LX102 streams with FlareConnect, DTS Play-Fi, and Chromecast built-in. TIDAL, Deezer, TuneIn Internet radio, and Spotify delivered well-balanced, smooth sounds from each unit. Both AVRs follow the big black box theme and provide a user-friendly remote. Denon's model quickly reminded me that the LX102 has no Zone 2, which is one of the top four buttons on the S730H remote. In fact, two of the S730H amplified channels can be used as overheads or for the second zone. The four Pioneer HDMI inputs invite connection via gaming system, cable, satellite and such to keep the entertainment and quality going. The VSX-LX102 uses its two subwoofer pre-outs to double low frequency effects. It's convenient to use Bluetooth and Wi-Fi to connect components wirelessly. Another popular option for this Pioneer product is sending audio using a smartphone or iPhone. Preferred features come down to an individual choice of which AVR is a fit. They are too similar in price, sound, and features to make a call.
Pros
Dolby Atmos and DTS:X audio decoders
Easy to use
Quick setup
Cons
Receiver lacks two-zone audio support
Remote does not support television and DVD operation
Basic power output
Conclusion
It is amazing that a receiver at this low price range comes with such a wide assortment of features like HDR10, Dolby Vision, and Ultra HD video. The four HDMI terminals support BT.2020, 4K, and HDCP 2.2. Power outputs are slightly above average. One popular connection preference is its phono preamp, allowing connection to a turntable. The Pioneer VSX-LX 102 includes audio decoders that enhance additional connectivity options, including DTS:X and Dolby Atmos. Music fans will delight in the ease of streaming music to other rooms using DTS Play-Fi, Chromecast built-in, and FlareConnect. Pioneer's Remote App brings in an impressive number of songs through network streaming services and internet radio. The LX102 is an economical way to bring in quality performance for your home theater experience.