After spending so much on your speakers, Ultra HD television and Blu-ray players, you don't want to connect them to just any receiver. You need to look for something unique like the Yamaha RX-A760, known for high-grade audio quality, precise design, latest HDMI technologies, support for 4K and HDR technology and other top-notch components.
The 7.2 channel Aventage network receiver produces high quality sound while supporting high-resolution audio files and decoding for Dolby Amos and DTS-X. Its Compressed Music Enhancer cleans up the lower-resolution audio so that you get to enjoy every music source with optimal clarity.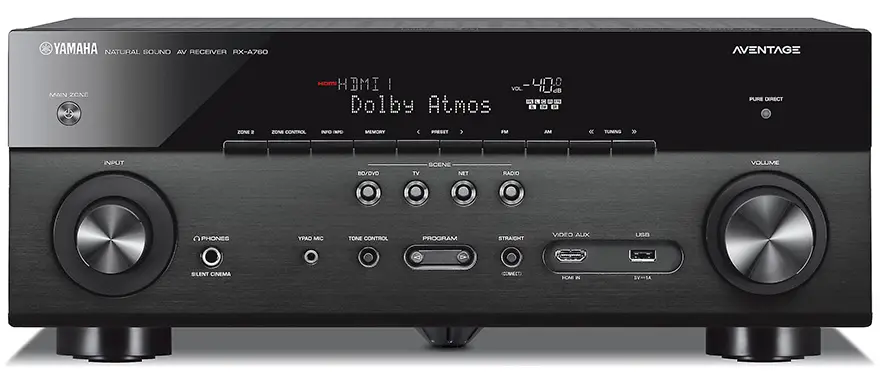 Step-by-step setup
Setting up the Yamaha RX-A760 amplifier is a cinch as you have Yamaha's free AV Setup Guide app guiding you through the entire connection process. The YPAO calibration system uses the help of an included setup microphone to analyze your room's acoustics and provide optimized music and sounds. This customizable AV Controller app later turns your compatible mobile device into a convenient Wi-Fi remote for controlling your amplifier.
Why Aventage is different
The specialty of the Aventage series of receivers is that it is built using custom-designed parts with anti-resonance technology which reduces the distortion typically caused by vibrations. Chassis vibrations are reduced with its sturdy H-shaped frame.
The additional damping fifth foot located at the amplifier's base helps reduce both internal and external vibrations. An additional aluminum front panel on the device helps maximize sound quality by reducing resonance. It is the combination of all this and the amplifier's symmetrical layout that produces precise stereo imaging and accurate playback quality.
Below is the back panel layout. Click on image to enlarge for a clearer view.
Varied music alternatives
You can enjoy music from any of your devices by quickly linking it through the RX-A760 as it has Wi-Fi, Apple AirPlay, Bluetooth all built-in. There's built-in support for Pandora, SiriusXM Internet Radio, Rhapsody and Spotify Connect.
You can control and enjoy custom music from across the world using streaming options like vTuner Internet radio. It's also possible to stream audio via Bluetooth using compatible Bluetooth headphones or wireless speakers.
Enjoy your music and video in all rooms
With RX-A760's nine speaker outputs, you have flexible configuration options to choose from to enjoy your music throughout your home. Instead of connecting all the nine outputs to speakers in the living room, you can connect the receiver to only seven speakers while the remaining two outlets connect to speakers in a second room.
You can listen to your favorite music while working in Zone 2 or the second room while your kids watch their favorite movie or TV show in the living room. When Zone 2 is in use, Yamaha's Intelligent Amp Assign feature automatically redirects power so that you are provided with five-channel surround sound in the living room too.
Start and end your movie in different rooms
The Yamaha RX-A760 amplifier comes with an added feature that lets you watch the same video on your main TV and a second screen. So while you may start watching a movie on the main TV in the living room, you can end it somewhere else.
Alternatively, you can simultaneously play the same video or content on two different TVs in the same room. All you need to get video and audio from the receiver to the second TV is a single HDMI cable.
Wireless freedom with MusicCast
The Yamaha RX-A760 supports MusicCast, so you can customize your home's audio system using compatible Yamaha wireless speakers and sound bars. You then control and deliver wireless multi-room audio playback through the system using a simple app.
As the receiver has built-in Wi-Fi and Bluetooth, you can even play music from Bluetooth sources like phone or tablet, from your TV and even CDs and vinyl through the phono input. In addition to all this, you can always play your favorite tracks from your personal digital music library, popular streaming services, and internet radio. So much from such a small box!
Rich bass
The Yamaha RX-A760 offers low-range enhancement technology which delivers much richer bass even from small sized speakers. With small front speakers maintaining good sound balance, you are at liberty of enjoying video and music with exceptional power and presence.
Pros
Produces clean and natural sound through various digital enhancements.
Excellent connectivity with most devices through Airplay, Bluetooth and Yamaha's MusicCast
Good quality construction that ensures the receiver's durability and reliability
Easy to set up
Cons
Some people need time mastering the various configurations, options, and enhancements.
Verdict
The Yamaha RX-A760 is affordable and the perfect receiver to complete your home theater system. It is compatible and connects with most devices in the market and produces excellent audio and video. It is also easy to set up and control the entire house's music system through your Smartphone. Worth the investment!
Update: There is a newer model > Yamaha RX-A770