There are several ways to make a $600 home theater receiver attractive. One way is to simply focus on the ability to produce nice and clean sound with some room for expandability. Anybody looking to set up a 7.1-channel system should be able to do so on a $600 receiver. Another route would be to pepper it with features whether it is more HDMI ports than expected or wireless functionality right out of the box. The last approach involves making sure that the receiver supports all the latest technologies. Denon wants to tackle all three approaches with the Denon AVR-X2100W and it ends up being a huge improvement over last year's model.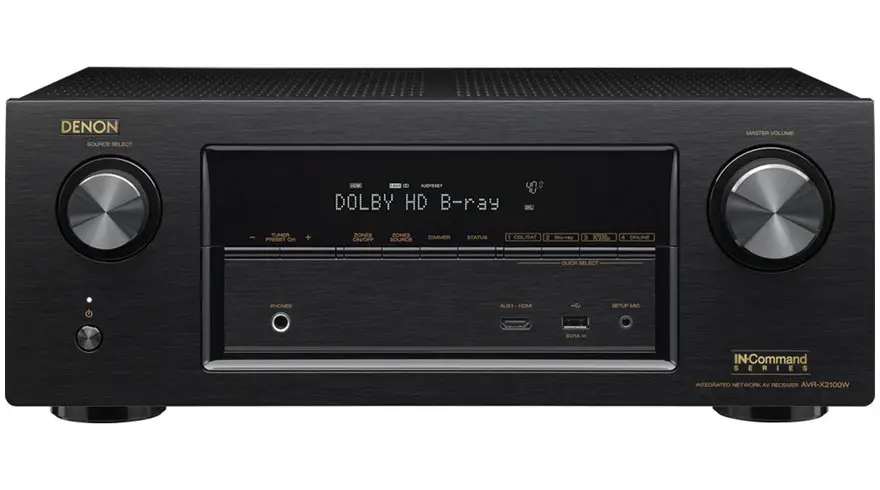 Design
The Denon AVR-X2100W launched more than a year after the AVR-X2000 but the X2100W still looks the same as its predecessor from the front. It looks like an entry-level receiver that is actually part of a family of upper midrange receivers. It has the pretty standard configuration of two knobs to control the input source and volume. On the middle is a fairly ordinary display that can show all sorts of status indicators with a row of thin buttons right below. Compared to other home theater receivers of its class, the Denon AVR-X2100W doesn't have many buttons on the front panel. In addition to the standard tuner, Zone 2 and dimmer and status buttons, the remaining 4 buttons on the single row serve as the "Quick Select" buttons. Each of these buttons not only provide a direct means to switch to a particular input source but it also makes it easy to apply a user-configurable audio preset to each source. Near the bottom of the receiver is a small array of frontal ports that are designed to make it easy for any modern mobile device to hook up to the AVR-X2100W. This includes both an AUX HDMI port and USB port along with the more common setup mic and phones jacks.
The back of the Denon AVR-X2100W best demonstrates how much of an upgrade this receiver is over the AVR-X2000. It has 7 HDMI input ports and 2 HDMI output ports on the back which is quite rare for a home theater receiver in this price range. On the legacy side, it is also a step up from the AVR-X1100W as it features 2 sets of component video inputs and a set of component video outputs.
Below is the back panel layout. Click on image to enlarge for a clearer view.
Features
The letter "W" at the end of the AVR-X2100W model symbolizes one of the fine additions to this receiver – wireless connectivity right out of the box. Any past Denon AVR-X models that lacked the "W" suffix required a separate purchase of a special wireless adapter. The benefits of having Wi-Fi onboard immediately show when setting up the receiver for the very first time. Once the receiver connects to the local home router, you may proceed to using the new Setup Assistant feature to prepare it for use. The process is similar to setting up a router as you can do it right from your computer's Web browser or through the updated Denon Remote apps for iOS and Android smartphones and tablets.
Once you completed the Setup Assistant, you utilize the Wi-Fi by connecting directly to popular online music streaming services like Spotify, SiriusXM, Pandora and hundreds of other known Internet radio stations. You don't need to own a smartphone or tablet to use these online features although having one does make it easier to use the receiver since the Denon Remote app is so well-designed and even optimized for tablets. With AirPlay and DLNA support also baked into the AVR-X2100W, local streaming from any network-connected device is also pretty simple.
The Denon AVR-X2100W is also forward-thinking thanks to its support for 4K Ultra HD technologies. Even the AVR-X1100W has this kind of forward-thinking although the HDMI 2.0 specification is only applied to 2 HDMI inputs. With the AVR-X2100W, all of the HDMI ports get these benefits which include 4K Ultra HD 60 Hz pass-through as well as 4:4:4 Pure Color Sub-sampling. Even if you don't understand the technical implications of these improvements, the bottom line is that every HDMI input can make full use of whatever 4K-ready home theater component you have or plan to get.
Performance
Like the AVR-X1100W, the Denon AVR-X2100W is a 7.2-channel receiver rather than a 7.1-channel which means that this receiver has another subwoofer output which allows a second subwoofer to be a part of the sound system to drastically improve the bass response. Exclusive to this model and higher-end products is the added support for Dolby Pro Logic IIz which let you add front height speakers to a 5.1-channel setup. If you are satisfied with a standard 5.1-channel setup, you still have the option to go multi-room by taking a 2.1-channel system located in another room and hooking it up to the receiver.
The 185-watt receiver sounds great when configured properly and fortunately Audyssey's proven technologies stick around to make the calibration process simple. Unlike Denon's more affordable AVR-S models, the AVR-X2100W uses the more advanced Audyssey MultEQ XT automatic room acoustic measurement which uses high resolution equalization filters and more measurement positions to achieve better speaker setting optimizations even in odd-shaped rooms. It is joined by 2 other familiar Audyssey technologies – Dynamic Volume and Dynamic EQ. With these technologies, volume levels stay consistent and you can adjust the volume to almost any level and still hear all aspects of the sound in full. If you are fine with sacrificing some of the loudness, you may also enable the Eco amplifier mode which reduces power consumption at lower volume levels.
Another thing that you get in the Denon AVR-X2100W that you won't get in the AVR-X1100W is 4K upscaling which is important if you want your non-4K content to look good in your 4K display. Existing Blu-ray and DVD movies look great on the 65-inch 4K TV that was used for testing.
Bottom Line
The Denon AVR-X2100W effectively raises the bar of a $600 and that should result to good news for consumers in general. It is essentially a souped-up AVR-X2000 infused with wireless capabilities and futureproof 4K features wrapped up in a killer $599 package. Even if Denon's fiercest competitors match these specs, consumers win in the end knowing that they can upgrade their TVs and Blu-ray players without the need to change their newly purchased receivers for years to come.