Home theater receivers that cost more than $1,000 often boast audiophile-level audio quality with an unprecedented amount of flexibility when it comes to home theater setups. AV receivers in this category are great future proof investments if you pick the right one. Those who did not buy a high-end home theater receiver in 2012 or 2013 should feel lucky because today's high-end receivers finally have all the main technologies in order that should make the most out of the latest living room equipment. Still, there is plenty of competition in this space but the Onkyo TX-NR1030 is looking to be a winner with its amazing feature set.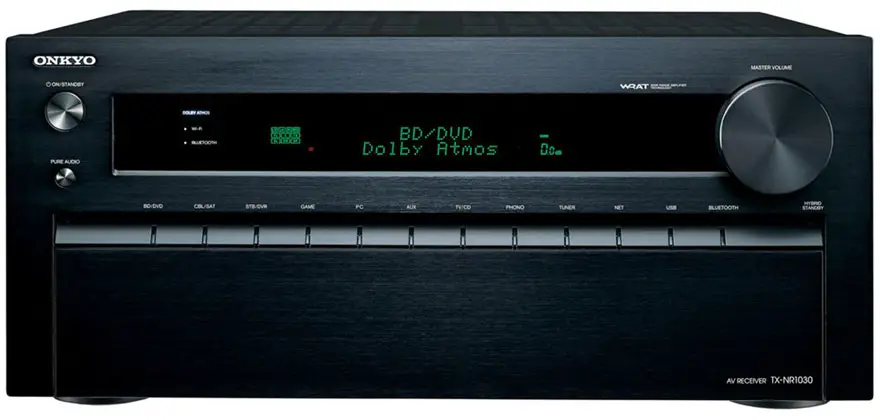 Design
Onkyo is sticking to the usual tradition of not drastically changing the designs of their home theater receivers so you need to check if you are really buying the Onkyo TX-NR1030 and not the older TX-NR1010. Unlike most other home theater receivers, the front panel only has one large knob for the master volume. There is a row of buttons that let you directly select the input source you like. Just below this row of buttons is a panel that drops down to reveal the rest of buttons. But the main reason to keep this panel open is if you want to access the front HDMI/MHL port, AUX inputs and USB port. There is even an optical port on the front, which is unique. The back is very crowded with ports including 7 HDMI inputs, 3 HDMI outputs and Front L and R XLR outputs. As a high-end model, the Onkyo TX-NR1030 also has a more sophisticated internal design. With an anti-resonance chassis and a separate block construction to eliminate unwanted interference and noise. It is one of the crucial components for the TX-NR1030 to get THX Select2 Plus certification.
Below is the back panel layout. Click on image to enlarge for a clearer view.
Features
A receiver with Bluetooth and Wi-Fi built-in is not so surprising these days but it is still a powerful feature to have even in a high-end model such as the Onkyo TX-NR1030. It is preloaded with support for Pandora, Spotify, SiriusXM Radio, TuneIn, Slacker and AUPEO! so you do not have to use a separate mobile device to enjoy those music streaming services. Spotify Premium customers can take advantage of the added features too including no advertisements and higher audio quality so you can get a better sense of the receiver's power. Smartphones and tablets can use the free Onkyo control app for high resolution audio streaming via NAS. Devices with only Bluetooth can join in by streaming music at a closer range will still impressive audio quality. In fact, the Advanced Music Optimizer pushes the wireless audio quality to near CD levels.
Moving on to the future proof stuff, all HDMI ports on the TX-NR1030 are HDMI 2.0 compatible so you can enjoy 4K video at a full 60 fps and it comes complete with HDCP 2.2 compatibility. HDCP 2.2 support will play a more important role when 4K content becomes mainstream with the copy protections in place. This feature only applies to the third HDMI input and primary HDMI output.
That doesn't make the other HDMI outputs less valuable because you can connect a 1080p TV to the second output so it can receive full HD content without the need for purchasing a separate Blu-ray player or set-top box. There is also a sub out which is great for hooking up a projector.
Although the Onkyo TX-NR1030 is billed as a 9.2-channel AV receiver, it still provides added benefits to a standard 5-channel home theater receiver. The vacant four channels can still be assigned to other rooms in the home. You may also add front loudspeakers and bi-amp them for a nice audio boost.
Performance
THX Select2 Plus certification is a big deal because you can expect a similar sound experience to what you would normally get in a multiplex theater. It also signifies the thousands of tests made in the lab to make sure the audio performance meets those high theater-reference standards.
Older Onkyo models of this class have this certification too but Dolby Atmos support is an entirely new addition to the Onkyo TX-NR1030. It provides 360-degree sound in the room providing you have in-ceiling speakers or any Dolby Atmos-enabled speakers. This is still pretty new technology so it should give audiophiles something to do if they wish to improve their already impressive speaker setups. The most affordable way to jump in the Dolby Atmos experience is to simply add 2 speakers on the ceiling to a 5.1-speaker system so you end up with a 5.1.2-channel setup. Movies that support this sound a lot more realistic making you feel like you are a part of the movie.
Normally, more watts in a home theater receiver means better and 135 watts (8 Ohms) for all channels is indeed impressive. But the high current is more of a big deal as it defines the audio performance rather than just the loudness. Onkyo fared well when hi-res audio files were tested because these types of files take full advantage of the dual 32-bit DSP engines present in the Onkyo TX-NR1030. Super Audio CD formats sound much better as a result thanks to the efficient way the dual engines decode the format. Audiophiles with huge FLAC collections should also appreciate the noticeable increase in audio quality. With Pure Direct Analog Path onboard as well, the higher fidelity benefits extend to vinyl and ordinary CDs as the receiver shuts down all digital circuitry to keep the analog audio signals clean by preventing electrical interference.
Finally, the Onkyo TX-NR1030 uses Qdeo 4K upscaling technology to make older 1080p and DVD movies look good in today's 4K displays. If you apply ISF video calibration, you could also see an improvement in picture quality.
Bottom Line
The Onkyo TX-NR1030 is an impressive and massive beast that is priced in the $1,500 to $1,700 range. This puts it in audiophile territory although fans of hi-res audio quality might be tempted to get a cheaper and older THX-certified receiver. That is fine but audiophiles who want to jump in the future and use Dolby Atmos should shoot for the TX-NR1030. This covers anybody who wants to buy a recent 4K display and ceiling speakers. The only reason to go for an even more advanced model is if you want 11.2-channel support.