It is definitely hard to believe how quickly the latest AVRs are available for review! I'm not complaining because I'm loving every minute of it. Affordable upgrades like Dolby Vision and MusicCast, for example, step up the performance for the Yamaha RX-A2070. The immersive sound formats of surround codecs like Dolby Atmos and DTS:X are as impressive in 2017 as they have been in previous recent releases.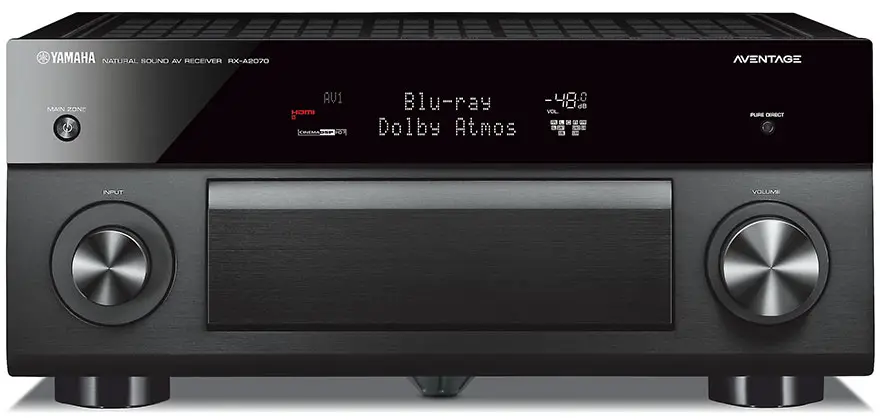 Yamaha's addition of 4K Ultra HD video support is quite timely. 3-D televisions have reached the stage where video and audio deliver quality normally found only in theatres. The ADVENTAGE AVR's high performance DSPs certainly surprised me, even though I expected a great performance. Three major high dynamic range contribute to the experience:
Baseline HDR10.
Hybrid Log-Gamma.
Dolby Vision.
HDR10 is included with the Yamaha RX-A2070. HLG and Dolby Vision are scheduled for an autumn firmware update. The result will be unbelievable support of 4K streaming video services in addition to a broad array of colors and contrast ratios. I'm quite impressed with the emphasis Yamaha engineers placed on providing the public with home audio/visual products that support the latest action of old and new films.
Below is the back panel layout. Click on image to enlarge for a clearer view.
Product Review
Yamaha introduced digital sound processing over 30 years ago. Engineers continue to improve and/or tweak Cinema DSP with a goal of providing superlative cinema sound quality from movies seen at home. The addition of 3D to the visual display lets the Yamaha RX-A2070 deliver a theater-like experience. For this review, I decided to watch one of my favorite Hobbit movies, The Battle of the Five Armies.
It is a film loaded with awe-inspiring scenery, subtle conversations, and fast-moving conflict and battles. What better way to participate in the challenges and peacefulness that shape this tale? The AVR caused me to feel that I was part of the action through the intense visual coverage across Middle-earth. Patterns of darkness and light made me peer through the shadows to seek out danger and hints about the journey. It's exciting to look ahead several weeks to the firmware update and opportunity to experience all the changes!
One of the things that requires no waiting is setting up personalized speaker placement. It's one of the highlighted features for the Yamaha Aventage line that I appreciate most. Simple and convenient instructions provide the solution to powering all the speakers through the RX-A2070's 9.2 channel receiver. HDMI zone switching and Cinema DSP are additional enhancements that change my small cinema space into a virtual theater environment by following these helpful hints:
Place the front presence speakers wider apart and higher than the left and right speakers.
Use YPAO's automatic calibration to maximize the acoustic characteristics of your room and Cinema DSP parameters.
Cinema DSP's soundfield processing algorithm is installed in the receiver and uses the determined measurements to enhance the listening experience, including 3D surround formats like DTS:X and Dolby Atmos.
About the RX-A2070
3D 4K HDR TV certainly makes my heart race with delight. The company delivers a video side delight with HDR support 4K Ultra HD passthrough from the RX-A670 through RX-A3070. Delivery increases with each level, making the RX-A2070 an excellent way to experience incredible video on a 4K Ultra HD image. The addition of Hybrid Log-Gamma format in addition to popular codecs like HDR10 and Dolby Vision results in the AVR's ability to enhance and route a wide variety of HDR content.
The dual SABRE Premier DACs continues its reign with Yamaha sound systems as it continues to deliver features like natural, signal-to-noise, and dynamic sound quality. Even though I anticipated superior performance, I must confess I was surprised to discover the clarity and dynamics of this 140W per channel unit. The ability to accurately adjust 3D speaker locations to support the acoustics and presentation is a spectacular way to enjoy the nuances of each movie selected for viewing.
Comparison with the Previous Model
The Yamaha Aventage RX-A2060 and RX-A2070 have a lot in common, starting with 9 channels and 140 watts of stereo RMS power. The most notable change is that a multi-brand remote control can be used on the RX-A2060, but not the latest model. Both boast 8 HDMI inputs, while the RX-A2070 has just 2 component video inputs and no component video monitor outputs, compared to the respective 3 and 1 of the 2060.
The A2070 includes the MusicCast streaming app's addition of Deezer and Tidal right out of the box. Yamaha recently announced that last year's 60 series will receive a firmware update at an undetermined date. Why not get it already installed and ready to use right away? Easy access to Internet radio, a favorite CD player, and streaming music services revs up long hours that pass by easier with favorite tunes, sports, and talk offerings.
Pros
Easily access programs and personal digital music library with MusicCast.
Create a personalized speaker placement pattern by choosing one of the many layout patterns available, Options include 3D space of Cinema DSP.
Cons
I found quite a few positive things about the RX-A2070, but can't think of anything to place in this section.
Conclusion
Yamaha RX-A2070 delivers a quality product at a relatively low price. The opportunity to enjoy a cinema-like experience on a personally-owned 4K television is a feature that's been sought for several years. The advanced HDMI zone opens a plethora of audio and video sources for Zone2 playback. Powerful treble and bass sound is balanced automatically so movies are easier to hear and more enjoyable to watch. The additions, changes, and improvements present in 2017's model gives a great deal of encouragement to select this AVR now instead of waiting to see what's on the agenda over the years ahead.