Home theater receivers can't really evolve so much unless TVs do. Just look at the 3D era when all the big TV manufacturers went all out with all sorts of affordable and premium 3D HDTVs which all boasted HDMI 1.4. Then the AV receiver manufacturers including Onkyo followed with HDMI 1.4 support too. HDMI 1.4 was also a specification that set the stage for upcoming 4K technologies. This 2014, history is repeating itself with HDMI 2.0 taking the center stage this time around with 4K at 60 frames per second being the key feature. Onkyo is leading the charge in releasing receivers like the Onkyo TX-NR737 that feature this new HDMI version too. However, Onkyo's more affordable home theater receivers get the upgrade too along with other features that used to be reserved for higher-priced models. But the TX-NR737 has a couple of groundbreaking characteristics that make this home theater receiver more than just an attractive midrange companion for 4K displays.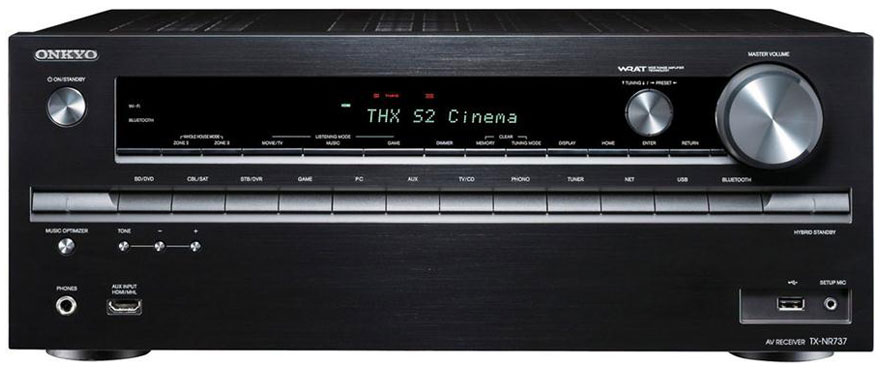 Design
Onkyo sticks to its guns as the Onkyo TX-NR737 has the same tried-and-tested design as its predecessor. Those that are used to having 2 big knobs on their receiver have to settle with a single knob for the master volume control and a row of buttons along the middle of the receiver. Each button leads to a specific source making it quite simple to switch inputs if you got the connections all right. The front HDMI port remains present which can conveniently accept any device or component that uses HDMI but it is best that you use a smartphone because of the support for MHL. This not only charges the mobile device but it also lets you stream high quality audio and video to the receiver.
The layout of the rear is a little bit different. Compared to its predecessor, there are actually fewer HDMI ports although 6 HDMI inputs and 2 HDMI outputs should be sufficient. The Zone 2 section of terminals is more separate from the other terminals to make it a bit easier to set up the Zone 2. The rest of the ports are the same as last year's model, save for the missing composite video input for media players. Modern media players are best used with HDMI anyway.
Below is the back panel layout. Click on image to enlarge for a clearer view.
Features
5 HDMI inputs support HDMI 2.0 connections which means that all the HD media sources can provide the full 4K resolution at 50/60 fps as well as 21:9 aspect ratio and the rest of the goodies this specification provides. The main HDMI output also supports Audio Return Channel and is compatible with HDCP 2.2 which is an important future-proof feature if you are looking forward to watching 4K content from TV broadcasts and other sources that decide to use this new form of DRM copy protection. The third HDMI port has this compatibility too which makes sense as it is the designated port for a DVR or set-top box.
Having Wi-Fi and Bluetooth built into a receiver is just as essential as putting them in a smartphone so it is no surprise that the Onkyo TX-NR737 has these features. It would be nice though if AirPlay support gets included too so iOS devices can easily wirelessly stream audio. The Bluetooth 2.1 + EDR is also a little bit outdated though the main purpose of Bluetooth is to allow mobile devices without Wi-Fi capabilities to wirelessly link to the receiver.
Wi-Fi remains an exciting extra though as you won't have to rely on your mobile device if all you want to do is enjoy a streaming service like Spotify on your 5.1 or 7.1-channel setup. Support for Spotify, Deezer, TuneIn and a few other services is present within the TX-NR737. There is a mobile app for Android and iOS devices called Onkyo Remote App 2. It is actually the same app used for controlling Onkyo's older home theater receivers although you may need to update to the latest version so it can connect properly to the receiver. Streaming music stored on the mobile device to the receiver using this app also brings out higher quality compared to Bluetooth. The remote app also plays a big role in multi-zone audio configurations as you can easily hook up another small system located in another room in the Zone 2 speaker terminals. Once set up, you can use the "Whole House Mode" to play the same track in all zones or assign a specific source to each zone.
Performance
Feature-wise, the TX-NR737 is pretty much the same as the cheaper TX-NR636. What primarily makes the Onkyo TX-NR737 different is its THX certification. The older TX-NR727 has this certification as well but the newer model boasts a few nifty improvements to make it even more of a powerhouse.
This new receiver is equipped with dual 32-bit processing engines allowing it to handle multi-channel studio-master soundtracks and other forms of hi-res audio tracks including 5.6 MHz DSD. This is a feature that audiophiles will appreciate but those slightly below that level will also appreciate the dynamic gains in music, particularly movie soundtracks thanks to the improved handling of impedance fluctuations. In addition to that, the Onkyo TX-NR737 also supports Dolby TrueHD formats and features TI Burr-Brown D/A conversion which makes those lossless formats (FLAC, WAV and ALAC) really stand out.
The TX-NR737 isn't just a home theater receiver for modern 4K content. If you have a connected 4K display, it can make standard resolution DVDs and other lower resolution sources look a lot better on the big screen. The upscaling processing is done by Qdeo's 4K upscaling technology and the results look good.
Onkyo's decision to drop Audyssey for their calibration technologies in exchange for an in-house one called AccuEQ might raise a few eyebrows. Fortunately, this new room calibration approach works well and it is pretty simple to set up. You just have to define the listening position using the microphone and let AccuEQ measure the distances, output levels and crossovers to come up with an optimal configuration. Even 2-channel audio setups have the potential of sounding better even without applying DSP corrections.
Bottom Line
Determining whether or not the Onkyo TX-NR737 is for you is pretty simple. If you are looking for a receiver that brings out the best of 4K technology and you want something that is THX-certified where you enjoy all those audio quality improving benefits and low distortion at a low price, the Onkyo TX-NR737 is pretty much the best one out there.