No home entertainment hub is complete without receivers to not only amplify surround sound but also to get all your system components to work in congruence. Yamaha has always been a leader in the field of audio and video enjoyment, including its receiver, the Yamaha RX-V781.
This is a 7.2 channel network AV receiver that delivers the latest in home cinema technologies like Dolby Atmos, DTS X audio and 4K and 3D video.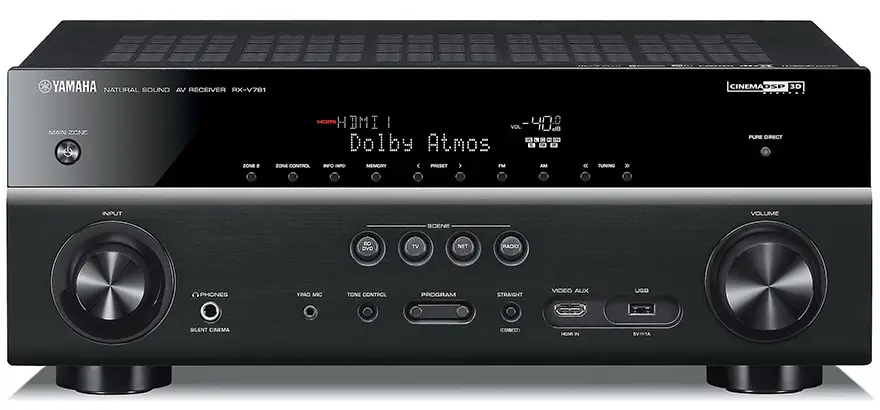 Enjoy wireless music playback
The Yamaha RX-V781 lets you enjoy wireless music playback from the music in smartphones and other devices using DLNA streaming, Bluetooth and MusicCast. MusicCast wireless multi-room audio lets you share and enjoy music through your home with the help of a quick and easy to use app.
With MusicCast integrated into various Yamaha products like AV receivers and Hi-Fi devices, you can mix and match the products and use them together or separately. While you can start by first using just MusicCast, you can later wirelessly add MusicCast speakers, sound bars or Hi-Fi components to enjoy your music in other rooms.
You can also stream music from the receiver to your Bluetooth headphones or speakers or connect it to your home network or the internet to enjoy Internet Radio, Pandora and other music stored on your home PC and NAS. You can also change various controls on the receiver through your iPod, iPhone, iPad or android phones using the AV Controller App from Google Play or iTunes.
Below is the back panel layout. Click on image to enlarge for a clearer view.
Performance
The RXV781 supports the latest HDMI standards like transmitting 4K video at 60 frames per second pass-through to let you thoroughly enjoy 4K's high definition video quality without having to degrade with HDCP 2.2.
With the help of next generation object-based processing and placement, and multi-dimensional audio technologies like DTS:X and Dolby Atmos, you witness a fluid movement of sound from the receiver transporting you from an ordinary to an extraordinary, rich, realistic and captivating audio experience.
It, in fact, brings life to people, music, and objects in breathtaking detail that make you feel as if you were immersed in the scene.
Eco-friendly
The Yamaha RX-V781 works at doing its part for the environment by going eco-friendly. It uses 20% less power when in Eco mode when compared to its power consumption in normal mode.
Not only does the receiver boast of a low standby power consumption of only 0.1W, its Auto Power Standby function saves energy by switching off power after 20 minutes, 2, 4, 8 or 12 hours of use.
Wi-Fi and AirPlay compatibility
Use the receiver's built-in Wi-Fi, or its unique Wireless Direct feature via the AV Controller App, to stream and enjoy networked audio and music streaming services directly from your Smartphone or tablet.
The receiver is also iCompatible and supports AirPlay by accepting wireless music streaming from iPod, iPad, iPhone and iTunes from a Mac, PC or your mobile device through your home theater system.
YPAO RSC and Volume
The receiver boasts of YPAO-Reflected Sound Control (RSC) that calibrates audio parameters to produce the best sounds after analyzing room acoustics and measuring various speaker characteristics.
It (RSC) corrects early reflections to produce studio-quality sound and provides DSP Effect Normalization that changes CINEMA DSP parameters based on reflected sounds.
Continuous playback performance
You can enjoy continuous playback music without any gaps in between audio files just as it's meant to be heard. You can also enjoy your vinyl records through the phono input terminals.
Love your bass
The receiver's exclusive low-range enhancement technology delivers a much richer bass sound from smaller sized speakers while maintaining optimal localization and sound balance using compact front speakers.
A subwoofer helps improve the speaker system's front speaker and subwoofer bass volumes so that you get to enjoy music and video with exceptional power and presence.
Virtual sound and speaker
The Yamaha RX-V781 delivers three-dimensional sounds through its Virtual Presence Speakers, without using any actual speakers, using CINEMA DSP 3D and HD Audio format decoding features.
Those on a budget, and who cannot afford to install speakers in the rear of the room because of space constraints, can enjoy virtual surround sound with the receiver's virtual 7-channel surround sound feature with all speakers placed in front of the room.
Conclusion
All these features, including its compressed music enhancer feature that uses exclusive algorithms to restore anything lost in compressed music format like MP3 to ensure the music you want to hear sounds as it should, proves that the Yamaha RX-V781 is indeed a receiver worth including in any home entertainment system.
It helps improve the quality and clarity of any form of music from any source and format so that you can enjoy whatever music you want from any part of your home!