The Marantz NR1607 is an audiophiles dream come true. Featuring both 3D and 4K Ultra HD/60hz sound, you can count on the high quality sound delivered to exceed anything you've ever heard before. This is audio quality that will let you hear every note of a song, and the sound in films the way the studios always dreamed of you hearing them. With a slim-design 7.2 channel receiver this is one item that needs to be part of your audio equipment.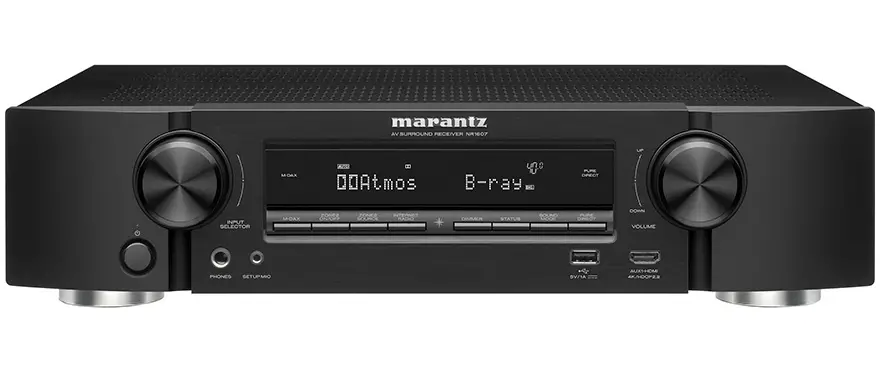 Supports The Leading File Types
Sure, most devices can play MP3 and M4A but few can handle the higher resolution streaming types that are being released. You'll have 320kbs sound. You'll experience true FLAC, ALAC, DLNA, DSD, and even AIFF High Resolution audio streaming without having to compromise sound for what your old speakers could handle.
As new audio types are released, the unique ability to update the firmware means that you can support future types as they come out. That will mean that this device will continue to serve you for years to come. That makes it a wise investment for those who need a quality piece of audio equipment, while wanting something that will also be worth the price to invest in.
Connect it to Your Favorite Devices
The Marantz NR1607 is ready to connect with all the leading devices. Thanks to the powerful remote app, you can transmit the sound from your Kindle Fire, Eco, Android, and iOS devices with the push of the button. That means you get the crystal clear sound you want from your devices at the push of the button. Of course, you also have access to over 10,000 internet radio stations that are now transmitting in higher definition. So you can experience new and old favorites with the highest resolution possible.
Setting all of this up is also as simple as pushing a button. Gone are the days of having to run 1,000 cords to your audio devices to ensure everything works. Thanks to the unique remote the Marantz NR1607 allows you to connect every new device with Bluetooth technology. So all you need to do is download the app in your favorite store, push the button and direct the receiver to the playback device of your choice. Then you can kick back and experience the true perfection of the audio tracks that are available.
Below is the back panel layout. Click on image to enlarge for a clearer view.
Make Use of Your Older Devices with Modern Technology
Of course, traditional approaches are still welcome here. Thanks to the unique set of ports on the front of the device you can connect all your favorite devices with ease. So if you want to hear your FLAC lossless in 24-bit audio on your old iPod, you can do that by simply connecting it to this unit. If you want to connect your PC to listen to ALAC or SACD quality files with gapless playback, that is possible too. This means you can keep the music going anywhere you go, with any device that you want to use. After all, you should never have to settle for a unit that makes you adjust what is already in your library to simply use it. On the contrary, the device should fit with your current needs and allow you to expand to new territory.
Playlists That Work For You
With the unique design you can also choose to create a playback system that can act like a DJ for you. Set up your favorite songs on individualized playlists and ask the Marantz NR1607 to pull up the file and to play it for you. You can choose from options like Play the next audio file on the list, replace an item in the queue for a better one or toss in a new favorite and add it to the end of the queue with the push of a button. Since you can do all this from the opposite end of the home with a tablet or mobile device you don't have to quit what you are in the middle of just to play some music to set the mood.
To Sum It Up
As you can see the Marantz NR1607 is one of the best choices you'll have for an audio receiver unit. Take a moment to consider the unique features it offers and remember that the NR1607 comes from one of the finest lines of audio equipment available on the market. That means you'll have a device that will work a decade down the line if you desire, all for a highly affordable price.
Update: There is a newer model > Marantz NR1608