It's always a delight to review the flagship model of a new line-up of products and discover the best and awkward parts of any change. The Pioneer SC-LX502 is an example of this process, although awkward is not a word that describes any part of this AVR. In the nearly three years of the merger between Pioneer and Onkyo, both brands have integrated the best technology from each side while maintaining a distinct quality. I quickly discovered the SC-LX502 thoroughly fits the quality for which Pioneer is known. What makes it so special? The company's reputation and a goal of customer satisfaction have quite a bit to do with it. The wide gamut of speaker styles that are compatible with this AVR is another. Familiarity with this brand's previous models created an eager expectation to discover the objective for adding yet another next-generation unit to their inventory.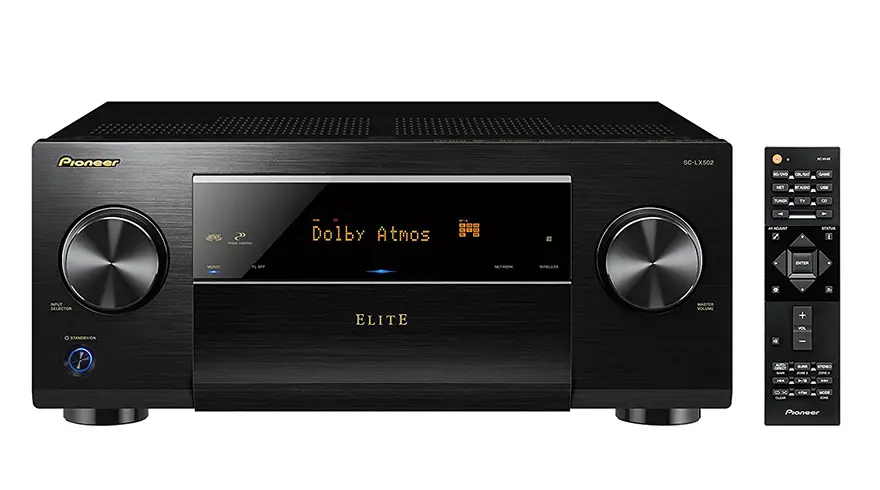 About the SC-LX502
The Elite flagship model of this Pioneer product starts off with a powerful 7.2-channel network receiver that's designed for great performance with nearly any home theater system. One of its top features is FireConnect's analog and network audio distribution. Music streaming services are supported by built-in Google Chromecast technology. Popular brands like Tidal, Pandora, and Spotify deliver a wide variety of favorite music. AirPlay supports 2.4 and 5GHz wi-fi bands. I'm still impressed with the way the built-in speakers and microphone respond to the voice control functionality from Google Assistant, as well as the calibration software that compensates for dead zones in the listening areas of the house.
Dolby Atmos and DTS:X are supported for object-based surround sound. Add the DTS Neural X and Dolby Surround to the Pioneer SC-LX502 and prepare to be amazed by enveloping sound from various levels of speakers and up-mixed video content. A compatible 4K HDR display sets the stage for amazing video. Dolby Vision, HLG, and HDR10 show the colors of the rainbow with every shade that exists.
Below is the back panel layout. Click on image to enlarge for a clearer view.
The Pioneer SC-LX502's firmware update permits DTS Play-Fi to prove how much entertainment is available on this latest AVR from Pioneer. Wireless multiroom audio streaming makes use of the Play-Fi supported speakers you've installed around the house. Wi-Fi greatly reduces the amount of physical wires and cables that once cluttered the speaker area and makes it easier to have the sound you want where you want it.
It's always nice to find the promised easy setup exists. Once the amp/tuner was hooked up for audio, it produced very good sound. There's no decrease in performance when using zone 2 at the same time. Each person should look over the current equipment being used for the new LX502. Then decide if it is time to upgrade any of the speakers or if they are satisfied with the clarity and mix.
The Reflex Optimizer causes high directivity sound to reflect off the ceiling. Low directivity sound goes right to the ears, resulting in an off-kilter phase shift. The listening environment is improved by:
Optimizing performance of the elevation speakers, including upward-oriented frequencies.
Matching basic tone.
Aligning the phase of direct and indirect sound.
As a result, Dolby Atmos enabled speakers reproduce seamless 3-D surround sound.
The Multi-Channel Acoustic Calibration System (MCACC) produces the ideal acoustic environment for Dolby Atmos and DTS:X. Experience and expertise of recording studio engineers helped develop the system. The custom microphone causes the system to compensate for variables in speaker level, distance and size. The result is an equalized response.
Comparison of the Onkyo TX-RZ820 and Pioneer SC-LX502
Comparing lower-end AVRs and finding several common features isn't a surprise. After all, the units are rather inexpensive and frequently an introduction to the wide range of capabilities available for home theater support. Onkyo and Pioneer knocked the socks off expectations by introducing more expensive, comparable flagship models, Onkyo's flagship TX-RZ820 and Pioneer's SC-LX502, at a similar price! So what data is available to make it easier to choose between these two loaded machines?
TuneIn, Deezer, and other options are built into the amp. The wide variety of speaker arrangements for both AVRs results in a pleasing surround-sound performance. I found the SC-LX502's iPhone app interface to be fairly basic. This is one feature that should do more than what it currently delivers.
Smooth-running home theater setups require sufficient power and connection. The SC-LX502 and TX-RZ820 are both 7.2 channel receivers, each with 7 HDMI inputs and 2 outputs. Both AVRs have multi-zone audio support, though the Onkyo TX-SZ820 goes one step further by providing pre-outs for zone 3. The question to consider is whether a third zone is going to be part of your audio-visual experience. The sound quality of each unit in zones 1 and 2 resulted in a remarkable three-dimensional audio presentation.
Pros
Easy setup.
Uncrowded remote.
Dependable AVR.
Compatibility with other makes of speakers.
Cons
Conclusion
The Pioneer SC-LX502 has an assortment of sophisticated technology that makes it a state of the art AVR now and a reliable unit for years to come. Improvements in sound synchronization produce better control to solve the phase lag between the main channel speakers and the subwoofer. Phase Control compensates for the delayed bass caused by the bass management filter, resulting in improved, realistic sound. Streaming services and internet radio are efficiently controlled by the Pioneer Remote App. Because it is Next-Generation Video Standard Ready, it does more than support pass-through for Dolby Vision, HLG, and HDR10 signals. It handles upgrades to new devices that promote the viewing of 4K videos and other premium content. Operating the unit is easy enough for a new AVR owner to learn quickly and advanced enough to provide a phono and encourage the use of various speakers to promote an intriguing listening experience.