Competition between AVR models continues to grow as manufacturers strive to give the public a wider choice to get what they want in a home theater experience. Additional emphasis on audio calls to music fans who may only watch a movie now and then. The Denon AVR-X3400H caters to audio and video patrons at a lower price than expected. Easy setup and supported Dolby Atmos and DTS:X decoding are part of its next-generation appeal. Compatible smart TV apps can send DTS:X and Dolby Atmos to the receiver by using eARC (Enhanced Audio Return Channel). 4K UHD support includes 4K/60 passthrough, UHD upscaling, and Dolby Vision. I jumped at the opportunity to review the AVR-X3400H and its sound profile by testing one of my favorite films and comparing the actual theater dynamics with the home presentation.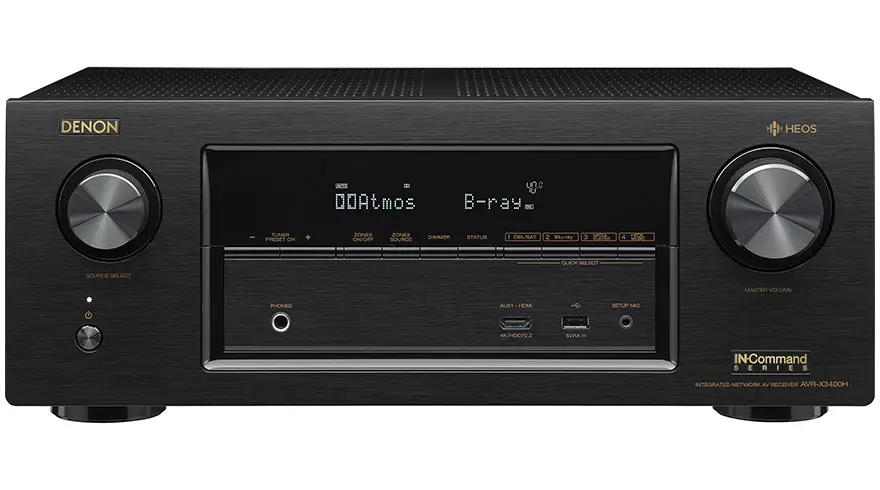 About the Product
The Denon AVR-X3400H boasts quite a few desirable features. A plain-looking dedicated remote has room between the buttons and easy-to-read labeling. The 7.2 channel design is built to independently power speakers with 105 watts. Each channel has its own digital-to-analog converter. There are seven HDMI connections on the back and one in the front. Each connection has 4K UHD compatibility and supports HDCP 2.2. Three HDMI outputs enable connection to multiple displays. The unit supports Apple Airplay and Bluetooth.
What better way to check out the system than by watching Pirates of the Caribbean – Curse of the Black Pearl on Blu-Ray? The music is almost overwhelming with its solid delivery at the introduction. It doesn't disappoint during the action, lending a special punch to the sounds of ships tossed in storms and an at-sea battle with cannons, swords, and hand-to-hand combat. I was still able to pick up on background comments as an extra helping of bass made the voices sound clear and natural.
Several reasons for extraordinary acoustics include Audyssey MultEQ XT32, Dynamic EQ, and Dynamic Volume. Although I did not try it, the Alexa integration device delivers the ability to fine tune playback by controlling multi-room speaker setups and the home theater.
The unit itself resembles most black boxes. There's plenty of jacks in the back along with the expected knobs and buttons. Volume and source select are two of the limited front-panel controls. What makes this seven-channel AVR special? Several levels down from the flagship AVR, it flaunts many of the best features with a small bump in price. There's DTS:X Virtual height effects, DTS:X object-oriented surround, and Dolby Atmos. A free HEOS app enables access to SoundCloud and Amazon Music. It's compatible with the HEOS wireless multiroom ecosystem.
Below is the back panel layout. Click on image to enlarge for a clearer view.
Comparison of Denon AVR-2313CI and Denon AVR-X3400H
It's common to select an AVR and seldom consider changing it down the line because it's so pleasant and comfortable to use. The Denon AVR-2313CI is an example. The home theater receiver changes an ordinary movie into scenery, action, and sound that envelops viewers and produces the sense of being part of the filming. A second sub for bass on the dual subwoofer outputs delivers well-balanced sound. I liked the way listening levels held steady with the Audyssey Dynamic Volume mode and the fuller sound even with reduced volume. Setup is easy and the remote uncomplicated. HDMI presents an intuitive on-screen menu, while an Android device, iPod touch, or iPhone becomes a remote Wi-Fi app. A significant reason for upgrading to the Denon AVR-X3400H is that the AVR-2313CI lacks 4K capability. The seven-channel configuration of the AVR-X3400H supports a 5.1 surround system. I tested it with all the speakers to the front. Surprisingly, the result was a full object-oriented surround experience!
This recent receiver produces a clean, sharp display even with UHD pass-through video. It is disappointing, however, to discover audio streaming (excluding generic internet radio) must be done through a tablet or wireless phone by way of the HEOS app.
Features
Use the Denon AVR-X3400H for both home cinema and ordinary two-channel tasks. The unit easily decodes FLAC, ALAC and other high-resolution audio files to a level of 24bit/192kHz. It is also compatible with certain DSD files.
Audyssey's MultEQ Editor app works with Denon seven channel network AVRs released in 2016 or later, including the AVR-X3400H. A creation of D&M Holdings (Denon's owner) and Audyssey Laboratories, it replaces the Audyssey Pro software and saves the buyer money in the process. Impressive sound is delivered from its power amplifier delivers impressive stereo sound and continues to improve when using updated sound systems and speakers. Classical music, heavy rock and rap are just some of the genres that produce clarity and subtle background sound. Alexa integration is available. The use of Alexa commands results in an easier way to track changes and control volume.
Pros
Solid two-channel and multichannel power
3.1.2-channel Dolby Atmos/DTS:X virtual height effects
Excellent Audyssey MultEQ XT32 room correction
HEOS wireless multiroom
eARC
Cons
Wired multiroom limited to one zone
Audio streaming dependent on HEOS and wireless support
Conclusion
Denon's reputation for quality products is demonstrated by the Denon AVR-X3400H. The price doesn't always equal performance. Although a midrange option, the unit is ready for full 4K/HDR and 5.2.2 Dolby Atmos. Setup is simplified by various means, including MultEQ and Alexa. It's a wonderful way to experience amazing home theater experience without straining the budget, leaving the door open to a future upgrade when desired.