As prices for good 4K displays and speaker systems continue to drop, more consumers continue to look for an affordable but capable home theater receiver. Today's capable receivers are normally of 7.2-channel breed to allow expansion to at least one room, come with 6 to 8 HDMI ports and come with simple optimizations and speaker calibrations to ensure that the best sound comes out of the speakers based on how they are positioned. For those basic needs, you shouldn't have to pay more than $800. Under that $800 level, competition is very fierce with Denon being no stranger to this. Denon has been making receivers for years and it continues to face a mountain of competition from other home theater receiver manufacturers as well as TV manufacturers. It is also no surprise for Denon to begin 2016 by slowly updating their low-range and midrange models while leaving the high-end models for later since owners of high-end receivers will likely not upgrade after a few years. It is Denon receivers like the Denon AVR-X2300W that target new buyers.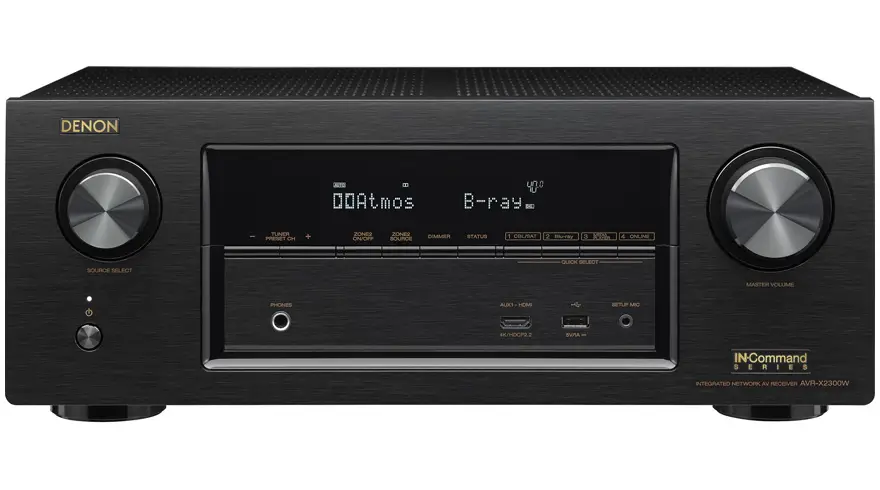 About the Denon AVR-X2300W
The Denon AVR-X2300W is part of an ongoing surge of new Denon home theater receivers. Priced at $799, it is made to replace the AVR-X2200W which was released the year before. It is also part of the IN-Command or X-series for folks that demand more power out of their more elaborate home theater setups without breaking the bank. Compared to the other products in the X-series, the AVR-X2300W is the second most affordable receiver in the current X-series lineup. Like the majority of the Denon X-series members, the Denon AVR-X2300W is a 7.2-channel receiver with full support for the latest 4K technologies including HDCP 2.2 and HDR. Unlike its cheaper sibling, the AVR-1300W, the AVR-X2300W has 95 watts per channel (15W more than the former), 8 HDMI ports (2 more than the former) and 2 HDMI outputs.
Below is the back panel layout. Click on image to enlarge for a clearer view.
Comparison with the Denon AVR-X2200W
Comparing the Denon AVR-X2300W to its predecessor is like comparing the iPhone 6s to the iPhone 6. But just imagine that "s" to be very tiny because the improvements over the previous model are minuscule. Perhaps the biggest improvement found in the AVR-X2300W is the Wi-Fi module. It is still 802.11n Wi-Fi but it is now dual-band supporting the 5 GHz frequency. So if you have a dual-band router and have other devices at home that use this frequency, you can enjoy a more stable streaming experience by using this new feature.
The rest of the features are pretty minor. If you weren't contented with the maximum setting of 200ms for the Auto Sync lip delay, you will be pleased to know that limit has been increased to 500ms for the Denon AVR-X2300W. The receiver's standby mode also has an extra feature that lets you change HDMI source without interrupting standby. Support for DSD 5.6 MHz audio files has been added too and you can now play them back via network or USB storage.
Features in Detail
Without any huge additions to the AVR-X2300W, the headline features remain the same as the older model with Dolby Atmos support taking the center stage. In previous years, Dolby Atmos used to be exclusive for higher-end models but now the technology trickled down to more affordable models as it is possible to allocate two channels for ceiling or special Dolby-branded upfiring speakers resulting in a 5.1.2-channel configuration for a more immersive experience. Of course, this requires extra investment and nothing will stop you from setting up a more standard 7.1-channel configuration or expand to a second zone. Plus, with an upcoming firmware update, the Denon AVR-X2300W will gain DTS:X support as well. DTS:X is an alternative to Dolby Atmos that allows better flexibility when it comes to speaker positioning and offers more customization. The only catch is that the media must support DTS:X so it is possible that you might encounter media that only supports Dolby Atmos and vice-versa. Still, seeing this receiver supporting both formats is good for the future of true three-dimension sound.
Even with the upgraded dual-band Wi-Fi, the core networking features remain the same. Subscribers of vTuner, Pandora, SiriusXM and Spotify can stream their favorite music or enjoy local streaming through AirPlay or DLNA. Google Cast is unfortunately absent. Android, iOS and Kindle Fire owners can also optionally download a free app from Denon so the mobile device can be used as an interactive touch remote control.
For speaker calibration, Audyssey continues to lend a hand on the sound optimization technologies. This remains unchanged from the previous model and Audyssey Silver continues to prove that technologies like MultEQ XT, Dynamic Volume and Dynamic EQ just work.
Performance
With virtually the same specs as the older midrange 2015 Denon models, audio performance is also the same and that's fine because 95W channels should be able to handle most 5.1-channel or 7.1-channel setups with minimal to no distortion. It is all thanks to Denon's exclusive audio enhancement technologies and the discrete amp design shared amongst the X-series products.
Conclusion
Pros:
• Wi-Fi now supports the 5 GHz frequency.
• DTS:X support coming soon.
• Great performance for the price.
Cons:
• No Google Cast support.
• Still the same as its predecessor for the most part.
Verdict:
Owners of the AVR-X2200W and possibly even the AVR-X1200W do not have to upgrade. But for people looking for a lot of HDMI ports at a cheap price and want very stable Wi-Fi and futureproof support for 4K and 3-D sound formats should add the Denon AVR-X2300W to their shortlists.