Anytime two successful businesses join forces, the industry and public eagerly anticipate possible changes. Such is the case with the decision by Pioneer and Onkyo to work together just over a year ago. The impact on products of both businesses includes streamlined improvements that deliver even better quality than before. This year brought about a creative direction with the release of the Pioneer VSX-832. It's a home theater receiver that supports DTS:X and Dolby Atmos. Additional incentives that beckon a further look at the AVR include a lower price than expected and an advanced calibration system. How does the review hold up to the hype of the VSX-832?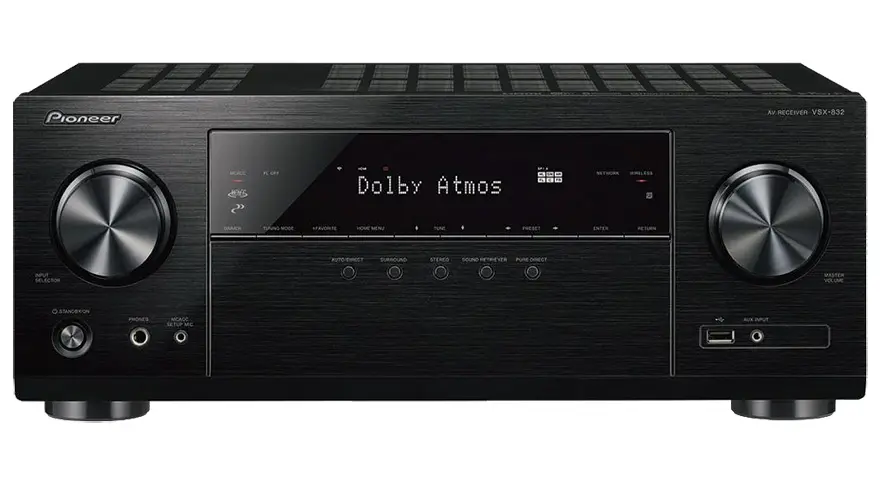 About the VSX-832
The first thing to consider is the built-in 5.2 channel configuration (two channels driven and 80 wpc). Not only does the receiver deliver DTS-HD Master Audio decoding and Dolby TrueHD, it provides additional audio processing. The USB or network firmware update to support Dolby Atmos and DTS:X audio decoding was released October 30, 2017. Although a glitch has delayed the network update, Pioneer will post when it is available for the Pioneer VSX-832.
FlareConnect is the wireless multiroom audio distribution system announced in late 2017 by Onkyo and Pioneer. It's the response to functionality from rival brands, including HEOS from Denon and Marantz and Yamaha's MusicCast. It synchronizes, shares and distributes music from external and network-attached audio sources. A firmware upgrade enables audio-video/hi-fi components/systems from Onkyo/Pioneer and compatible wireless speakers to deliver quality sound with little effort. It is similar to DTS Play Fi as well as FireConnect (from Blackfire Research), which currently is part of many Pioneer and Onkyo products. Check Pioneer's website to determine which version your AVR contains.
The VSX-832 offers two configurations for DTS:X and Dolby Atmos. The standard 5.1 channel setup produces better sound and resonance than other AVRs in this category. A unique experience is the 3.1.2 channel option for speaker configuration. It consists of:
Three front channels
Two height channels
One subwoofer channel
There are no rear surround channels because they are unnecessary. DTS:X audio codec automatically adjusts audio to the current speaker system and channels. The resulting soundscape drops the listener into an abundance of clarity and authentic audio reproduction. The MCACC (Multi-Channel Acoustic Calibration) system makes speaker setup easier for Pioneer VSX-832. High directivity sound from Dolby Atmos-enabled speakers hits the ceiling and bounces back. Low sound is directed right to the ears. Although the resulting phase shift would ordinarily result in cacophony, the AVR has a Reflex Optimizer that:
Adjusts the shift.
Aligns frequencies with floor speakers.
Optimizes the reproduction environment.
Below is the back panel layout. Click on image to enlarge for a clearer view.
Features
Large input-select and volume knobs are located on the left and right sides of the VSX-832's face, but it's less crowded than previous units in this range. I'm always interested in changes that make remotes easier to use while quickly providing the service requested. Pioneer's done a great job of cleaning up the VSX-832's crowded remote control by removing all but the essential buttons. An easy remote substitute is available by downloading the free AV control app for tablets and smartphones from the Google Play and iOS stores.
The amplifier plays music files such as FLAC, WAV, and MP3. Supported audio formats include DTS-HD Master Audio and Dolby TrueHD.
Two analog inputs plus two digital inputs (one optical and one coaxial) add to its connectivity ability. The back of the receiver has an ethernet port to facilitate wired network connections.
Audio formats include a multitude of Internet music streaming services for the Pioneer VSX-832 supported by Wi-Fi, ethernet connection, and built-in Bluetooth. Deezer, Spotify and Pandora are examples. The unit also supports three multi-room music services:
FlareConnect or FireConnect.
Chromecast.
DTS Play-Fi.
Comparison of Onkyo TX-NR676 and Pioneer VSX-832
The 5-channel Pioneer VSX-832 has four compatible HDMI inputs that support Ultra HD with HDR (HDR 10 and Dolby Vision), HDCP 2.2 and BT 2020, challenging the lead Onkyo has held until now for quality amps. Onkyo's mid-range receiver TX-NR676 supports the same features with seven HDMI 4K compatible inputs. Both have two outputs, multiroom audio, internet streaming and 4K video support. The 676 has the basic Onkyo boxy, bulky look. Its busy front is filled with buttons and knobs. The appearance makes the front of the Pioneer VSX-832 look almost pristine.
All the knobs and buttons on the TX-NR676 help if the remote's lost because they provide controls for various features like tone, volume and input select (and an easy to read screen!). A dedicated phono input and ethernet port for wired network services are further examples of its readiness for today's 4K TVs. The VSX-832 has an ethernet port, but no dedicated phono input.
The sacrifice of object-based surround speakers due to the less than seven presented by the VSX-832 isn't as drastic as it sounds to speaker fanatics. Atmos and DTS:X are available for use by turning surround speakers into overhead height speakers. I didn't notice a significant difference in audio, although I believe each person will need to decide whether the sound effects are adversely changed to a point where a more expensive AVR such as the NR676 speaker is a better choice.
Pros
No specific speaker layout required.
Remote App has built-in speaker grouping, playback management, and music selection.
First 5-channel AVR to support Dolby Atmos and DTS:X
Cons
HDMI inputs cut to four from six.
Conclusion
The Pioneer VSX-832 has a wide assortment of desirable features for a 5-channel AVR. DTS:X and Atmos are part of the attraction of the system, even if it's due to curiosity over how much performance is available. Dynamics are commendable, particularly when playing the classical music scores prominent in a variety of films. If it doesn't live up to expectations, use the standard 5.1 channel arrangement. Flexible options for speaker setup are a surprising perk for the inexpensive unit. Dual-band Wi-Fi, Bluetooth, and Chromecast built-in deliver impressive multi-room audio using FireConnect/FlareConnect or DTS Play-Fi.