The newest Elite AVR from Pioneer is well on its way to popularity. The Pioneer VSX-LX103 includes 5.2.2 support and is a 7.2 channel receiver that supports DTS:X or Dolby Atmos speaker layouts. Network streaming and a simple to operate remote offer a friendly experience. The basic no-frills audio-visual receiver has disappeared as companies strive to meet the expectations of consumers. While it's great to satisfy the curiosity of tech-savvy users about a unit's power and capability, it's even more important to clarify important features. Learning how a unit delivers realistic surround sound and theater-quality video makes it easier to compare different brands and models to find the right choice. Here's my take on how the LX103 increases the home video experience.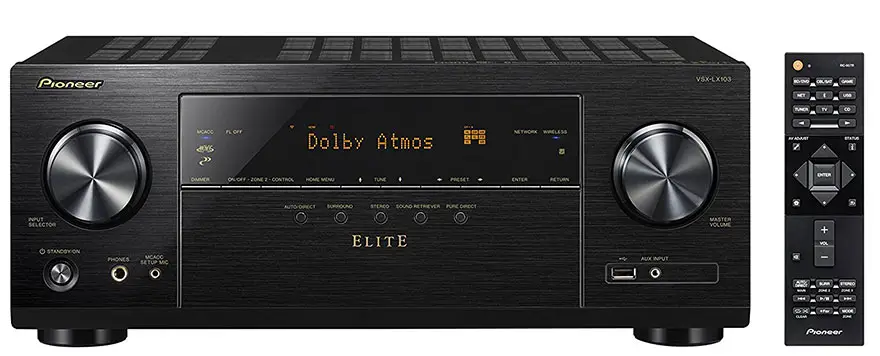 About the VSX-LX103
The affordable Pioneer VSX-LX103 provides higher-end features rarely offered in its price range. The unit supports:
A variety of surround sound codecs.
Direct energy amplification.
4K pass-through.
Built-in Chromecast.
Pioneer makes it easy to set up the unit. In addition to the VSX-LX103, the box includes a remote control (complete with batteries) and power cord. An AM loop antenna delivers local radio shows, while the indoor FM antenna provides access to other popular stations. Calibrate an assortment of speakers using the microphone setup. Pioneer's speaker calibration system is an impressive reflection of the company's Multi-Channel Acoustic Calibration System (MCACC). The VSX-LX103 produces quality audio because it adapts to various speaker sizes. It measures the distance and level of the speakers. Then it customizes equalization features to produce impressive acoustics. Is clear, resonant sound too much to hope for in a midline AVR? In my opinion, Pioneer answers the question with a resounding "no" from the LX103. The phase control synchronizes sound and compensates for bass delay. The Reflex Optimizer adjusts the sound delay caused by bouncing signals from Dolby-Atmos speakers, aligning the frequency with speakers on the floor to harmonize audio from all speakers.
Below is the back panel layout. Click on image to enlarge for a clearer view.
Comparison Between Pioneer VSX-LX103 and Yamaha RX-V683BL
Yamaha's RX-V683BL 7.2-channel MusicCast AVR gives the VSX-LX103 a run for the money, as they are both similar in price (which depends on where it's purchased). It has Bluetooth capability and works with Alexa voice control. That feature must be bought separately. The box looks like most bulky AVRs. With all the great minds creating new, improved features, why can't engineers figure out a smaller unit? It will still be big enough to find it on the shelf by, above, or under the TV. The 7.2-channel surround sound equals that of the VSX-LX103 delivery for DTS:X and Dolby Atmos.
Yamaha's MusicCast supports audio in an additional nine rooms. The Zone 2 Audio delivers:
Party mode.
Extra bass.
Main zone sync input.
Volume equalizer.
Both AVRs have a phono input that allows vinyl playback. This retro feature continues to grow in popularity, much to my delight. The impressive delivery of favorite songs and comedy routines is a treat.
Features
Pioneer VSX-LX103 has 40 preset FM/AM stations in its memory. Its AM and FM antennas support reception. FlareConnect produces the right balance of sound from network and external audio input sources by supporting compatible speaker systems and components. The remote app delivers a great deal of control with features like music selection, built-in playback management and speaker grouping. Audio control features provided by Chromecast-enabled apps deliver premium sound to the area with:
iPad.
Windows or Mac laptop.
iPhone.
Chromebook.
Smartphone.
Wirelessly stream audio content from any compatible mobile device with the DTS Play-Fi app. The multi-room system permits delivery from different sources to a variety of speakers throughout the home. Surround, center, and front are three of the seven speaker connectors used for this process.
Enjoy theater-quality movies at home with the colorful, brilliant film display from HDR 10, Ultra HD video, Dolby Vision, and HLG. The immersive delivery of sound owes much of its success to the automatic adaptation of the speaker system, whether it's a classic or new release flashing across the screen. HDCP, 4K, and BT.2020 Wide Color Gamut are supported on each of the AVR's HDMI terminals.
Pros
Calibration mic
Remote app
Cons
Big, bulky unit hard to fit by TV
Conclusion
The reasonable price of the Pioneer VSX-LX103 makes it hard to believe that an out-of-the-box unit can provide easy setup, amazing sound, and a visual display that rivals those of more expensive units. Add the easy-to-operate remote control and wi-fi capabilities to the mix to discover why home theaters are so much fun! Features like Dolby, Bluetooth and MCACC deliver an immersive acoustical environment with basic or better speakers, streaming capabilities, and enhanced viewing of shows and films. The Smartphone app controls the VSX-LX103 from anywhere in the home. It's an excellent, inexpensive way to experience the benefits and operating processes of AVR ownership.