Sony is the kind of company that makes the average person think of the TVs, speaker systems, headphones, media players and gaming consoles. Any home theater enthusiast probably won't think about a Sony-branded home theater receiver because there are a handful of reputable companies each with strong showings. But Sony has its own legendary reputation in the audio space and can easily make a lot of noise when launching new product lineups. On September 2014, Sony announced the Sony STR-ZA1000ES and two other receivers under the company's new ES Z series. With Sony determined to take over the living room in every possible respect, the STR-ZA1000ES is sure to grab some attention.
About the Sony STR-ZA1000ES
The Sony STR-ZA1000ES, like its other two ES Z siblings focuses on custom installations. It is a 90-watt (6 ohms) 7.2-channel receiver positioned as the entry-level model. Priced at $899, it is priced significantly more than Sony's cheapest ES receiver which targets ordinary consumers but much cheaper than the $1,399 Sony STR-ZA2000ES which is the step-up model. It nicely fills the void left by the now discontinued STR-DA2800ES.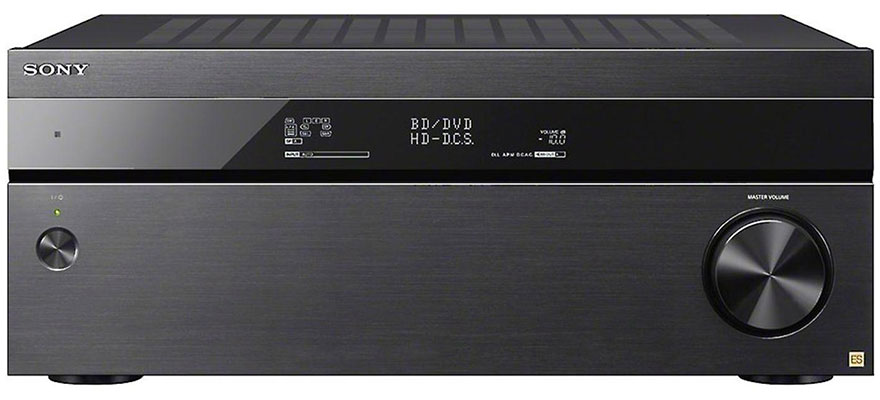 Comparison with the Sony STR-DA1800ES
The best way to understand the appeal of the Sony STR-ZA1000ES is to pit it against the STR-DA1800ES – one of Sony's most popular 7.2-channel receivers. The STR-DA1800ES was introduced back in 2012 but it still attractively priced at $699 and it gives you 8 HDMI ports, 4K pass-through and built-in Wi-Fi and Bluetooth. The STR-ZA1000ES, on the other hand puts up a stronger showing on the 4K and custom install front while sacrificing other areas.
The back of the Sony STR-ZA1000ES looks pretty entry-level worthy with just 5 HDMI ports and 2 HDMI ports. Although there is no HDMI port on the front, all the HDMI ports have both HDMI 2.0 and HDCP 2.2 compliance making it a great companion for any modern 4K display. These specifications basically mean that you get the best picture quality out of the 4K resolution along with sure support for upcoming 4K content from networks.
What the Sony STR-DA1800ES didn't have was Control4 support. Before the STR-ZA1000ES, you either had to find the outdated STR-DA2800ES or spend more than $2,000 on the also outdated STR-DA5800ES flagship. But the Sony STR-ZA1000ES offers more than just Control4 support. It is ready to fully integrate with a number of other home automation systems like Creston, Savant, AMX, URC, Elan and several others. You can find an RS-232C port, a single 12V trigger, 1 IR repeat input and 2 IR repeat outputs on the back of the STR-ZA1000ES.
Also on the back of the Sony STR-ZA1000ES is an Ethernet port although it is more focused on custom installs as it only enables the receiver to be configured from a Web browser. The STR-ZA1000ES is simply not the kind of receiver to get if you are hoping to stream music from your iPad through AirPlay or chill out with music from Pandora. Sony's ES Remote app doesn't work with the Sony STR-ZA1000ES either so you have to go for the STR-DA1800ES if you are after those consumer features.
Exclusive Features
One of the biggest things that the Sony STR-ZA1000ES brings to the table is a fresh front panel design and it looks gorgeous. With the front panel cover on, all you can see is a clean black finish with a power button and a volume select knob. The info panel stylistically takes two-thirds of the horizontal space and has a nice slant cut giving it an asymmetrical look. It is definitely the kind of receiver to show off and blends in well with a Sony TV and sound system. Removing the front panel reveals a convenient array of input select buttons along with typical AV receiver controls. One particular button you won't find in most other home theater receivers is the "Ping" button. This conveniently brings up the IP and MAC address of the receiver to make it easy to integrate with third-party CI controllers.
The STR-ZA1000ES also has a unique speaker mode called "In-Ceiling" which is designed for in-ceiling speakers. When enabled, the front and center channels are virtually relocated so it sounds as if the audio is really coming from the screen. It isn't as advanced as the new Dolby Atmos technology which the Sony STR-ZA1000ES lacks but this speaker mode has broader compatibility and has notable results no matter what type of content you are watching or playing. The STR-ZA1000ES also uses its own in-house calibration system called Advanced Digital Cinema Auto Calibration. It uses a technology called Auto Phase Matching to properly optimize the speaker settings taking placement and distance into account. With 4K upscaling and TRILUMINOS color support, the Sony STR-ZA1000ES is designed to work really well with a Sony 4K TV.
Below is the back panel layout. Click on image to enlarge for a clearer view.
Other Features
With 2 HDMI outputs, it is possible to set up a second zone where you can enjoy a separate independent audio and video source. The STR-ZA1000ES also has support for a number of codecs including Digital Cinema Surround, dts Digital Surround, Neo:6 and Dolby.
Performance
The Sony STR-ZA1000ES is an impressively powerful performer on both the audio and video fronts. This is all thanks to Sony's close attention to detail when designing the internals. The electronic components, chassis elements and even screw placements were all carefully decided to make sure the audio performance is maximized.
Conclusion
Pros:
• Fresh and futuristic design should blend well with other modern Sony products.
• TRILUMINOS color support benefits Sony TV owners.
• Unique In-Ceiling Speaker mode enhances overhead speaker setups.
• Good variety of custom install options for the price.
Cons:
• Minimal networking capabilities.
• No wireless features.
• No mobile app.
Verdict:
The Sony STR-ZA1000ES focuses on a very specific crowd. If you want to simplify custom installs for a cheap price and want all the 4K goodies, this is the receiver for you. The competition offers more features on the networking and wireless front but Sony's new ES Z series still manages to come strong with great sound technologies and bold design choices.