Released in 2016, the Onkyo TX-NR656 is among the receivers that have already received a lot of praise. Is it deserved? What are some of the best and most unique characteristics of this receiver? Let's find out.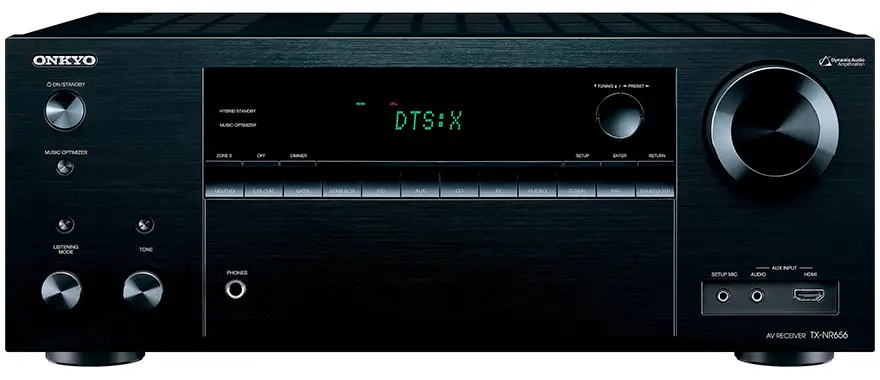 Overview and Technical Specs
In 2015, Onkyo accomplished a lot with one of the most popular receivers that it released – TX-NR646. In 2016, the company decided to follow up with the next generation called Onkyo TX-NR656. The new receiver builds upon some of the most popular characteristics of its predecessor.
Quite reasonably priced within the respective product category, Onkyo TX-NR656 has a lot to offer. The receiver features 3.5mm audio, analog audio, coaxial digital audio, digital audio Ethernet, composite video, HDMI, USB and several other types of input. The number of HDMI inputs is eight and the number of HDMI outputs is two. When it comes to outputs, there are analog audio, HDMI, composite video and speaker options.
Needless to say, the receiver is wi-fi enabled and wireless. It has smart capabilities and the types of instant content that it supports include Pandora, TuneIn, Spotify and Deezer.
A few other technical specs deserve to be mentioned, as well:
Available video-up conversion
4K Ultra HD compatibility
3D ready
MP3 player compatibility
Wireless multi-room audio
7.2 channels and two audio zones
Below is the back panel layout. Click on image to enlarge for a clearer view.
Best Characteristics
Both professional reviewers and people that have already tried Onkyo TX-NR656 share information about their positive experiences. Several characteristics have been mentioned in more than one professional and customer-generated testimonial:
Easy setup and intuitive controls: even people that don't have advanced audio equipment knowledge found the receiver easy to set up. It comes with a remote control for intuitive and effortless adjustments.
Crisp sound: this is obviously the most important feature for a piece of audio equipment and the receiver doesn't disappoint. Most people that reviewed Onkyo TX-NR656 reported that the sound is crystal clear and the bass is punchy. The receiver works well for movie viewing, as well, making dialogue easier to understand.
Dynamic amplification: Onkyo is a company that has over 70 years of experience in the world of audio equipment. As such, it knows what it takes to produce the best possible sound. Onkyo TX-NR656 delivers accurate amplification without distorting the sound or causing noise. The power is massive at 170W per channel.
A multi-zone audio capability: the appliance comes with Powered Zone 2, which means that audio can be brought to speakers that are located in another room and connected to the receiver. The dedicated Zone 2 DAC allows for signal being sent over a wireless network or in the standard way to a second zone.
Dolby Atmos support: if you want to feel like you're in the cinema or you're interested in an authentic and thrilling audio experience, you'll be happy with what Onkyo TX-NR656 brings to the table. In addition, the appliance features a Dolby surround sound mixer that's intended for audio that isn't mixed for Dolby Atmos.
DTS:X ready: the object-based surround sound technology is also properly represented in the case of Onkyo TX-NR656. As a result, the receiver creates a highly immersive and authentic listening experience. What's even better, TX-NR656 allows for a lot of personalization and gives you the specific audio experience that you're looking for.
Connectivity and streaming: these characteristics have been touched upon in the technical specs but they deserve to be mentioned once again in the biggest advantages. Bluetooth, wireless connectivity and AirPlay allow for the effortless streaming of music from a wide array of devices. On-demand and subscription-based streaming services can also be accessed and enjoyed. The Onkyo remote app allows you to access Spotify, TuneIn and Pandora and to access all of your favorite audio through a single platform.
A Few Shortcomings
Onkyo TX-NR656 does come with an excellent price to quality ratio. The receiver has many features that are typical for more advanced and expensive pieces of audio equipment. Still, a few shortcomings have to be mentioned to make the review comprehensive:
Lack of optical output: several reviewers saw this as one of the most noticeable problems with the receiver.
Connectivity issues via Bluetooth: while most reported that the connectivity is excellent, a few users did experience problems and poor results when relying on Bluetooth.
Firmware upgrade issues: the ease of setup has been mentioned as an advantage by a big number of reviewers but a few experienced issues. Some problems were incurred in terms of firmware upgrades, as well.
Onkyo is one of the final companies to announce the launch of a multi-room receiver: this isn't much of a shortcoming but the market already features a big number of established players in the respective field.
Final Verdict
Onkyo TX-NR656 is an excellent item when it comes to getting the best possible price to quality ratio. Anyone that's interested in crisp sound, good connectivity and using a receiver for both music and movie watching will be happy with what the gadget has to offer. The shortcomings aren't that many and they don't interfere with the quality of the audio experience. As a result, it's easy to conclude that Onkyo TX-NR656 will probably rank among the audio best-sellers in 2016.
Update: There is a newer model > Onkyo TX-NR676

Read actual user reviews on Onkyo TX-NR656
Click Here to View Latest Offer