Upgrades in last year's Yamaha 70 AVR series were impressive enough to leave me with the opinion that just a few minor changes would take place over the next few years. The company could have knocked me over with a feather with its announcement and description of the Yamaha RX-A3070! The main reason it sounded perfectly believable is that their audio techs and engineers have continued to impress since the first release of CINEMADSP in 1986. Oh, sure, less could have been done to the unit during the past three decades and it would still be impressive, especially considering the low price for a quality item. The primary factor resulting in a prime audio (and visual!) delivery from the flagship AVENTAGE RX-A3070 is the vision and expectations of team Yamaha. Personal satisfaction with the products they create and deliver have them scurrying around with the vision of making the best sound field program to date while watching for ways to increase performance in the future.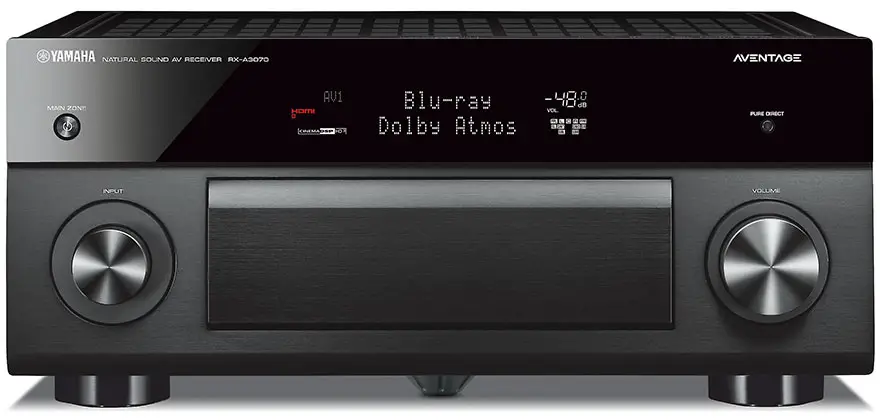 Product Review
An impressive part of this top of the line AVR is the built-in Wi-Fi feature. Connect to music streaming and networked audio services quickly and easily through a wireless router. I also tried connecting with Wireless Direct and discovered how simple connectivity can be. It provided control of the AV receiver while giving me the option to stream music right from my tablet or smartphone with the controller app.
The Yamaha RX-A3070 cinema soundfield processing system features delivers state-of-the-art motion and spatial representation data. The fantastic delivery of audio-visual media in 3D surround formats caught my attention right away!
DTS:X and Dolby Atmos surround codecs provide a healthy serving of audio formats in this AV receiver. Yamaha's also included 4K Ultra HD video support to the mix such as HLG and Dolby Vision. A wide range of colors, contrast rations and 4K streaming video services delivers vivid performance enhanced by HDR10 (standard). There's no need to tuck the Ultra HD Blu-ray Disc Player out of sight because chances are good it will be in use quite a bit.
Adding an external-channel amp increased the 9.2 channel AVR to 11.2 channels (7.1.4 channels for object-based surround sound). Other commendable features include:
Superior signal transmission with XLR-balanced inputs.
Minimized sound distortion provided by SABRE32 Ultra DAC and ESS ES9026PRO SABRE DAC.
Below is the back panel layout. Click on image to enlarge for a clearer view.
About the RX-A3070
My favorite part of the Yamaha RX-A3070 is the sound. I entered speaker heaven once I reviewed the directions for the AVR's speaker layout patterns. Yamaha knows audio and how to produce optimum sound. Multiple placement patterns gave me the opportunity to develop a sound field for the presence speakers dedicated to supporting Cinema DSP, DTS:X and Dolby Atmos.
There's only one way to achieve a state-of-the-art movie theatre sound field. It's all about technology and a surfeit of overhead speakers set up to handle the front presence field, rear surround field, and independent fields to the right and left. Years of practice gave me the ability (and patience!) to find accurate stereo balance. Creating Yamaha's consistent soundfield is a matter of following the directions so each sound source is captured, rendering the spirit and nuance with which it is designed.
The Virtual Cinema Front produces a surround sound experience even without surround speakers behind the listening position. All I had to do was determine the proper placement (using the guide) and put two front presence surround speakers and a center speaker in front. The result? Better resolution and quality of 3D sound, even from the virtual back speakers. All the sound angles were covered – depth, height, and vertical movement. Format decoding coordinates HD Audio format and sources.
Download the Yamaha AV Controller App to make control a simpler, fun experience. Download it from Google Play, Amazon Appstore, or iTunes to an Android or iPhone device. I used everyday options like DSP modes, volume and power. Change languages or customize the interface. It's a useful app that isn't as complicated as it sounds.
Comparison with Previous Model RX-A3060
Companies face a dilemma upgrading the flagship of the line. It's vital to avoid taking away features that make the product stand out from the competition while adding items that spark interest. Both the Yamaha RX-A3070 and last year's model RX-A3060 have the Aventage 9.2 channel selection with the ability to power directly and add 2.0 more channels. Both sound amazing due to the 150-watts output per channel and the receiver-supported Dolby Atmos and DTS:X sound format.
Is there such a thing as too much music? Not for me, and it appears Yamaha feels the same way. The company added Tidal and Deezer to the MusicCast offerings for RX- A3070. No waiting for a firmware update – the app is supported right out of the box in this flagship model. There's over 43 million tracks on Deezer and impressive HiFi sound quality and Hi-Def videos from Tidal. It's another reason to appreciate the Zone Volume Equalizer, which adjusts treble and bass balance to match the volume playing in other rooms. The natural sound quality balance of music and movies was a pleasant surprise, even though it was expected.
The biggest things marking the difference between RX-A3070 and last year's RX-A3060 are:
4K Ultra HD video support.
Hybrid Log-Gamma (HLG).
Baseline HDR10 (High Dynamic Range).
Dolby Vision.
HLG and Dolby Vision await a fall 2017 firmware update. The changes will improve definition, contrast and colors to provide a home theater experience that equals that of many theaters. Network programs, Blu-ray discs and streaming video services will deliver the spectacular array of 3D programs and their audio/visual presence.
Pros
Has the latest Bluetooth technology, including adaptation for Bluetooth speakers and headphones.
Easy, convenient wireless operation.
Phono input for vinyl playback.
Conclusion
Features like MusicCast, Dolby Vision and presence speaker placement patterns add to the appeal of the Yamaha RX-A3070. The well-designed AVR does not distract from the room where it was situated. Movies and music are identified by quality sound and a wide range of audio/visual expertise. I heartily recommend it as one of the best, if not the best, released AVRs for 2017.