The unpretentious Marantz SR5012 is an exciting addition to the latest collection of AVRs on the market. Its middle of the road amplification and processing is a match with the lower price tag. It has many comparable features found in the upscale SR6012, which was released at the same time with a cost $500 beyond the SR5012's $999 MSRP. The 5012 handles 7.2-channel processing with style, thanks to Audyssey MultEQXT room calibration and its ability to control the seven 100-watt amplifiers in the chassis. The immersive audio content of DTS:X and Dolby Atmos works with both 5.1.2 and 5.2.2 channel configuration. Other features, such as an on-screen Setup Assistant and wireless connectivity, demonstrate the unit's ability to deliver a dynamic presentation to new and seasoned home theatre fans of all ages.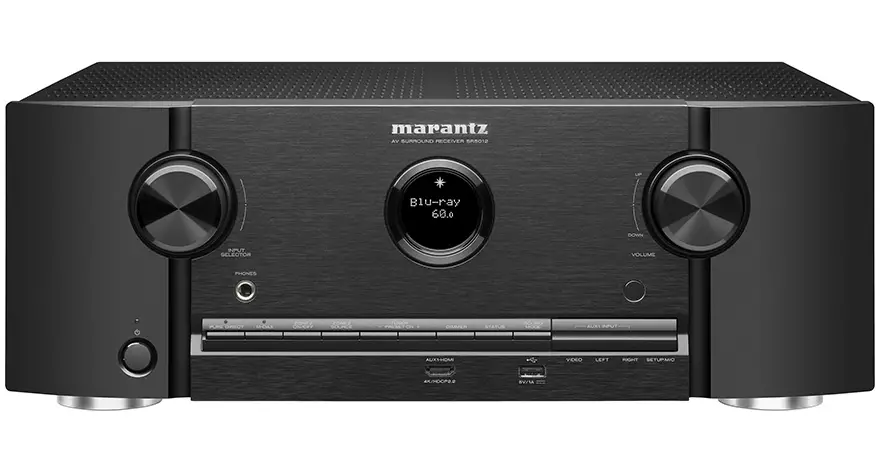 Part of the current trend of other A/V companies, the objective is to get a superlative product to the public now and complete the updates when available. Two future firmware updates will increase the AVR's performance. Enhanced Audio Return Channel (eARC) will support DTS:X or Dolby Atmos via TV apps. The setup is simple, requiring only one HDMI connection. The second update, Hybrid Log Gamma (HLG) passthrough, will support future HDR broadcast content.
About the Product
Compatible with a wide range of 4K Ultra High Definition video specifications, the Marantz SR5012 7.2 channel AV Receiver features 100 watts per channel (8 ohms, 20 Hz – 20 kHz, 0.08% 2ch Drive). Not only can it handle Dolby Vision and 4K 60Hz video through HDR, it can decode Dolby Atmos and DTS:X 3D surround sound. The upcoming HLG firmware update will change the overall home theater from ordinary to extraordinary.
Marantz is recognized for using high quality product components. The SR5012's Hyper Dynamic Amplifier Modules (HDAMs) enables digital to analog conversion using 32-bit converters on all channels in its eight channel DAC block. Home network music is accessible with a Wi-Fi or wired connection. The connection delivers Pandora, Spotify, and other streaming services in addition to internet radio. The music doesn't end there! Stream from the computer or NAS drive for additional enjoyment or play hi-res music using the USB port in the front panel. Bluetooth and Apple Airplay support tablet and Smartphone streaming.
Below is the back panel layout. Click on image to enlarge for a clearer view.
A short lesson demonstrates how to save energy with minimal impact on speaker output. The Marantz SR5012's low-impedance drive capabilities offer impressive speaker control. Turn Eco mode off, or set to Auto to reduce power consumption to match the volume. Online guides are available from Marantz and have step-by-step, easy-to-follow directions.
Including the HDMI input on the front panel, the SR5012 has 8 HDMI inputs. All inputs and outputs are up to date with technology to maximize video performance, providing compliance with HDCP 2.2 requirements for current 4K HDR formats like 4:4:4 Pure Color sub-sampling and Dolby Vision. Compliance covers copy-protected content of 4K Ultra HD. Future HDR broadcast contents will be covered with the firmware update for HLG pass-through. The unit also handles:
Blu-ray disc players
Hi-res audio
DVD and other legacy video sources
Game consoles
Comparison Between Marantz SR5012 and Previous Model SR5011
Like the SR5011, the SR5012 is gaining recognition for listening pleasure. Natural, pure clarity is typical in an average sound range, whether utilizing audio alone or audio and video together. The 5011 has ARC (Audio Return Channel), while the 5012 will receive a firmware update for enhanced ARC. eARC 's single-cable connection improves performance by supporting Dolby Atmos or DTS:X from the TV apps. This bumps the AVR's delivery up a couple of notches because it can handle a 5.1 surround sound speaker system with an additional four overhead speakers. Both units are at the lower end of the upscale Marantz AVRs and lack the ability to disturb the neighbors with loud, persistent sound. However, output is suitable for a home theatre experience. Online and onscreen guides make setup easy, as the HDMI ARC one-wire TV connection.
Pros
Dual subwoofer outputs. Use the subwoofers in different locations to balance low-frequency bass in the room.
Multi-source and Multi-room sound. Listen to stereo sound in one room while providing 5.1 channel surround sound to the main room, or keep 7-channel sound with additional setup options.
Smart TV connectivity on certain televisions permits remote handset control with HDMI CEC.
Cons
Over-driving the amp may cause overheating and a degraded audio performance.
Conclusion
The Marantz SR5012 is ideal for custom installs because of its IP control and RS232 port. It supports audio and hi-res formats like FLAC and WAV. Dolby Atmos and DTS:X deliver an amazing 3D home theater experience. Surround sound and amplifiers delivering 100 watts per channel spread audio to the nooks and crannies of the room with the support of Audyssey MultEQXT. Because it is ISF calibration ready, professionals can calibrate it to deliver expanded video performance.