Pioneer celebrated its ambitious merger with Onkyo with the release of next-generation ready AVRs in late 2017. It's an all-out effort to strut their stuff with the Pioneer VSX-932 home theater receiver. Network streaming services offer popular internet radio stations. The remote app is less complex. The phono input makes quick work of connecting a turntable for vinyl. This comes in handy with the current resurgence of vinyl. Ultra HD video? Dolby Vision? Yes, the VSX-932 has it and a lot more. Following are its highlights and how they impact the home video experience.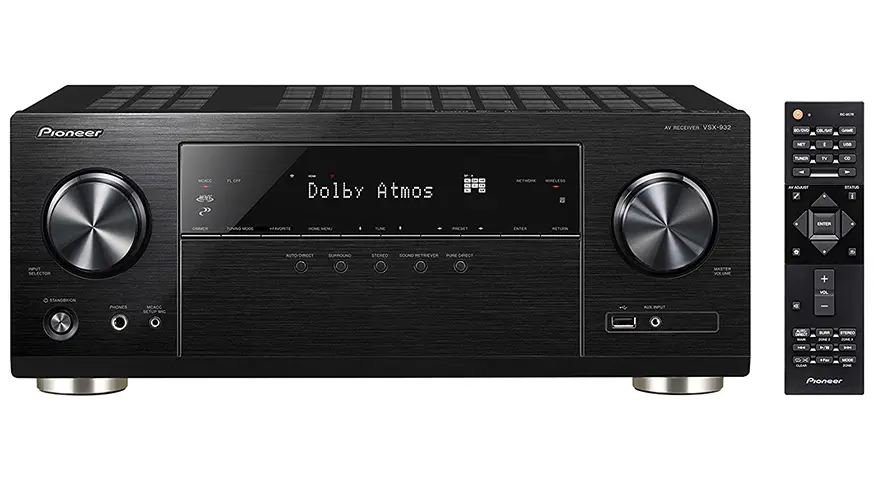 About the VSX-932
The dramatic sound of old and new films is reproduced with grand style through the Pioneer VSX-932's DTS:X next-generation audio codec. Interactive and immersive audio delivery is achieved because audio automatically adapts to the speaker system and existing channels. Although I prefer a well-designed speaker system with a wide range of options, it's nice to know this Pioneer AVR is ready to deliver quality sound right out of the box.
Pioneer worked with professional recording studios to create the ideal acoustic environment promoted with its Multi-Channel Acoustic Calibration System, or MCACC. The system uses a custom microphone to equalize differences in:
distance.
size of speakers.
level of sound.
Compatibility is the secret of Pioneer VSX-932's video standards excellence using passthrough support for:
HDR10 signals.
Hybrid Log-Gamma (HLG).
Dolby Vision.
All that's needed is a compatible source device connected to a compatible display. All the HDMI terminals on the AVR support 4K, HDCP 2.2, and Wide Color Gamut (BT.2020). Watch 4K videos with digital copy protection and other types of premium content without problems, and upgrade to new devices trouble-free.
Below is the back panel layout. Click on image to enlarge for a clearer view.
Comparison Between Pioneer VSX-932 and Denon AVR-X2300W
The Pioneer VSX-932 and Denon AVR-X2300W are both 7.2 channel receivers from reputable companies. Three things I'm most curious about when reviewing AVRs are how the remote (with supporting apps), HDMI inputs, and audio compare to similar makes and models.
Since Pioneer and Onkyo joined together, there's been special attention to certain products. The VSX-932 has an uncrowded, user-friendly remote control. Chromecast built-in allows streaming music, podcasts, or radio to the speaker with a mobile device. Chromecast-enabled apps on a tablet, smart phone, iPad and iPhone control the audio from anywhere in the home. The app even works with Chromebook and a Mac or Windows laptop. Definitely easy! The Remote App for Android that covers AVR-X2300W promises an amazing command and control level for Denon network ready music systems and A/V receivers. The control just doesn't match the finesse delivered by Pioneer.
It's disappointing that the VSX-932 has only four HDMI inputs and one HDMI output. Denon sends a blatant challenge to power up using the eight HDMI inputs on the AVR-X2300W. The sound on the X2300W lacked the clarity and depth produced by the VSX-932, but is still satisfactory. DTS:X and Dolby Atmos functionality is a plus for either system. Both units work well in a smaller room environment. Even though both AVRs have room for improvement, they each have qualities that make them equal or superior to other models in this class range.
Primary Features of Pioneer VSX-932
The VSX-932 has 40 preset FM/AM stations in memory supported by the AM and the FM antenna.
Dolby Atmos enabled speakers reflect sound to and off the ceiling. Low directivity audio reaches the ears directly, resulting in an awkward reception of sound. Pioneer's Reflex Optimizer applies Phase Control technology to adjust the shift by localizing sound to align frequencies with the floor speakers. The technology creates an ideal reproduction environment. In-house FlareConnect replaces the longstanding FireConnect, although have pretty much the same purpose. FlareConnect shares audio from external and network audio input sources between compatible components. Multi-room playback is a breeze whether it's CDs, LPs, or network music services due to supported speaker systems and components. There's an impressive amount of control in the remote app with its built-in playback management, music selection and speaker grouping. Chromecast-enabled apps enable audio control from around the with:
Smartphone.
iPhone.
iPad.
Laptop with Windows or Mac.
Chromebook.
Windows or Mac laptop.
DTS Play-Fi app streams audio content wirelessly from any compatible mobile device to the Pioneer VSX-932. A multi-room system within the home allows different sources to different speakers at the same time when using the DTS Play-Fi app.
Seven speaker connectors include:
Front
Center
Surround
Surround back & height
B-Amp
Pros
Calibration mic
Remote app
Non-proprietary FlareConnect accommodates multiple brands of speakers
Phono with RCA stereo audio
Cons
Conclusion
Despite the limited number of HDMI inputs, Pioneer VSX-932 does an impressive job of delivering a quality sound experience and supporting Dolby Vision, HDR10, and BT.2020. The array of features packed into the receiver and options available with state-of-the-art apps make it an inexpensive way to gain access to an impressive A/V experience. Bluetooth and Wi-Fi networking encourage streaming favorite films, shows, and music with an easily accessible app. MCACC makes it simple to get the best acoustical environment available without spending a lot of time with setup. At the price, it is an excellent main AVR or premium secondary unit for elsewhere in the home.