Who would have ever thought that the Marantz slimline models would continue to be so appealing after several years of fitting compact areas with their 4.1-inch height? Take amazing features, pack them into an attractive unit like the Marantz NR1608, and watch entertainment aficionados enjoy the production. Two more HDMI inputs than the 1508 and 7.2 channels sweeten the pot.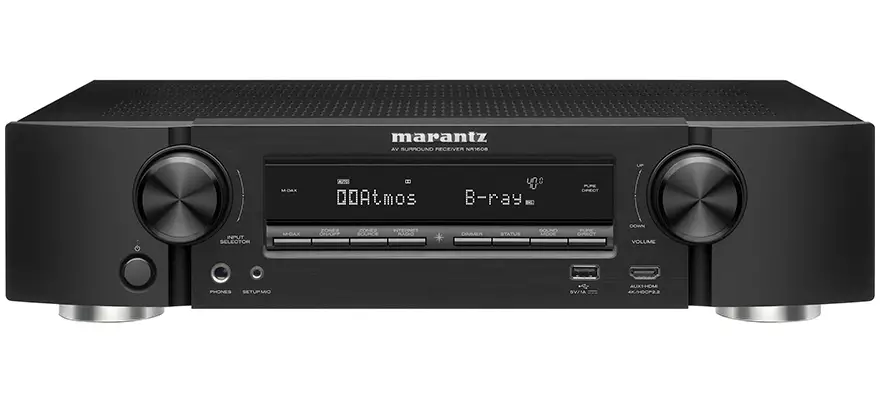 Marantz NR1608 Overview
A discussion of the latest must-haves for an immersive home theater experience would put the NR1608 at front and center for quality. After all, a short height doesn't mean limited features. As with several other AVRs of this caliber, Hybrid Log Gamma (HLG) will be added to the mix by a firmware update later this year. Processing capabilities are covered. Dolby Vision compatibility, 4K – 60Hz video to HDR, and 4K Ultra High Definition video bring a range of vision and sound that compete with the results from larger units.
Use its 4K Ultra upscaling to upscale video sources like DVD to a 4K experience. Get familiar with the suite of tools included in Audyssey MulltiEQ. It is fairly simple to operate Dolby Atmos and DTS:X object based surround sound formats on the Marantz NR1608. It can also decode DTS-HD Master Audio and Dolby TrueHD.
Audyssey Editor's app delivers the ability to finetune sound that is produced by the receiver. One of the upgrades this year deals with HEOS and the ability to work with several audio sources at the same time.
Below is the back panel layout. Click on image to enlarge for a clearer view.
About the Product
Hybrid Log Gamma and Dolby Vision are a lure that delivers what it promises, such as compatibility with the latest 4K ultra HD video content. The NR1608 can share music from Airplay, network streaming and Bluetooth through playback from portable devices. The HEOS wireless multiroom system maximizes the effect of audio throughout targeted areas. The unit's entire suite of video calibration tools embraces the eight HDMI inputs and delivers a quality result of set-up and connection Decoders for Dolby Atmos and DTS:X 3D surround sound are enhanced its seven channels of amplification. The main front channels have dual subwoofer outputs and preouts if power is supplemented by external amplification.
The ability to recover and boost performance of older soundtracks using immersive surround fields is a welcome feature. Neural X and Dolby Surround processing are available for this feature. The NR1608 is equally compatible soundtracks from Dolby TrueHD and DTS-HD. Audyssey MultEQ software makes setup and calibration simple. The optional Editor App for MultEQ refines setup and delivers sound to match individual preferences. Low level sound can increase its impact while retaining clarity by using the Dynamic EQ.
There's an option to use wi-fi or a wired connection to stream music from the Internet or local network storage. A computer, MP3, or NAS drive are additional ways to stream music. Additional options include:
Spotify
Pandora
Sirius XM
Tunein Internet Radio
Deezer
Comparison with the Previous Model
The NR1608 A/V receiver is built with a healthy list of features that place it in the upper level of its class. It includes DTS:X, Atmos, and Zone2 audio. The Marantz 1607 also features a short height to make it compatible with low shelving areas. It's easy to hookup UHD Blu-Ray players and 4K set-top boxes thanks to seven rear HDMI inputs with the ability to support 4K 60Hz with HDCP2.2. The NR1607 has a single HDMI output, limiting the ability to use a projector and flat-panel TV at the same time. The front panel has a USB port to enable media playback and the eighth HDMI input. The IR remote control is backlit to make it simpler to see and use. Three AV analogue inputs, a digital audio input, and a coaxial digital input are also located in the front panel. It also features Dolby Atmos and DTS:X. Denon's HEOS is new with the Marantz NR1608 and makes it possible to stream music with a proprietary app. The 1608 retains the same number of HDMI ports and the single HDMI output. Its upscale to 4K and ability to add ambiance to movies with the extra height channels demonstrate significant improvements to justify upgrading to the new AVR.
Pros
Dolby Vision and HLG
Playback for height-channel standards Atmos and DTS:X
Audyssey MultiEQ and Dynamic EQ
Ability to stream music from smartphone or tablet
Cons
HLG not available until firmware update released
Conclusion
The Marantz NR1608 offers Dolby Vision, Atmos, and Audyssey MultiEQ to make the most of a home theater experience. The on-screen Setup Assistant makes it easy to get the system started right away. It's simple to reduce energy consumption by using the ECO mode; use the auto or off option to take advantage of the feature. A full suite of video calibration maximizes the opportunity to get the most out of movies, accompanied by surround sound and optimal audio performance.