Onkyo is a highly respected brand name that has become synonymous with high-quality A/V receivers. The company's RZ series, in particular, has enjoyed a lot of good press, but what about the Onkyo TX-RZ1100 A/V Receiver? Is this really the right model for you? Continue reading to find out more.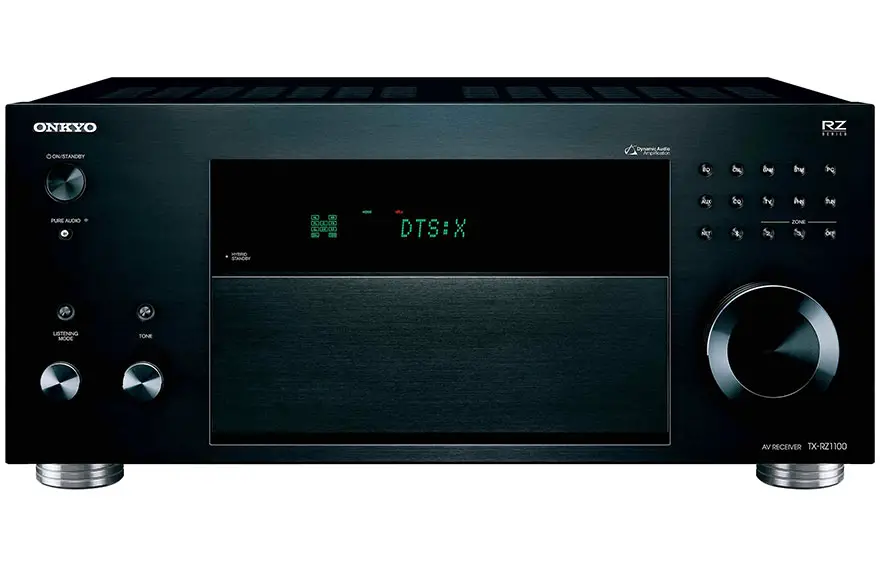 Onkyo TX-RZ1100 9.2-Channel Network A/V Receiver
Many people would say that if you are a discerning audiophile, and you have been waiting for the right piece of kit which is capable of providing the ultimate 5.2.4-channel audio experience, then the THX®-certified Onkyo TX-RZ1100 A/V receiver is probably exactly what you have been waiting for. It has been described as an extraordinary receiver with a massive amount of power that allows it to bring almost any front or rear floor standers to life with spectacular dynamism.
A combination of Onkyo tuned high current technology and state-of-the-art digital switching technology has resulted in a system capable of producing sound which is second to none. Additionally, the system is able to cast from almost any current music app to the receiver via Google Cast; AirPlay, or WiFi, and it can also mirror audio on any wireless speakers, regardless of where in your home they are. As many experts have already said, it is easy to understand how and why the TX-RZ1100 has rapidly become the company's flagship A/V receiver. Okay, before we go any further, let's take a look at 5 key features of the Onkyo TX-RZ1100:
140 W/Ch. (8 Ohms, 1 kHz, 0.08% THD, 2 Channels Driven, FTC) and 200 W/Ch. (6 Ohms, 1 kHz, 0.9% THD, 1 Channel Driven, FTC)
Native 5.2.4-channel DTS:X and Dolby Atmos Object-based Audio Decoding with 11.2 Multichannel Pre-Outs for 7.2.4-channel Object-based Audio (A separate stereo amp is required)
8 HDMI In (1 Front/7 Rear) w/ 2 HDMI Out (Main & Zone 2/Sub); 4K/60 Hz-Capable 4:4:4 w/ HDCP 2.2, HDR and BT.2020 for UltraHD and Full HD Video Content
Google Cast, Spotify, AirPlay, Wi-Fi, Bluetooth, Tune In Radio, Pandora, TIDAL, and Deezer for App-based Audio Streaming (firmware update required)
All Onkyo RZ Series A/V Receivers are backed by a rock-solid 3-year parts and labor warranty
Below is the back panel layout. Click on image to enlarge for a clearer view.
4K Ultra HD Video Performance
The RZ1100 compatibility and its HDMI specifications mean that it is able to play all the very latest video formats appearing on the market. It also offers an increased bandwidth of up to 18Gbps, which means support for other cutting edge features such as 4:4:4 color space which is far superior to the standard 1080p/60 video resolution most of us have become accustomed to. Furthermore, the RZ1100 A/V Receiver has built-in technology that allows it to significantly enhance picture quality. This is achieved by enabling a far higher level of detail for bright as well as dark areas/segments of an image. Last but not least, the RZ1100 can upscale your 1080p videos into fantastic 4k Ultra HD videos seamlessly and effortlessly.
Noiseless Audio Processing
The TX-RZ1100 A/V receiver features VLSC (Vector Linear Shaping Circuitry) technology that enables it to remove all traces of digital pulse noise, thereby resulting in a perfectly smooth analog signal. Also, unlike some other similar products, the RZ1100 has this technology enabled across all channels. In short, VLSC technology takes sound clarity to a whole new level.
Fireconnect for Whole-Home Entertainment
A quick and effortless firmware update allows you to distribute high-quality audio throughout your home with the need for any unsightly wiring. With your firmware update completed, you will be able to send audio wirelessly from almost any source, including vinyl and/or streaming audio. This is done via "FireConnect" which is powered by Blackfire. Sending audio to speakers located in different parts of your home has never been so easy – it is quick; it is stable, and you can even control it with your mobile phone.
Installation Friendly
The Onkyo TX-RZ1100 has been designed for home theater integration and an unrivaled level of performance that will not only meet most people's needs but exceed them. Nonetheless, the company has also taken into account that not every person on the planet is tech-savvy, and as such, they have strived to make installation of this system as easy as possible. In addition to the instructions you get with this system when you buy it, the company also offers phone support specifically for their RZ series, so if you run into problems during installation, help is just a phone call away.
PROS
Quality – There is simply no denying the fact that the TX-RZ1100 A/V receiver is a high-quality piece of kit, and certainly far superior to many other A/V receivers within the same price range.
Power – Again, there is no denying the fact that this is an extremely powerful piece of equipment capable of product sound which is nothing less than spectacular.
Video Conversion – The RZ1100 has the capability to convert regular 1080p video to ultra HD video seamlessly and effortlessly.
User-Friendly Installation – This unit comes with detailed instructions to help you get it set up and running in as little time as possible, and with as little effort as possible. The company also offers dedicated phone support for all the units in the RZ series, including the TX-RZ1100.
Warranty – Your RZ1100 A/V receiver is covered by an Onkyo-backed 3-year warranty should it ever require repairs or replacement.
CONS
Learning Curve – Even though this unit comes with detailed instructions, and despite the fact that dedicated phone support is offered, people who have little or no experience with home entertainment systems might struggle to understand exactly how everything works, and what is required in order to get the most out of their system.
Need for Firmware Updates – Although it is not a major issue, it would have been nice if users could use the FireConnect feature without first having to bother with doing a firmware update.