Looking for a versatile AV receiver for immersive movie experience and enhanced listening pleasure? Well, look no more as the Yamaha RX-V581 is 7.2 channel receiver worth checking out. It is one of the first amps of Yamaha's 2016 RX series to feature both Dolby Atmos and DTS-X. While it delivers about 80 watts of power per channel and is MusicCast compatible, it also features full 4K support for all its HDMI inputs to produce super sharp picture clarity and high-resolution audio playback.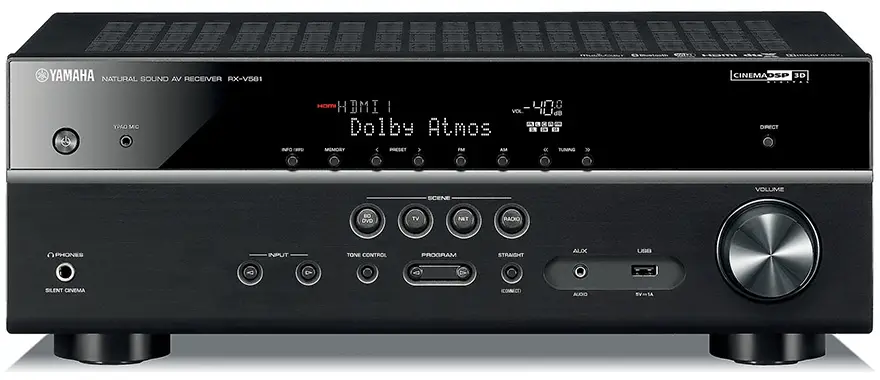 Deceiving looks
The front of the receiver has the normal buttons you'd expect on a receiver like input and the volume knob that can be used to conveniently playback various high-resolution audio formats through the front-panel USB port or a networked computer.
Yamaha has changed its remote designs by eliminating its buttons to give less complicated and user-friendly controllers. However you needn't rely only on its remote to use the amp; you can also use Yamaha's AV control app, a free app you can download from Google Play and iOS app stores to use to adjust and change the listening modes and DSP settings.
Below is the back panel layout. Click on image to enlarge for a clearer view.
Wireless connectivity
Like other modern AV receivers, the Yamaha RX-V581 too has built-in Wi-Fi and Bluetooth where Wi-Fi is easily set up with newer iOS devices. There's no need of typing passwords as the amp copies your iOS device's Wi-Fi settings. In case you don't 'have any wireless home network, the RX-V581 offers wireless connectivity through the Wireless Direct feature.
All you need is to install the Yamaha AV control app on your phone or tablet. You have two more streaming options with the presence of AirPlay and Bluetooth on the RX-V581, and of course, you can play Spotify, Pandora and internet radio on the amp. As the V581 is also DLNA compatible, you can easily stream music from your PC or network attached storage device.
If you are looking for multi-zone support, you can send 2-channel audio to a second room while the main room enjoys 5-channel audio listening pleasure. The one drawback about this feature is that the second room mirrors the audio played in the main room. However, if you look at it another way, it also lets you listen to your favorite music as you work and move around your house!
The RX-V581 has two fewer HDMI inputs but all its HDMIs support HDR, BT.2020 and HDCP, which means the receiver will have no problems handling 4K videos. While it easily passes through 4K signals, you can't expect any upscaling features from it.
MusicCast compatibility
As the RX-V581 is MusicCast compatible, all you need to do is download its app and use it to detect your MusicCast compatible speakers. You can then start streaming audio from anything connected to your amp to the speaker for enhanced listening pleasure.
You have a wide range of sources to choose from that includes Internet radio, your personal digital music library, popular streaming services, Bluetooth sources and even sound from your TV, CDs and vinyl collection.
Straightforward calibration
It's easy setting up the Yamaha RX-V581; even first timers can do it using its guide. All you need to do is dial your speakers to make acoustical adjustments, which you can do in a minute or two.
It's also easy streaming music to it through Bluetooth, AirPlay and internet streaming after pairing the amp with your phone. There's also built-in support for Pandora and Spotify to play and control your music through the receiver.
Optimal sound quality
The RX-V581 not only produces 80 watts of music pleasure, but also supports Dolby Atmos and DTS-X to give a more assertive and authoritative feel to its bass department. You realize how much an effect Atmos has on your listening pleasure upon activating and deactivating the Atmos speakers.
Another interesting aspect is that it not only produces sound above you, but also in other areas of the room. Regarding music quality, the amp displays great detail and agility with most tunes as it offers good treble response. Though it has a solid mid-range, it can use more detail and subtlety.
Conclusion
Whatever said and done, the Yamaha RX-V581 is a beautiful receiver producing good sound quality with a host of features like 4k support, DTS-X and Dolby Atmos. All these features make the 581 a worthy inclusion to have in any home theater arrangement.