When buying a new home theater receiver, the smart path forward is to go for the model that perfectly fits your current and/or ideal home theater setup while leaving some headroom for expansion. It doesn't necessarily have to be the latest model but shooting for that ensures that the receiver is compatible with past, present and even future home theater components and TVs. If that's too complicated and you are on a budget, you can take the more general route and buy a fairly decent and up-to-date midrange model. $600 is often considered the sweet spot for a home theater receiver and Denon has an offering that slightly undercuts it – the Denon AVR-S920W.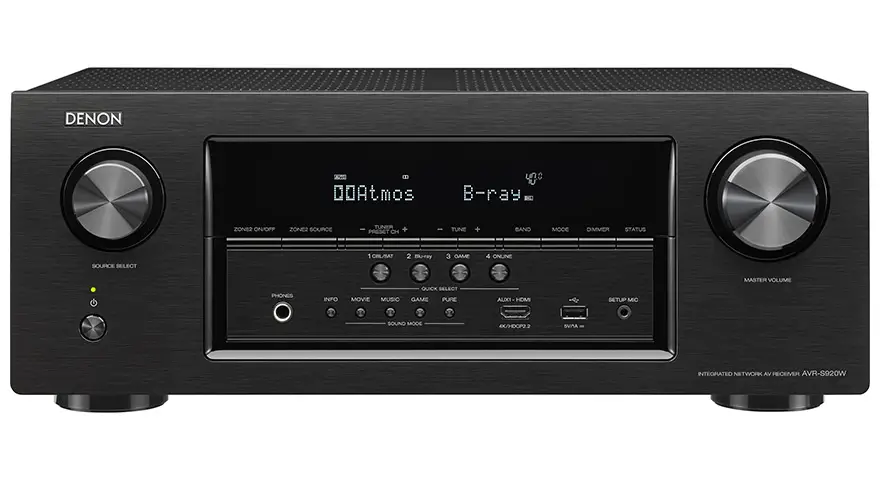 About the Denon AVR-S920W
The Denon AVR-S920W is the latest coming out of Denon's clockwork of affordable AV receivers and it is fully featured with stuff minus all the extra stuff that normally excites audiophiles and studio-quality aficionados. However, it is still made to jive with the latest consumer-focused technologies. For one, it is a 7.2-channel receiver which opens up a few options on how to set up your speakers. You can go full on with a single 7.1-channel speaker system or use the multi-zone feature so you can have a 5.1-channel system in the main room and a 2.1-channel system in another room. If you are willing to invest extra, you can also take advantage of the Dolby Atmos support to create a 3D sound system or wait for the upcoming DTS:X support which will come through a firmware update so you can create something similar with fewer limitations.
The Denon AVR-S920W costs $570 and it launched alongside a similar looking model called the Denon AVR-S720W which has similar specs. Only consider the AVR-S920W if you want more HDMI ports (8 HDMI in / 2 out as opposed to 6 HDMI in / 1 out), higher maximum power output per channel (185 watts as opposed to 165 watts) and 4K upscaling support.
Below is the back panel layout. Click on image to enlarge for a clearer view.
Comparison with the Denon AVR-S910W
If the Denon AVR-S920W looks all too familiar, that's because the previous year, Denon launched the AVR-S910W which has a very similar feature set from the Dolby Atmos support and HDMI 2.0a specification all the way down to design and hardware architecture. Perhaps the main and minor difference is the improvement on the built-in Wi-Fi. It is now dual-band capable of using 2.4 GHz and 5 GHz frequencies for better overall streaming performance. Of course the router in your house should be dual-band as well.
Features in Detail
The AVR-S920W is fully prepared to connect to the latest 4K displays thanks to the latest HDMI 2.0a specification and HDCP 2.2 support applied to all HDMI ports. This means watching 4K UHD video at 60Hz is a possibility and you can take advantage of HDR for improved picture quality if your TV supports it.
While it isn't as powerful as all those other receivers that are priced twice as much, recent technologies like Dolby Atmos and DTS:X give plenty of room to make a really solid home theater system. By purchasing 2 special speakers that will be mounted to your ceiling or simply getting Dolby Atmos-compliant upfiring speakers, you can create a truly immersive 3D surround sound environment with great audio fidelity. The only catch is that the Blu-ray content must support Dolby Atmos too. Fortunately, as new movies trickle out this year, the list continues to grow. Plus you have DTS:X as an alternative if you want more flexible setups as it isn't necessary to buy Dolby Atmos speakers to enjoy the effect.
Audyssey Bronze is also integrated in the Denon AVR-S920W serving as the calibration arm for the receiver. Audyssey Bronze isn't exactly unique to Denon products but it's still a noteworthy and proven solution for calibrating all sorts of speaker configurations. The Bronze version is the bare minimal featuring MultEQ room acoustic measurement, DSP correction and Dynamic Volume. It measures every speaker connect to the speaker as well as the subwoofer and does its DSP correction magic for more balanced sound.
With the built-in dual-band Wi-Fi, the AVR-S920W can stream from a couple of basic but popular streaming services including Spotify and SiriusXM and allow interactivity with mobile devices for remote management and playback. There is an updated app on the iOS App Store and Google Play Store which provides a simple interface for setting up the receiver.
Performance
Aside from the dual-band Wi-Fi functionality which showed clear wireless streaming improvements. The Denon AVR-S920W also boasts a quad-core 32-bit DSP processor which provides the necessary processing power to deal with DTS:X and Dolby Atmos decoding. However, this isn't exactly new since last year's model had it as well. Therefore, the audio performance of the AVR-S920W is similar to last year's model. This shouldn't bother new buyers though because for a $570 device, the Denon AVR-S920W handled all sorts of movies and music admirably well.
Conclusion
Pros:
• Dual-band Wi-Fi is an interesting improvement considering how increasingly popular 5 GHz is becoming.
• Dolby Atmos and DTS:X on the cheap.
• Lots of HDMI ports and added wattage justify the cost over the cheaper model.
Cons:
• Still mostly the same as last year's model.
• Last year's model could be a better recommendation if it has an attractive price tag.
Verdict:
It looks like Denon didn't have many new ideas when it came up with the Denon AVR-S920W but it had to be released anyway to tackle the growing competition. If you can spot a brand new AVR-S910W for cheap, it could be an overall better deal unless you need the improved Wi-Fi. But even disregarding that, the Denon AVR-S920W is still a formidable competitor in the $600 price point.
Update: There is a newer model > Denon AVR-S930H