High-end home theater receivers have reached a point where the audio performance is just too good that people are just picking the one with the best features, looks and/or best overall value for the price. Some companies have indeed taken the design route where some of the models look thinner and sleeker. Other companies like Yamaha look set to throw in even more features to really convince new home theater builders to really buy into a high-end home theater receiver. The Yamaha RX-V779 basically represented Yamaha's vision for 2015 on the features side. It doesn't have those fancy THX or Dolby Atmos logos but it has some things that studio-grade home theater receivers can only dream of.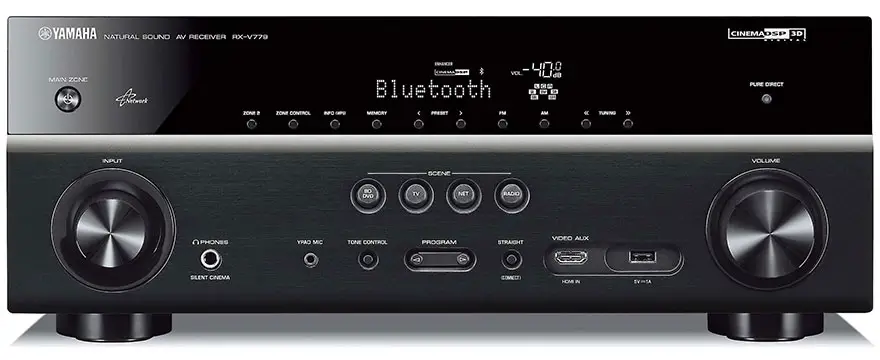 About the Yamaha RX-V779
The Yamaha RX-V779 is the priciest and most advanced model of the 2015 RX-V79 series. But don't take "priciest" the wrong way because RX-V79 series is a budget series. The $850 launch price is proof and that makes it cheaper than many of the other enthusiast-class AV receivers including Yamaha's own AVENTAGE line. It is still a 7.2-channel receiver with a rated output power of 110 watts. If that doesn't sound familiar, it has the same specs as the RX-V777BT released the previous year.
Comparison with the Yamaha RX-V777BT
Yamaha added a huge new feature to the RX-V779 and other RX-V79 models that effectively makes all of their older products feel pretty outdated. Whether that is a big deal to you depends on your take on wireless multi-room audio and proprietary platforms. The proprietary platform in question is MusicCast and it is Yamaha's ambitious move to the wireless multi-room audio world. The goal is pretty much similar to competing systems – you have a central hub that communicates with a wireless speaker that you can place in any room and you can control it using a smartphone app. You can then add more wireless speakers to other rooms until you can literally fill the entire house with the same music track. The main differentiator with MusicCast is that the home theater receiver is the hub and that makes perfect sense with the built-in Wi-Fi of the Yamaha RX-V779.
The feature works pretty well and there is a mobile app for both Android and iOS devices for utilizing that feature. The only catch is that you will have to buy a speaker or sound bar that supports MusicCast as well. Yamaha is already selling a few of these with prices ranging from $250 to $600. The cheapest MusicCast speaker is the WX-030 and it is the only single wireless speaker in the lineup. Yamaha will need to tackle more price points for MusicCast to be a serious contender.
However, the WX-030 does offer something interesting and that is Bluetooth support. This is a pretty interesting feature as the RX-V779 supports Bluetooth as well. Although the RX-V777BT comes with Bluetooth too, MusicCast devices put an interesting twist to it. Smartphones can stream out to the Yamaha RX-V779 or directly to the WX-030 as Bluetooth input. In addition to that, you can take a MusicCast device and output it to a Bluetooth speaker as Bluetooth output opening up some interesting ways to expand the MusicCast influence.
While the RX-V777BT supports 40 50/60p input, its HDMI version is no longer the latest and unfortunately cannot be upgraded. The Yamaha RX-V779 finally has the latest HDMI specification (2.0a) opening up support for high dynamic range (HDR) if your TV can handle it too. More importantly, HDCP 2.2 support is onboard too and that is necessary to ensure full compatibility with all types of 4K content.
Below is the back panel layout. Click on image to enlarge for a clearer view.
Exclusive Features
If you don't mind slightly reduced power, getting the Yamaha RX-V679 is a smarter decision because it is cheaper and still has the HDMI and MusicCast improvements. Spending more for the RX-V779 nets you a second HDMI output opening up Zone B video. This is useful if you want to stream the exact same video and audio source to a TV placed in another room.
The Yamaha RX-V779 also possesses a superior form of the proprietary YPAO Sound Optimization technology for speaker calibration purposes. Not only does the RX-V779 boast Reflected Sound Control to achieve studio-level audio quality but it also employs multipoint measurement which is great if you have lots of seats in the living room and need optimized playback on all of them.
Other Features
The MusicCast app doesn't replace the older AV Controller app so you still need to download that separately if you want to remotely configure the settings of the RX-V779. Even if you don't plan on using the MusicCast speakers, the Yamaha RX-V779 is still a highly capable music streamer supporting a variety of services including Spotify, Pandora, vTuner and Rhapsody. AirPlay is onboard as well so iPhone, IPad and iPhone owners can opt to stream their Apple Music or iTunes playlists. Streaming to a desktop or a NAS is supported as well.
Performance
The Yamaha RX-V777BT was a great performer and the RX-V779 is more of the same thanks to proven technologies like the Total Purity Concept. The Compressed Music Enhancer which is a feature that improves the quality of MP3s has been extended to boost MP3 tracks streamed over Bluetooth. A firmware upgrade is also required for HDR support. This makes the picture quality of movies better but you will need a TV that supports this too.
Conclusion
Pros:
• MusicCast is a promising way to jump into the wireless speaker world.
• Improved Bluetooth
• HDMI 2.0a adds HDR and HDCP 2.2 support.

Cons:
• Not many speakers can take advantage of MusicCast.
• No Dolby Atmos.
Verdict:
If you are not looking for Dolby Atmos support or a separate video source, the Yamaha RX-V779 is a very good futureproof option. Owning this receiver gives you plenty of room to expand to a 7.1-channel system. Then once you have extra money, you can buy several MusicCast speakers to expand the experience to other rooms in the house without wires.