Home theater enthusiasts that have a good ear for audio quality will find most AV receivers priced under $700 to be significantly lacking in audio performance. Yamaha is ready to serve these types of customers with the AVENTAGE brand, which is a family of premium Yamaha receivers. But if you are looking for something that is pretty rich in features, you shouldn't limit your search to the AVENTAGE series as there is a flagship model for the RX-V series that is priced under $1,000. The Yamaha RX-V777BT is the current flagship model that succeeds last year's RX-V775BT. You can still get better performance from a $1,000 AV receiver but the RX-V777BT is very rich with features and technologies that help make this receiver become more powerful than its specs appear to dictate.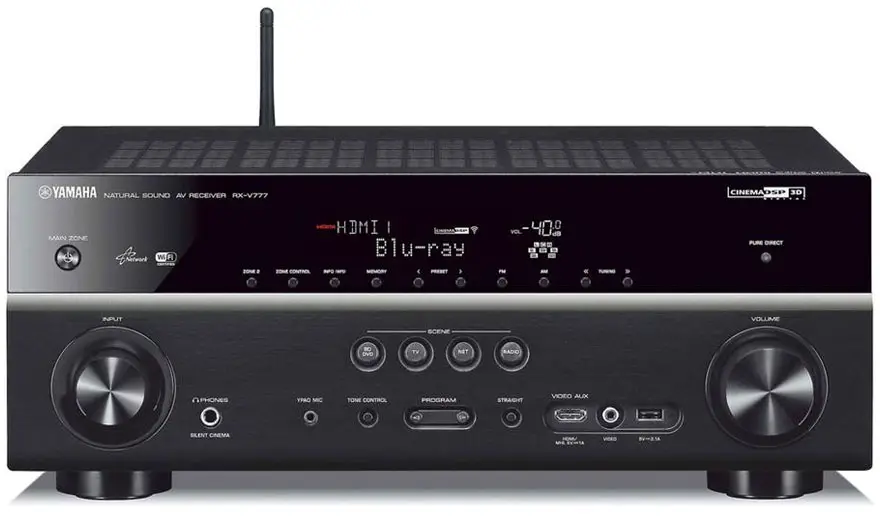 Design
The receivers in the Yamaha RX-V77XBT family were always known for being the only ones with an input selection knob and the Yamaha RX-V777BT keeps that exclusivity. But the rest of the design preserves the essence of the RX-V series so it will feel like you are using one of those entry-level Yamaha receivers. The four SCENE buttons take up the center of the receiver and for good reason because these buttons are likely to be more used than others. The labels of each button clearly indicates that you will be switching to that particular source but what it does behind the scenes is apply a DSP surround mode too. But not everyone needs quick access to their Blu-ray or DVD player. Fortunately, each SCENE button can be customized to switch to any source available such a gaming console and you can pick the corresponding DSP surround mode.
As far as connectivity goes, it appears that Yamaha is satisfied with the ports available on the Yamaha RX-V775BT so the RX-V777BT kept everything the same there as well. The front panel provides the convenience of a special HDMI input that supports MHL. MHL is "Mobile High Definition Link" and it is a standard that a lot of modern Android-powered smartphones and tablets support now days. You will need an MHL cable so you can connect the device to the receiver and that will charge the battery and allow the device to directly stream up to 1080p HD video. This is something that iPhone, iPad and iPod users cannot use but there is still a USB port that can provide digital signal. Of course, this HDMI port can act as a standard HDMI input too and there are 5 more HDMI ports on the back. This might not be enough for enthusiasts but 2 HDMI outputs could be appealing enough. One particular thing that is on the back of the Yamaha RX-V777BT but isn't present on the RX-V775BT model is the wireless connector where you will place the included antenna.
Below is the back panel layout. Click on image to enlarge for a clearer view.
Features
Wireless LAN was a no show on pretty much all of Yamaha's AV receivers released in 2013 and fortunately Yamaha is making the comeback by implementing it the Yamaha RX-V777BT and several other lower-priced models. Even if your HDTV and Blu-ray player have Wi-Fi features of their own, it can still be really convenient to have Wi-Fi on the receiver because it allows a direct channel from a wireless-enabled device to the receiver itself so you are ensured the best audio quality possible. It also lets the RX-V777BT connect directly to the Internet and stream from a few popular services including Spotify, Rhapsody and Pandora. With AirPlay support, iOS and iTunes users have the ease of sending any music file or playlist from their iTunes library to the receiver and HTC owners get a similar benefit if their device supports HTC Connect. Both iOS and Android users can also install the AV Controller App if they wish to use their devices to remotely control the Yamaha RX-V777BT or make some setting adjustments. The BT suffix designates the receiver's support for Bluetooth connections. This practically completes the wireless package as you won't need any dongle to wirelessly connect to devices old and new.
Placing all 5 or 7 of your speakers in front of your listening area facing the same direction as the TV will definitely make the room look clean but you won't be getting the surround sound effect. But Yamaha's sound bars somewhat solved the problem by adding a technology that creates a virtual surround sound effect. Yamaha is bringing this technology to their 2014 receivers and it is calling it Virtual CINEMA FRONT. The RX-V777BT can provide a full 7-channel surround sound environment that sounds pretty good so you don't have to sacrifice too much if you want to eliminate those nasty wires surrounding your listening area. You won't be getting the best effect until you use the YPAO Reflected Sound Control Sound Optimization feature. It basically calibrates the same way as its predecessor and it features multipoint measurement for even better results.
The Yamaha RX-V777BT is also a very forward-thinking receiver as the industry starts to embrace the emerging 4K resolution. There is no clear prediction on when movies will be released in 4K but the RX-V777BT is fully ready to handle it all because of HDMI 2.0 compliance. Providing the 4K TV supports this as well, the receiver can pass through 4K Ultra HD video at up to 60p.
The second HDMI output enables HDMI Zone B, which is pretty cool if you have another TV in another room. This lets the receiver stream the exact same audio and video as the main room. You also have the option for a Zone 2 and you get the same Intelligent Amp Assign benefits as other cheaper Yamaha receivers do.
Bottom Line
The Yamaha RX-V777BT is basically a refined version of the RX-V775BT where the former would last much longer than the latter because of its 4K support. It is also a great step towards wireless freedom because the Wi-Fi makes setup very easy and the Virtual CINEMA FRONT opens up more home theater setup possibilities. Also remember that this receiver only costs $849 making this a great deal.