It is never a huge surprise that home theater receiver manufacturers continue to roll out new models every year. Often times, these updates bring very few updates along for the ride and the general consensus is, you don't have to upgrade your home theater receiver just yet especially if you purchased it 1 or 2 years back. As the years progress, it can even be more difficult to justify a new home theater receiver purchase because older models tend to be cheaper and newer ones have very little performance improvements. But Onkyo is helping the next batch of models in the $1,000 price range become far more appealing. The Onkyo TX-RZ710 comes out swinging bringing big things to the table.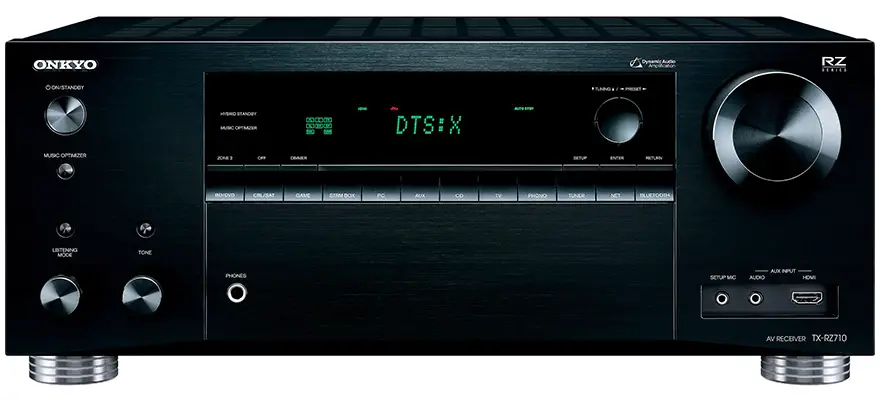 About the Onkyo TX-RZ710
The Onkyo TX-RZ710 is part of Onkyo's recent trio of receivers in the TX-RZ family. The RZ family isn't new and it marketed towards people who need custom installation features in their home theater setup. In terms of price, Onkyo TX-RZ710 is sandwiched between the slightly more powerful Onkyo TX-RZ810 and the budget friendly TX-RZ610. $1,099 might still be a lot to pay for a 7.1-channel receiver but one of the biggest reasons to consider this new model is the THX Select2 Plus certification. Most THX-certified receivers are priced much higher than that opening up a big opportunity for a much larger audience to experience what movie theater-like audio sounds like at home.
Being in the $1,000 price level, the TX-RZ710 is well equipped with 8 HDMI inputs, 2 HDMI outputs and the familiar IR and RS232 inputs and 12v trigger output that custom installation enthusiast care about. Not much has changed in the design department and like past models, the Onkyo TX-RZ710 is built like a tank and designed that way for optimal audio performance without distortion. It is backed by a 3-year warranty too.
Below is the back panel layout. Click on image to enlarge for a clearer view.
Features
Supporting 4K resolution and its related technologies is an absolute must for any home theater receiver manufacturer because that's where the industry is slowly heading. But it looks like the 4K standards are becoming finalized making this a great time to consider receivers like the TX-RZ710. All of the HDMI ports including both HDMI outputs support 4K/60 Hz video and come with all the benefits of the HDMI 2.0a specification including High Dynamic Range, HDCP 2.2 support and 4:4:4 color space. The thought of connecting two 4K displays placed in different rooms is pretty cool.
Dolby Atmos hasn't really resonated with mainstream consumers because of the lack of content supporting the advanced format and the additional expenses required in getting compatible hardware. But should you decide to upgrade in the future, the Onkyo TX-RZ710 is ready to decode this format. Dolby Atmos adds another dimension to the surround sound spectrum so you can hear sound coming from above you. This is why Dolby Atmos requires special ceiling-mounted or upfiring speakers to create the desired effect. For an alternative, the TX-RZ710 also supports the competing DTS:X format which is a bit more flexible when it comes to the requirements.
Just about all home theater receivers with a Wi-Fi capability support direct streaming from popular audio streaming services like Spotify, Pandora and TuneIn Radio. But Onkyo isn't satisfied with equalizing the competition as they want to give consumers even more choice by adding Tidal streaming support in a firmware update. Tidal isn't as popular as it costs money but it is a great choice to witness how well the Onkyo TX-RZ710 performance when streaming high quality lossless audio.
Budding protocol Google Cast is supported too and it is pretty much Google's equivalent to Apple's AirPlay technology so Android and Chromebook users should see some value there. Apparently, Onkyo didn't want to stop there because the TX-RZ710 also introduces a new exclusive wireless audio protocol called FireConnect which lets the receiver stream audio to selected wireless speakers that also support this new format. Of course this means that there are very few audio products to choose from and it remains to be seen if this technology will flourish.
Performance
Compared to the older Onkyo models in the same $1,000 price level, the Onkyo TX-RZ710 is very much improved in terms of audio quality. The difference is most noticeable if you have a Dolby Atmos or other surround sound setup. Onkyo's AccuEQ room calibration suite now includes another technology called AccuReflex which adds some extra clarity to the surround sound experience by fine tuning how the sound bounces off the ceiling. Analog signals are also better thanks to the Vector Linear Shaping Circuitry technology which eliminates digital pulse noise. Your only real limitation is the max output of 110 watts per channel. Getting the more expensive TX-RZ810 boosts this figure to 130 watts per channel.
Conclusion
Pros:
• Affordable for a THX-certified model.
• Noticeable improvements to audio quality especially if you use surround sound setups.
• Supports Tidal and Google Cast services.
Cons:
• FireConnect doesn't seem like a big deal for most people.
Verdict
Buying a $1,000 receiver will always have some risk especially considering the other impressive Onkyo models which are much more affordable. But the Onkyo TX-RZ710 can very well be considered as one of the most affordable THX-certified receivers ever and it has enough major features to consider this model futureproof for the next few years. Remember, firmware updates can add extra features too. It is very difficult to tell what Onkyo will do next for future generations so this is a very safe bet.