Out of many of the top manufacturers of home audio and video equipment, Sony is one of the few companies that is making a full bid to take over the living room. You can essentially have a large home theater setup that consists purely of Sony-branded devices. Sony makes TVs, speaker systems, Blu-ray players and even gaming consoles. Sony wants to tie these components together through their very own Sony-branded home theater receivers. But in that area, Sony has a few challenges to overcome because there are some very good companies that are more focused in building studio-quality home theater receivers. Sony's ES lineup represents the company's most advanced AV receivers and they actually perform well. In hopes to attract even more customers, Sony is adding home automation support to their top 2 ES models with the Sony STR-DA2800ES being the cheaper solution.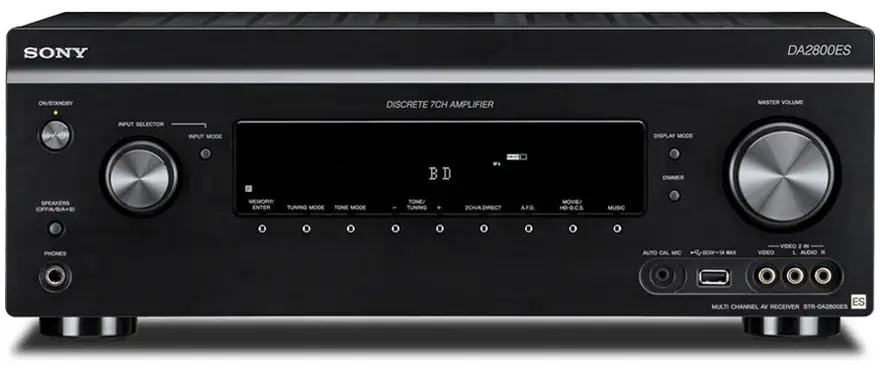 Design
The front of the Sony STR-DA2800ES doesn't have as many buttons and ports compared to other $1,000 home theater receivers. This makes the front look a bit cleaner which should be just fine if you prefer using the remote to operate the AV receiver. But what could be disappointing for some people is the missing front panel HDMI input that is usually found in other home theater receivers in this price range. Having an HDMI input placed on the front would make it a lot easier to temporarily connect a smartphone, camcorder or any portable device that can transmit audio through HDMI. Apple's products can still use the USB port on the front without problems for playing back audio and charging simultaneously while other devices have to make use of the legacy composite video inputs.
But the back of the receiver should look a lot more satisfying to look at for enthusiasts. There are 8 HDMI ports laid out in an organized fashion with 3 HDMI outputs. The speaker terminals are have a unique but organized layout too making it easy to connect the surround speakers, "Front A" speakers, Zone 2 or "Front B" speakers and center speakers. This arrangement best shows the different possibilities you can get from high-end 7.2-channel home theater receiver.
Aside from the usual array of composite and component inputs and outputs, you will find a group of ports for home automation and custom installation. This includes the RS232C port, 4 IR remote outputs and trigger out. Another surprising set of ports found in this receiver is the 4 Ethernet jacks positioned just about the composite ports so the Sony STR-DA2800ES can act as a switch too.
Below is the back panel layout. Click on image to enlarge for a clearer view.
Features
The STR-DA2800ES has a pretty large laundry list of features. The Control4 certification is a huge deal and should be one of the main reasons to consider this particular home theater receiver. This certification allows you to set up a fully integrated home automation system where you can control the lights, appliances and other home theater components in the house. Crestron Connect and AMX Beacon are supported as well but the Sony boasts that the Sony STR-DA2800ES is one of the first AV receivers to have Control4 support. Control4 is a great home automation solution because the included software makes it a lot easier to create custom builds. The only catch is that you have to contact a Control4 dealer to get everything set up and that involves some fees too.
Networking capabilities are not uncommon nowadays since they bring so much convenience and extra functionality to home theater receivers. But the STR-DA2800ES features networking functionality that closely links to the home automation aspects of the receiver. The ES Remote App is a free mobile app for Android and iOS devices that can turn these devices into fully-featured remote controls where you can edit the different settings of the receiver or switch sources even if you don't have direct access to the receiver. But the coolest feature of the ES Remote App is its ability to control the lights in your house or other devices that are set up by the Control4 dealer.
The custom scenes add even more interesting possibilities to improve the home theater experience. You can set a particular preset where the lights automatically dim and the volume automatically adjusts itself to a certain level before a movie plays.
The three HDMI outputs also means that you can set up a highly sophisticated home theater system that can expand to another room. The first 2 HDMI outputs are there for mirroring purposes so you can do something like have a large HDTV connected along with a projector where the same image is shown on both sources. Up to 4K resolutions are supported so the Sony STR-DA2800ES is ready to handle those large 80-inch displays. The third HDMI output is for the second zone where a different video source can be outputted.
The STR-DA2800ES also comes with a few high-end technologies which contribute to a great overall audio and video experience. Several of the internals within the Sony STR-DA2800ES were carefully designed to help eliminate distortion and bring out superior audio quality. The receiver also has the ability to stream from Berliner Philharmoniker's Digital Concert Hall. Once these streams are detected, the receiver will automatically switch to a special Berliner Philharomic soundfield mode which really makes the audio more natural. There is also a proprietary feature called Sony DLL Audio Scaler which upscales standard definition audio sources. Finally, the Faroudja DCDi Cinema Technology works on the video quality by correcting jagged visuals for smoother high-definition pictures.
Bottom Line
As a home theater receiver, the Sony STR-DA2800ES delivers great audio and video performance although there are THX-certified receivers that still perform better and are competitively priced. Compared to a couple of affordable Sony models, the Sony STR-DA2800ES actually has a few things missing like built-in Wi-Fi, Bluetooth and AirPlay support. This makes this receiver more of a niche product specifically catering to home automation enthusiasts. In this aspect, the STR-DA2800ES doesn't have any competition other than Sony's flagship STR-DA5800ES. But if you don't want to spend more than $2,000 for a 9.2-channel receiver, the Sony STR-DA2800ES is a perfect fit for a large home theater system.