Onkyo has just introduced another exciting midrange AV Receiver. I couldn't resist trying out the 7.2 Channel TX-NR676 Network AV Receiver to discover changes and improvements, so dug into the box the moment it arrived. Part of the attraction is that the Onkyo TX-NR676 has a low MSRP of $649 while providing extra features not usually found in this range. DTS-X support, Dolby Atmos, and 100 W/ch in stereo are accompanied by decoding capabilities and streaming services.
Several upgrades are also found in the latest center mid-level TX-NR575 (released at the same time) and may be referred to during this review. For instance, they both offer Dolby Surround and DTS Neural:X™ up-mixing solutions. It's amazing to experience the sound and special effects provided through Onkyo technology through height channels and legacy multichannel formats. This home theater experience has just taken a step forward in customer satisfaction!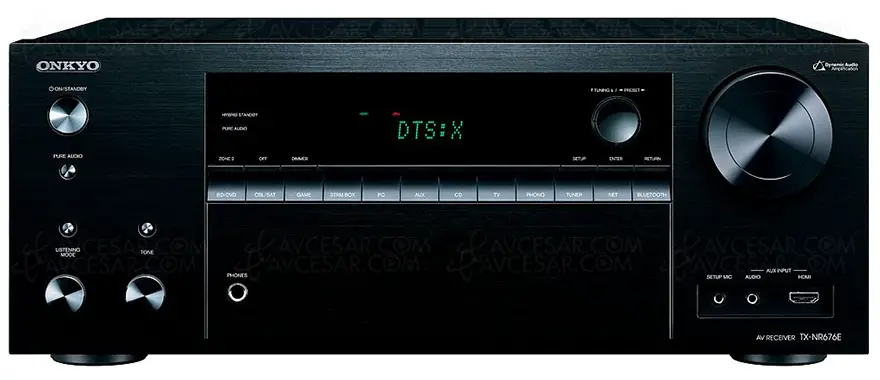 About the Product
Bi-amp-ready outputs are in place for the front L/R channels. Zone 2 line out is included. It's convenient to manage multi-zone audio using the Onkyo Controller. Powered Zone 2 speaker outputs give the option of amplified audio distribution to speakers in another room. It was simple to connect home theater sources to a separate hi-fi system through the line outputs. I was impressed with the sound clarity and volume that resulted.
It was good to see that the engineers added a front HDMI input to make video camera connection easier. The Onkyo TX-NR676 sports six rear HDMI inputs, which does little to resolve the inconvenience of moving the unit forward and sideways for hookups. Connecting a projector and TV display simultaneously was a simple task using the Onkyo TX-NR676 Sub Out and Main Out HDMI.
I had great expectations about the quality and efficiency of AccuEQ Room Acoustic Calibration with this top level of the midrange Onkyo AVRs. The performance exceeded my anticipation! The enhanced clear, phase-matched sound provided by AccuReflex technology is achieved when sent through the Atmos-enabled elevation speakers. AccuEQ Room Acoustic Calibration delivers clear sound reproduction.
TX-NR676 has a video side that supports:
HDMI pass-through of Dolby Vision and HDR10
4K/60 Hz video
BT.2020 4k Standard
Vivid color provides a visual experience that makes a person want to relax and enjoy favorite movies just for the experience of seeing films with enhanced features. Upgrade 1080p videos with the network receiver. The result is awe-inspiring, jaw-dropping images in 2160p, 4K Ultra HD. It's fantastic that the development of smart technology results in unlimited instant entertainment for any viewer or listener!
Below is the back panel layout. Click on image to enlarge for a clearer view.
Streaming is virtually unending. Chromecast and DTS Play-Fi are included in the receivers. Compatible apps deliver the sound with no hiccups in the process. The TX-NR676 ships with Spotify Connect. Bluetooth and AirPlay stream music effortlessly using wireless technology. TuneIn, Deezer, and Pandora offer additional ways to bring in content for your listening pleasure.
The Blackfire-powered FireConnect is everything it's cracked up to be. It operates over 5GHz/2.4GHz Wi-Fi. Supported wireless speakers receive the network and connected analog audio sources. As expected, the technology-proficient masters at Onkyo have developed and released a compatible speaker, the NCP-302.
Favorite Features:
Bass and treble control enhance the unit's high-resolution audio capabilities. Its theater-dimensional virtual surround sound performance adds to the intensity of action films and dramas. Built-in decoders include:
Dolby Surround and Atmos
Dolby Vision and True HD
DSD decoder
DTS:X and DTS-HD Master Audio
Onkyo TX-NR676 has a dynamic sound that with remarkable clarity. It stays clear until the volume is increased to near maximum sound level. Even then, distortion is negligible.
Comparison with the Previous Model
There are a lot of similarities between this year's TX-NR676 and 2016's TX-NR656. Both are 7.2 channel receivers, include Dolby Atmos and 4K Ultra HD upscaling. AirPlay, built-in Wi-Fi, and AccuEQ room calibration are part of the experience carried forward to this year's model. A significant difference? The 656 was released with a promise for a FireConnect multi-room audio firmware update, which became available in February 2017. It allows connection between an A/V receiver source to a compatible wireless speaker in another room The Onkyo TX-NR676 has the latest features installed and ready to go. Leveraging network audio like dual-band 5 GHz/ 2.4 GHz wi-fi using the controller app is quick and easy whether using the built-in measures of the 676 or accessing the firmware update for the previous model. The remote control for both is much the same and contains an overwhelming supply of buttons and choices that detract from the fun of having a unit capable of doing so much.
Pros
Impressive clarity and resonance from speakers.
Sound distortion is not noticeable until level nears maximum power.
Compatible speaker available to support FireConnect.
Quality unit and features at an economical price.
Cons
Boxy design detracts from the receiver's appeal.
Overburdened remote control.
Conclusion
An impressive presentation of movies and music make the Onkyo TX-NR676 stand out from other AV receivers in this classification. Features like WiFi, Dolby Atmos, and Bluetooth help the system deliver features to impress any home theater system owner. Sound immerses the viewer within the action of films and increases the virtual reality of motorcycles, helicopters, and thunder. The nuance in high resolution music on compressed MP3s is pleasantly detectable, resulting in several hours of finding the best use of the TX-NR676's built-in music optimizer. The bass really pops when playing pop music, quelling the treble sound slightly. The optimizer can be shut off if bass resonance is not your cup of tea. Surface features like the crowded remote and boxy appearance detract from the multitude of positive features, but this is one example of not judging the book by its cover. What's inside will deliver a pleasing, long-lasting performance.