Onkyo is a very popular brand in the home theater receiver category. It has also received many accolades by the media for building quality receivers across different price ranges. Home theater enthusiasts who wish to join the Onkyo bandwagon don't have to look any further than the TX-NR series because all of their models cost less than $1,000 leaving plenty of room to get great matching speakers. Those who have a more modest budget will probably look towards the flagship model of the TX-NR series as it is the only model in the family with THX certification. This May 2015, Onkyo refreshed the flagship model, the Onkyo TX-NR747, making it more attractive than ever before.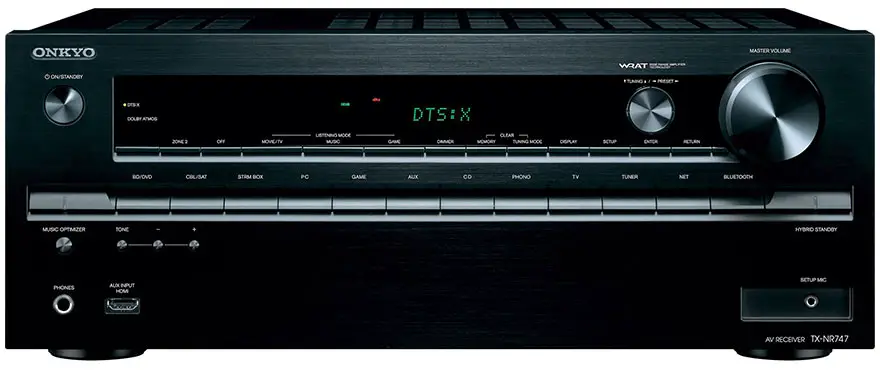 About the Onkyo TX-NR747
The Onkyo TX-NR747 is the new crown jewel of the Onkyo's consumer series and it is priced just under $1,000. It looks pretty similar to the older TX-NR737 model and some of the internal specs are the same. There are more advanced and powerful models in the TX-RZ series but they focus on audiophiles and those that demand custom installations. The Onkyo TX-NR747 is for people who want to think reasonably big.
Comparison with the Onkyo TX-NR737
While the TX-NR737 was a fantastic receiver for the price, not everyone felt the need to upgrade their older high-end receivers simply because technologies like Dolby Atmos and HDMI 2.0 weren't a huge deal. Both of these technologies require pricey investments (4K displays and Dolby Atmos-compatible speakers) and there isn't much content that fully supports these emerging standards. The Onkyo TX-NR747 has something though that may finally convince enthusiasts to bite – support for DTS:X. The nice thing about DTS:X is that it competes against Dolby Atmos but relies on a more open platform to convince home theater system builders to try it out. Taking advantage of DTS:X does not require extra equipment as it uses an object-based audio approach that makes use of what you have. Of course, having height channels will help since the technology hopes to provide sound coming from all directions including from up above. DTS:X is a pretty big deal for TV programs and even music as you can freely adjust the vocal volume independent from the rest of the channels.
Last year's home theater receivers featured HDMI 2.0 which is really the specification to look out for since today's TVs have that same specification and will need compatible receivers in order to take advantage of the 4K/60p video resolution. But the TX-NR747 brings something extra special taking the form of the even newer HDMI 2.0a specification. This is a minor but still welcome update on the Onkyo TX-NR747 because it can transmit High Dynamic Range which means better balance of dark and light areas of a scene.
The TX-NR747 is also switching up the DAC to a 384 kHz / 32-bit one manufactured by Asahi Kasei. Onkyo also beefed up their AccuEQ Room Acoustic Calibration technology.
Below is the back panel layout. Click on image to enlarge for a clearer view.
Other Features
The Onkyo TX-NR747 maintains the same wireless networking functionality as its predecessor and lower-end receiver. With AirPlay built-in, having a device powered by iOS or iTunes is handy as it is real simple to stream music to the receiver. It would have even been better if Google Cast joined the party too so Android users equally have that convenience. Still, the Onkyo Remote app remains available for both iOS and Android platforms and you can still use it to have the receiver stream to Spotify, Pandora and other services. Since the receiver can access the Internet, audio quality is optimal.
Performance
Each of the 7 channels have 175 watts which might not be a big increase compared to the 170 watts per channel in the less expensive TX-NR646 but the biggest draw of the Onkyo TX-NR747 is its THX certification. THX had to conduct thousands of tests to see if the Onkyo TX-NR747 is truly capable of delivering that cinematic experience to the living room. This receiver passed these tests and the sound comes out great although it is hard to notice any gains when compared directly to the TX-NR737 until you start playing lossless music. This is where the Asahi Kasei AK4458 shines because FLAC files and other hi-res formats play back extraordinarily well. Even vinyl was tested highlighting the receiver's ability to handle analog audio without problems. For movies, DTS:X really helped make simple setups sound more dynamic.
Conclusion
Pros:
• THX certified
• DTS:X is a worthy alternative to Dolby Atmos.
• If you still prefer Dolby Atmos, it remains an option.
• Fully ready for the next generation 4K displays.
• Lossless music sounds terrific.
Cons:
• DTS:X and better lossless performance are the only two primary reasons to upgrade from a TX-NR737
• No Google Cast support
• Priced at $999 while the TX-NR737 launched at $899 and might be cheaper even now.
Verdict:
There is no denying the fact that the Onkyo TX-NR747 is one of the best THX certified receivers for $1,000. Together, the DTS:X and Dolby Atmos technologies open up a world of possibilities where you can make movies sound even better to the point that it is meaningless to get something more expensive. That being said, the TX-NR737 can still be an interesting proposition if it sells for several hundreds of dollars less. Take good note of the improvements and conduct further research on DTS:X if it is something you really plan on using. Although the Onkyo TX-NR646 has DTS:X support too it is not THX certified.
Update: There is a newer model > Onkyo TX-NR757