The home entertainment industry isn't exactly a three-horse race. If you look at TVs alone, there are a handful of companies that are producing all kinds of TVs of various sizes to woo customers. Many TV manufacturers make home theater receivers but these companies also have to worry about several big companies that are well-versed in making audio equipment as well as home theater receivers. Brands like Denon, Onkyo and Pioneer are quite popular amongst consumers because of their high-end audio experiences but even companies like Harman Kardon are in the home theater receiver game as well. In fact, Harman Kardon brings some unique things to the table with the Harman Kardon AVR 1510.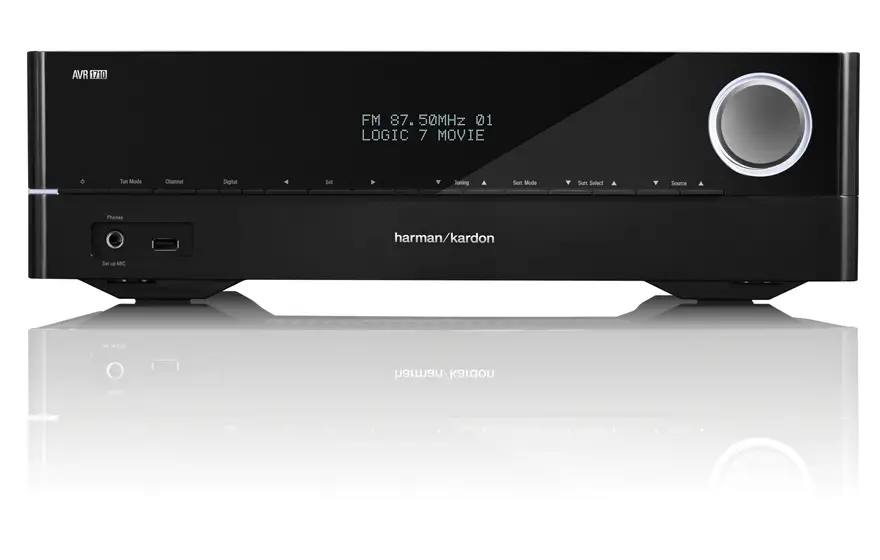 Design
If you are after an AV receiver that is totally out-of-the-box and different from the rest when it comes to appearance, the Harman Kardon AVR 1510 (and Harman's other AVR models) fits the bill. The front panel has a glossy black finish that yields a premium flair. The volume knob also has a stylish futuristic design and it stands out because it gives the front panel that hit of white. There is an info display on the upper center of the receiver which is pretty standard but the display nicely blends in with the glossy finish. Right below the display is a single row of thin buttons that each have their usual AV receiver functions. You have to rely on buttons instead of a knob for source selection too. On the bottom left of the front side is a small panel that reveals the phones jack and USB port which is a bit of a bummer since you won't be able to connect any mobile devices aside from Apple products and flash drives.
At first glance, the Harman Kardon AVR 1510 looks like a very low-end 2.1-channel AV receiver because there are very few ports found on the back. But the AVR 1510 is actually a 5.1-channel receiver as it has 2 pairs of banana plug sockets for the front left and right speakers along with 3 pairs of push style speaker terminals for the center and surround speakers. This is a pretty odd setup but all the terminals are color-coded so setup should still be pretty simple. The back also features 4 HDMI inputs and 1 HDMI output which is just fine for an entry-level receiver.
Harman Kardon has been making stylish home theater components for quite some time. But the Harman Kardon AVR 1510 breaks some new ground with the integrated Green Edge technology. This new innovation is responsible for making the AVR 1510 very lightweight weighing just 10 pounds giving this AV receiver a much lower carbon footprint. The advanced digital power supply design and lack of plastic and metal materials are responsible for the lighter weight. Of course, Harman Kardon managed to do this without sacrificing performance.
Below is the back panel layout. Click on image to enlarge for a clearer view.
Features
The Harman Kardon AVR 1510 features 5 75-watt channels giving this AV receiver a total power rating of 375 watts. This shows that this receiver is really for people that want a budget solution. But with the AVR 1510, specifications aren't just about the wattage. The amplifier's power supply is also specially designed for optimal performance as it features a Harmon Kardon high-current-capacity or HCC for improved clarity even at higher volumes.
The 4 HDMI ports on the back are ready to handle all current generation technologies including 3D TVs and 3D-enabled components, 4K pass-through for ultra-high resolutions and 30/36-bit Deep Color support. The AVR 1510 comes complete with upscale support so any older components connected to the HDMI port can be upscaled so the content looks great on larger HDTVs.
AV receivers are all about the audio experience so it is no surprise that the Harman Kardon AVR 1510 has Dolby TrueHD and DTS-HD Master Audio decoding support. These are the popular formats that Blu-ray discs rely on nowadays and are necessary if you want to hear those amazing movie soundtracks at their fullest potential.
The AVR 1510 also has the ability to connect to the local network and Internet. The Ethernet port on the back makes this all possible although you have to position the receiver in close proximity to the router since there is no way to add wireless support to the receiver. The features are understandably barebones with no support for Apple's Airplay technology. This means that you have to rely on the front USB port to send your iPod, iPhone or iPad's playlist to the receiver but at least you can charge the device too. What the Harman Kardon AVR 1510 does have is DLNA 1.5 compliance so you can stream content from computers running Windows 7 and 8 as well as other mobile devices that have the same compliance. On the Internet side, the only service you can access is vTuner radio.
Like its competitors, the AVR 1510 offers a free app for iOS and Android devices. This Harman Kardon app basically lets you use your mobile touch device as a remote so you don't have to pick up the remote control if you want to make basic adjustments or change input source. The standard remote control is still useful though as it can control any other connected devices including the TV and cable box. In addition to this, you can use the remote IR sensor input and 12-volt trigger for more installation flexibility. It is also quite rare for an entry-level AV receiver to have an IR input and trigger out.
Bottom Line
With a basic set of features and low watts per channel output, the Harman Kardon AVR 1510 comes a little bit short if you compare it to other entry-level receivers. But when priced appropriately, the AVR 1510 still has a good chance in tackling the crowded home receiver market. Fortunately, the Harman Kardon AVR 1510 is properly priced at $299. This is a fantastic price for a handsomely-made and very light AV receiver with some pretty surprising features like networking support.